Deva Premal, Miten and Manose Mantras Festival
The Fundación Ananta organizes a new Festival of Mantras, with a concert Deva Premal, Miten and Manose. The famous singer of kirtan and their companions will act the 14 of mayo in Madrid in the theatre Apolo and the 16 of mayo in Barts of Barcelona.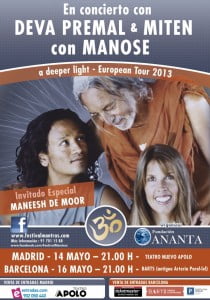 The collection of entries will be destined, as always, to the program of cooperation to development in India, "Colors of Calcutta".
Deva Premal is an of them interpreters of kirtan more recognized at level global. The kirtan is a devotional song played in the form "llamada-respuesta" which comes from India.
Deva was born in Nuremberg, Germany in 1970. Is a singer known by her music New Age meditative spiritual, that introduces ancient mantras in an atmosphere present. Deva is companion in the life and in the music of Miten, with who is found in the Osho Ashram in Pune (India) in 1990. Together compose music and offered concerts by the world entire.
Known more for their spiritual songs, Deva has classical musical training but grew up singing mantras in his German home, infused with Eastern spirituality. Their albums have headed the lists of New Age in all the world since the launch of The Essence, with the Gayatri Mantra. His record label, Prabhu Music, has sold more than 900,000 albums.
The last release of Deva, Tibetan Mantras For Turbulent Times, It was recorded with the monks of Gyuto of Tibet in order to support the practice of meditation, and contains eight mantras Sung 108 times each. It's a charity CD whose proceeds will go to stop to the Gyuto order in Dharamsala (India) project Phowa and Veggiyana.
Manose Singh plays the bansuri, flute of bamboo. Born in Bouddhanath, Nepal, in 1979. He began studying the bansuri from child with Mandan Dev Bhatta. Although his formal education involved a very rigorous study and practice of Hindustani music and instrumentation, however became a regular companion of many Western musical forms and has developed an amazing facility for improvisation.
More information about the festival and ticket sales: http://www.festivalmantras.com/