Interview with Gustavo Plaza: "them big Yogis have them feet in the Earth and contribute to the society"
Gustavo Plaza I. is a respected teacher of Yoga, meditation and Orientalism. Born in Ecuador, his guru is the father Cesar Davila. Is has specialized in the study of them different trails of self-knowledge of the mystical East and them varied processes philosophical of the India and the Asia in general.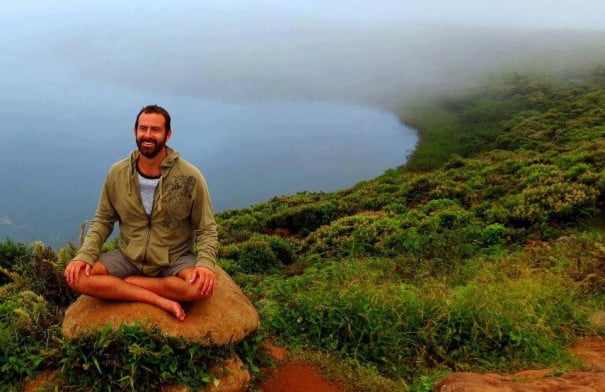 He gives classes since 1994 and is an active member of Association School of self-realization founded by his teacher father Cesar Davila. Has traveled on several occasions to the India to the contact with them big traditions of spirituality East. Edits and writes in the magazine of yoga and spirituality Sadhana.
How you start in the Yoga, what were your circumstances personal and vital?
From very early age felt a connection particularly with the Middle East. My father practiced meditation yogic and remember clearly some instructions that I shared at early age, I was very boy still, perhaps had six years. But until my adolescence not started to devote me with seriousness to the practice of the Yoga.
That connection with the Middle East, especially with the India, always was present. When I turned 15 years I felt that had lived my life very hastily, with the social commitments of the youth, parties, girls, the thrill of these stages of life. But in any way me di has that that was a life empty, without sense and that although appeared to provide you a happiness perennial not was real.
What you driving to follow the road of the Yoga?
As in house had some books of meditation and spirituality East, them started to read, and there were many that I caused an impression positive. The writings of Yogananda, Ramakrishna, Vivekananda, those of Dr. Suzuki's Zen, all gave me more lights to what it sought. But at that time I did not understand what was Yoga, think of it as a gym, did not understand his connection with spirituality, God, meditation, etc.
How know to the father Cesar Davila, who was and how was this priest?
My dad is gave has of a change in my personality, already almost not came out with my friends, devoted hours to the study of them books and to meditate (really I not had idea of what made). Then I took to meet the Association School of self-realization, founded by the father Cesar Davila. I had said that was a school that was them practices meditative of them large schools of the India, especially the tradition yogic of Yogananda.
However, I not had fallen in account of that the father Dávila was a priest Catholic (laughs). MI papa me led to the school, but that part not me it had explained. This to me was a misfortune because I not wanted to know nothing, absolutely nothing, of the Church. Jesus to me was source of inspiration and light in my days, but the Church Catholic and their dogmas and bureaucracies were something of what I not wanted to be part.
However, did the course of Yoga and meditation of the school of self-realization and clarified many things that not were clear to me, I gave guidelines to begin to practice the Yoga as a science integral of the daily live. You can then incorporate Yoga into my relationship with my family, my friends and understand that balance in life is not on the ends, but on the path, as said Buddha.
Upon completion of the course we had a retreat in the mountains, and finally the opportunity to know the father (the course was a teacher and not the father Dávila, because he lived in Quito and this Center was in Guayaquil). Of this first contact was born a relationship that physically lasted until the father left the body in 1999 and that lingers in my inside as a guide and protection special in my life.
The Dávila father was a remarkable man, a powerful presence and a unique firmness. His knowledge intellectual was only exceeded by his experience spiritual. Was a true man of Dios. Before learning the science of the Yoga is had graduated from doctor in theology with the maximum honor: Suma cum laude. But always said that those studies never resolved his doubts spiritual, but rather brought more confusion. Not was to its contact with the spirituality of the India, through them large teachers and their methods of meditation, that the father Davila managed to resolve their doubts and convert is in source of peace, love and guide for them yours.
Its development psychic was remarkable, both that many it was considered a great Mentalist. But his love for God, their inner silence and its serenity was that turned it into an authentic spiritual guide. As priest always was faithful to the Church, making that its school of meditation outside recognized by it, but never criticized another religion or dismissed people by be of another creed. Founded his school as an entity not lucrative and not sectarian that allowed that any person of any creed could approach is to the teachings of the Yoga and the meditation.
What you taught and how it transforms in your guru?
From the moment I met him, he had me a magnetic effect. No matter how much I reject the Catholic religion, your guide was source of rest for my frantic mind and troubled spirit. Even when the father Dávila us shared talks and practiced Yoga and meditation, the training that I gave always was in it everyday. The form classic in that the teachers taught to his disciples in the East.
Our relationship disciple is developed mainly in withdrawals in the beach, or the ashram in the mountains where he spent moments of internalization. In visits to our Center, visits that I made him to his home in Quito. In letters and calls telephone. And of course, in your guide inside in the daily practice. Always was clear in pointing that it was only a tool, nothing more. That the work was de Dios. Never I said: "I am your master" or thing similar, never you said: "I am your disciple". Was rather something natural, without pressures, nor obligations complicated rather than treat of practice daily them methods that he had checked to obtain the realization divine.
If was an illuminated? a be carried out? For me, yes it was. But I had that enlightenment of clear mind and kind heart. That realization of being really human, with their virtues and defects, with his smile and his severity when was required. Sincere, honest, humble, but strong, firm and of character. I never saw him bent, or even in his advanced age. Your example of practice sustained is until today my source of inspiration. He never criticized my development or my spiritual practices, but my manners, customs, my scatter, points of view and especially my ego were crushed to rectify them and become a decent human being.
In his last year of life, sitting at home in Quito, once told me: "your practice continues, continues, don't worry. He day will come, when your maturity natural has arrived and the fruits that have collected will be so large that know rating what has received. Follow with your practices that that day will come and your maturity will bring the spiritual development that the human being seeks".
How you live currently the Yoga?
First, no there are Yoga if not it practices. So I dedicate daily a good part of my time to practice meditation, pranayama, Asana, mudra, etc. But perhaps the more important is living them guides ethical of the Yoga. No we can speak of Yoga and live a life full of excesses, disorderly and superfluous. The practice of the Yoga should help you to be able to live a life in peace, serenity and balance. My wife could respond best this question (laughs) since I could tell that I am a person of peace and love, but are our similar which may tell that the Yoga us makes effect. With my limitations and defects treatment of living Yoga today, without thinking about tomorrow.
What are, in your opinion, the great contributions of the Yoga, it more important that the Yoga we teaches?
Are many, more than what we could list! Health radiant for the body, strength, balance. Opening of the mind and development of their powers. Understanding of our physical, mental, psychic and spiritual nature. Reduces the stress, we give a new vision of the life, etc. But perhaps it more important is that us allows discover that in our indoor have the source of peace and that more large that exists. The Yoga us unveils the that of the peace inside.
What is spirituality for you?
For me is the true humanity. A being spiritual is who lives really as a human being, in fraternity, brotherhood and love. The spirituality is practice, not has nothing of mysterious: it have in the daily living. Them teachers of Yoga more important that have known are people practice, with their feet well put in the Earth, friends of the world and contributing to the society with generosity and value.
Faced with the uncertainty, the crisis, the hunger, what paper plays the Yoga?
The Yoga us gives, as already I have mentioned, the discovery of that carry the source of peace in our inside. Crisis in life always will be; what the Yoga you allows is, first, see with clarity what is can do facing the crisis and find the solutions viable for improve.
The world has always gone through cycles, sometimes you are up, then down, up, down, up, down. Today you can have all the money in the world and tomorrow be in the street. Yoga reminds you that nothing you must adhere, as it is passed, and late or early will have to let it go. You came to the world with empty hands, you anger him as well. If you are in peace, serenity, it is always much easier to be able to face the great challenges of everyday life. Global crises, hunger, etc., Yoga allows us to contribute our grain of sand being sources of serenity and tranquillity for others. We made to help others within our capabilities and collaborate on their situation.
The great Yogis have been source of inspiration for volunteers of solidarity: free hospitals, colleges and universities within the reach of the less fortunate. Many others distributed free food to people of scarce resources. The Yoga we humanizes.
How evolves the diffusion of the Yoga in Ecuador and Latin America?
The Yoga and the spirituality is have come spreading in Ecuador from the years fifty. The visit of great characters of the Yoga, the creation of schools serious were determinants in this process, not only for Ecuador, but to all America. In Ecuador people as the father Cesar Davila, the father wheel, the DRA. Vera of Kohn, among others, were points of reference of great importance in this development.
Although by much time the Yoga has maintained its purity in these countries, always within a frame integral, is regrettable tell that from makes some years is began to import the Yoga gringo, with its exaggerated concern by the body and its neglect almost full of the mind and the spirit. Perhaps the only contribution that gave was the popularity that won the Yoga in these years in order to reach more people and earn a place in the modern world. But want to leave clear that yes there are teachers genuine of Yoga in United States, as is the case of Sri Dharma Mittra or people serious as Shannon Gannon and David Life, among others.
The problem lies in the proposal of the Yoga of the body, the yoga of them Olympics, of the competition, that instead of produce serenity, produces tension. Instead of turning you in a person humble, you transformed in a person arrogant and cocky. Luckily students (and teachers) have been able to give is that this procedure of USA is entering reduce the vastness of Yoga. People are returning to serious schools of Hatha Yoga, Radja-Yoga, Bhakti Yoga, Gnana yoga, Tantra Yoga, laya, etc. Have the sincere wish of further more. The same is happening in Latin America. The people that in the last years began with these practices focused only in the yoga of gym, today see the need of advance to a practice more deep. We are going in the right direction.
If want to talk of any issue or concern, do it freely.
Would like to to finish only thank to them people that I have contributed in this process: to my master, guru and mentor, the father Cesar Davila, whose Guide and care never can pay. To them guides spiritual that I have gift inspiration and valuable teaching, among them Sripad Sadhu Maharaja, Sri Swami Veda Bharati and Dharma Mittra. To my parents that always supported my studies of mystical oriental. To my friends spiritual that have shared without reserves its knowledge and experience, of form special to my dear friend Ramiro Street, extraordinary writer, master of yoga and Orientalism, and to my brother spiritual Andrei Ram, companion of road in the development of the yoga in America Latina and whose example has been always source of light. To my beautiful wife and colleague spiritual Claudia Musello, whose love and friendship are my strength. To my wonderful children, Valeria, Sebastian and Lucas, masters of life. To my students of yesterday, today and tomorrow by your trust and generosity. And you for this interview.