Interview with Wari Om: "Try to put a little magic in my photos"
Wari Om is the photographer specializing in Yoga more known internationally, only perhaps dedicated to capture exclusive movement and grace of Yogis and yoginis around the world. He is the author of the video we see on the cover of this magazine: Yoga in Rio.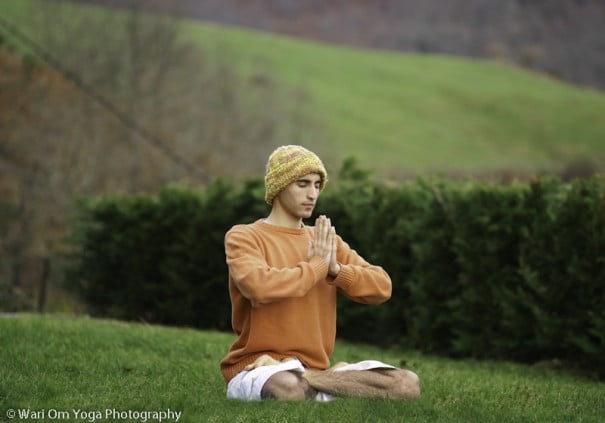 Your photos are full of life, and know to capture the beauty that exist in the reality of the world of Yoga without the need of decorating it. Sure we have all seen your beautiful and spectacular videos. We can admire your work in http://wari.photoshelter.com/. And, of course, YouTube are his best-known videos.
Wari is also Professor of Yoga certified by the school of Witryh Yoga, AcroYoga teacher certified by the founders Jason & Jenny. For years the Tai-chi led him to the mountains of Wutang, heart of Taoism, in China. It is also a graphic designer and creator of web pages.
How did you start Yoga and photography?
I started studying photography at the age of 20, and meanwhile I discovered Yoga. Since then my life changed in color of Yoga; Do Weddings and communions, I started to do photography of Yoga, to give Yoga classes, along with my brother Pau and my little sister Isis. Everything changed to Yoga. My life starts to be in contact with Yoga centers, training of teachers, participating in festivals and events. All my friends are in the world of Yoga and my photography is to promote all the events that we do. Then I begin to travel more and have more projects at an international level.
The three brothers, Pau, you and Isis, are Yoga teachers in your Om Shanti Girona and Granollers and organizers of the Barcelona Yoga Conference centers. Where do you get love of Yoga?
My mother practiced Yoga. Honeymoon of my parents went to India, and when they celebrated 25 years of marriage took US to India. Both have that sensitivity.
What you try to transmit your images?
I try to convey what Yoga has given me to me: inspiration, happiness, harmony and peace. Open me the perspective of reality.
What projects have now between hands?
Enough. In the next four months I'll be in Berlin, in the United States, in Israel, in Palestine, in Germany. Large projects: one month in Germany for the magazine Yoga Journal Germany; I do photography and a video of people practicing Yoga for the most emblematic areas of Germany, as the videos I made before in San Francisco and New York.
What is more like moving pictures?
I always like to work outdoors and with natural light. It's a bit like a Yoga session: we meet the Yogis, had good, and try to find the essence of Yoga to translate it into images and be able to share, make it close. It's that people see that Yoga can be something that is in normal life and there is nothing mysterious or rare.
Perhaps those who tell you that it is a world and some people too perfect, as models posing for the magazine Yoga Journal American, and that that is not what one is in reality...
But it is different. Yoga Journal models always look to the camera, with your eyes open, with a smile, and my pictures are always with his eyes closed, not so many smiles and people merge more with the landscape... But if I try to convey a bit of magic: try to put a little magic in life. Not so much seeking the perfect posture, but that it transmits joy and magic.
Yes, you have photos of children on your website that are a real delight.
Yes, pictures of children are the most difficult to achieve, but they are the most spontaneous and I like very much.
What you would do now that you've not done?
Photographic projects are coming... But if you want something it would be a few months in some ashram doing Yoga and move forward in my practice. The picture goes back, as capturing my experiences with Yoga...
You are missing less time for you...
Yes, I sometimes think that you disappeared a month in an ashram of the India forgetting me and everything, to then return to appear a little happier, a little more aware. But I can't complain.
You are together with your brothers Pau and Isis, Barcelona Yoga Conference organizers. We have already seen late in the program this year, which will be the third...
Yes, Yes. It is all the program closed, the teachers that are going to come... Yes, we make a good team because Pau is in charge more than public relations, contact all teachers. I I am in charge of the web and all the design theme, and Isis responsible for more logistics, organizing groups of volunteers, accounts... We expect about 600 people. There will be six parallel activities. And we are going to have to Krisha Das.
Barcelona Yoga Conference July 4-8, 2013

Indeed, the the BYC is a celebration of yogic open to people of all ages and backgrounds with or without experience in the world of Yoga. A meeting organized from the heart, Yoga teachers and music artists from all over the world, creating a platform where you can learn, experiment, discover and transform.

Five full days of Yoga, music and dance. More than 20 styles of yoga with 50 professors and artists.

More than 100 practical sessions of yoga and kirtans live free throughout the day.

Special event: Kritan with Krishna Das.

More information: http://www.barcelonayogaconference.cat