MuOM, coral Chamber of overtone singing
On 1 March she appeared in Madrid MuOM, coral Chamber of overtone singing. Also called overtone or harmonic singing is a vocal technique that allows you to sing two sounds or more at the same time by a single singer. Moisés Pérez explains it to us.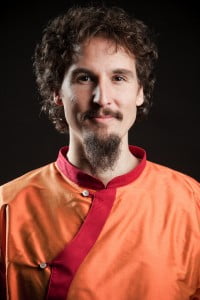 A sound corresponds to normal singing voice which is heard accompanied by one or more additional piping sound, overtones or harmonics of the fundamental sound, and which are characteristic of the voice. The (or the) right-handed singer can create melodies with the overtones and combined harmonies.
MuOM is a coral Chamber of overtone singing with headquarters in Barcelona, but with components from several countries. This set is one of the few professional overtone singing of world corals. On the occasion of their next concert in Madrid on 1 March and chant workshop day 2 interview Moisés Pérez, one of the founders of this coral.
How you started your career in music and what milestones señalarías already on your way with the Group?
I studied teenage guitar and singing at the Conservatory, and later I went exploring a self-taught folcloricos-etnicos instruments and also other singing techniques.
MuOM started his formal career in 2008 and a year later training then we recorded our first album, in a Romanesque church.
In the summer of 2008, result of my desire to deeply investigate the origin of the overtone singing, travelled to the Republic of Tuva in Russia, playing with Mongolia, to learn how to sing khoomeï (or more correctly in your transcript to the Castilian: juumei), a traditional singing course and guttural, associated with its folklore, and typical of that area to the point that was declared by the Unesco in 2009 : Intangible heritage of humanity.
In 2012 I returned to Tuva and introduced myself in these songs competition that took place during the festival Dembeldei, where I obtained the recognition of the jury. Domino now about how many styles of singing khoomeï.
Subsequent to the recording of the album MuOM suffers some changes of components, and at that time, the peculiarity of which sing, which the composer Xavier Maristany joined MuOM in one are his works presented at MACBA in 2010. That same year MuOM participated in educational sessions of the ESMUC (Escola Superior de Música de Catalunya), and performed with the Group Shirai (Group of reference and the first to act with quartz bowls).
This summer past 2012, the milestone was acting at three festivals: the festival (a) phonica voice of Banyoles, Gong Festival of new sounds in the caves of salnitre of Montserrat, and the AUM Festival of the healing sound of San Sadurniño. In March we will record our second album.
How would you describe of overtone singing and what brings you professional/personally?
The overtone singing are a Western vocal technique, also called overtone singing (in the English speaking world:) overtone singing, i.e. singing overtones), which allows a singer issuing two sounds or more at a time. One of those sound is the Sung voice (sometimes called refrain) and the other is one of the harmonics contained in the voice, which has the texture of a piping sound that sounds an octave above the refrain. The peculiarity of the technique, when it dominates, is that it allows to clearly highlight one of the harmonics coming to make melodies with them in a single breath.
Personally the fact of singing harmonics, if only, represents a kind of personal therapy that I do myself (very effective and cheap). It depends on if they are Westerners or those of Tuva, take me to different sites, but both transported me to a State of calm and peace, especially when I sing for a while.
Professionally led me to create musical projects like MuOM or others like Taiga (music with a clear influence of Tuva) and accompany excellent musicians. On the other hand I enjoy teaching my students of choral and vocal possibilities you can enjoy.
It has been a gift to see how at the end of the concerts always gets someone to thank you personally, and not just because he liked the music but by the State which entered.
In MuOM concerts I have seen people cry sometimes, and others have approached and have told us the experience mystique that have had, giving thanks in a very sincere way.
Any technique of singing and, in particular, lead to an exploration and deep personal discovery. It is a very good way to connect with the essence of self and fears and personal locks, being the voice of a very powerful tool for harmonization.
What you would recommend to someone you want to engage in this practice?
The most important thing is that he is daring and has desire to explore her voice and experience the sound possibilities. On the other hand, these songs if they are shared - besides being funnier - are much more powerful States that you can take, since resonances are multiplying, as well as the energy flowing in the group. The intention and motive for doing so is another key element.
For the Western overtone singing is relatively easy, at least one of the techniques, the best known popularly. At MuOM, we use a technique that are not normally practice or teach properly.
For the khoomeï chant, it is another story. It is not easy or obvious, and must devote much effort and perseverance. In my case, after having learned with the best teachers of Tuva, it took about six months to start handling the main techniques, and that he practiced almost every day.
What you would tell people that they don't know this music, to encourage them to start?
For me, one of the advantages of singing harmonic groups is that initially no musical knowledge needed or have a highly refined technique of singing. In fact singing are techniques of overtone singing can take you to improve any other technique of singing. On the other hand, we're not singing any sacred word that could be associated religions or philosophies of life; It is simply the power of sound in pure State emerging from the inside of each person in the form of singing and multiplying their effects out of the their harmonics and do so in a group setting.
More information:

Concert Friday, March 1, at the Church San Manuel and San Benito, in Madrid. C/Alcalá, 83 corner C/Columella (opposite the Retiro Park) at 21:00.

Advance sales: www.ticketea.com/muom-madrid

Workshop of harmonized group singing and overtone singing, Saturday, February 2. Place: Blank. C / watch the No. 7 local Sun Street, corner C / Ventorrillo. Trace Madrid. Metro Lavapies, Embajadores.

More information and registration: coralmuom@gmail.com. 646229961