Swami Atmaramananda interview: "Yoga is an antidote against fear"
A young man, he had the privilege of studying with Swami Vishnudevananda, disciple of Swami Sivananda. The director of the centro Sivananda de Madrid gives the key that distinguishes genuine Yoga of other practices that yogas is called: "If you try at least once, you'll see that the Yoga know peace, tranquility, relaxation, and you no longer fool".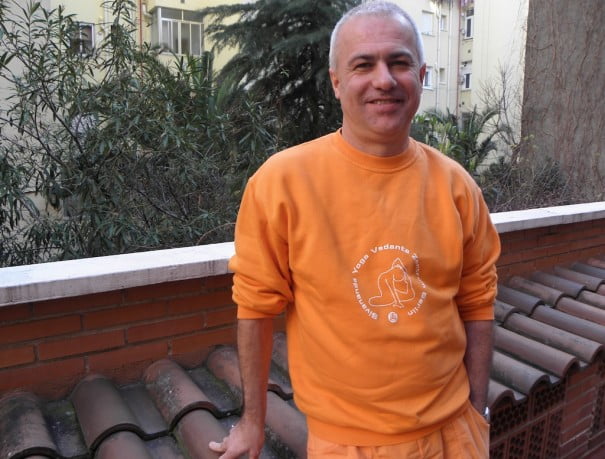 He was born in France but his family moved to Canada. She started practicing in 1988 at the Sivananda Centre of Montréal, who first opened outside India, in 1959 Swami Vishnudevananda, founder of the Sivananda Vedanta centres. "In 1989 I did teacher training, a very profound experience of Yoga day and night for a month, training has been doing is 40 years." A year later I entered the Sivananda Center as a staff".
"At that time I met my teacher Swami Vishnudevananda, that was spending some months in Canada, where is the headquarters of the organization. For two years I was part of their team as personal assistant. In 93, when he let his body, I served two years in the Centre of Delhi, in the North of the India. Then a year in the Centre of Paris. In the 97 / 98 I started to come to Spain to aid in retreats and teacher training".
Do objectives brought to Spain?
The objectives are almost the same in all countries: help people find a little peace in your body, your mind and your spirit, with methods that we have at our disposal in the Yoga. We can help a lot in various levels. In the first we help to be more relaxed and to combat stress through Yoga classes; that is the basic service we give. 80% percent of the people who come to the Center comes to learn Hatha Yogaa, pranayama, asanas, relaxation. It is the first level of effect.
Then there is a second level that is existential orientation, in which we try to respond to the concerns of the people. When people come to meditate in a group, what we call the Satsang, we always have an instructive, educational part. Vedanta philosophy or unit gives us very deep answers to help us have a more positive view of life, to learn to cope with uncertainty, fear, death, loss, working life... That would be the deepest part of orientation.
All that is done in a natural way. The people who come, first start to feel good with your body, sleep better, improves your digestion. It is the effect of the five principles of Yoga we teach: proper exercise (asanas), proper breathing (pranayama), relaxation, vegetarian diet and positive thinking or ability to concentrate. They are five keys to feeling better.
What part of the Yoga you like grow more? I believe that Vedanta philosophy is interested much...
The truth is that I do like most of the Sivananda Yoga is the variety of practices. Philosophy alone does not very much, would be very dry, very abstract. But combined with the practices as alive as the asanas and pranayama, which generate well-being, philosophy is understood much better. If we have many concerns, philosophy comes little and goes very fast. The practice of Karma I also like yoga, service to others; without that philosophy would be a little empty.
Service to others is a much-needed yogic practice today, although not always dedicated him the effort that would have to be...
Yes, should apply it in everyday life. I think that ours is a service very deep, very real and practical for the society, and at the same time helps us to ourselves to delve into the philosophical theory.
There's another part takes especially care of Sivananda Yoga, which is the devotional.
Yes, it is a very important part that should not be forgotten. This corresponds to the need of the human being to balance emotions, to feel loved, beloved; the affective part of the human being needs much attention. There is a problem in our modern life, and is the solitude, that in other countries still feels more than in Spain because people are less sociable. The yoga Center can be, in some ways, a shelter where people come, is located, and makes devotional practices, particularly the songs, which remind us of other spiritual practices. The sacred chant has a great healing power on a very subtle level, which is the emotional.
We are dedicated to the Bhakti yoga that part of devotional singing group meditations, and also few and simple Hindu rituals that we have imported from the India. It helps us to appease this need of the heart.
In June are celebrated the 40th anniversary of the opening of the Sivananda Center in Spain. which ideas are "cooking"?
It makes us very excited celebrate that historic date, because 40 years is a long time. And it means that the school has a deep tradition, with roots, that is not born last year in New York or don't know where. And that is a bit what you want to show. We are going to present a sample of everything we do in June. There will be a part of Hatha Yoga, philosophy, and something that liked to Swami Vishnudevananda and his master Swami Sivananda, which is to relate the findings of science in relation to health and Yoga.
We also try to bring together several generations of Spanish teachers who have been involved in the development of the school. Although it is not well known, there are many people who contribute to the service that gives the Center. In Madrid, we have over 50 active professors who come to teach once a week or once a month, or go to hospitals or prisons. It is a very large network of people contributing in some way with their time, on a voluntary basis. It will be, then, like a family reunion, of a very large family!
Also in this celebration of June will come the acharyas of the oldest in Europe, and then we will have a special guest, a singer who represents wisdom, Swami Venugopal Goswami, who will give a concert of Indian classical music with its musicians.
How many teachers form the year?
Every year we have a formation of 50 students who become professors in Spain. They are teachers who continue their studies in India, or going to their province, their city or town and spread Yoga in many places in Spain.
I have met many teachers that have been initiated in the Sivananda Yoga. But it now appears that more young people choose styles perhaps more dynamic and less committed to the tradition and spirituality... What's this?
Increasingly there are more and more forms or names of Yoga. That's a little weird, because we think that yoga person finds herself in his body, his breath and his soul. The soul does not change; mind change not so much - we have the same problems that thousands of years ago: fear, anger, desire...-. And the body either. There is no need to have so many forms of Yoga. But each one tries to have his corner and put your name up. This is the modern world, all marketing, which does not necessarily imply a good service to others. Okay have diversity, give options, but not if it is both that confuses people.
Sivananda we believe that practice is not complicated; It is based on the work of the body, gentle stretches and contractions, with proper breathing, then concentration of the mind. The essence of Yoga is always the same.
How to distinguish what is true from what not?
There are certain practices that do not correspond very well with the tradition; they are more purely physical training, gymnastics, because there is barely conscious breathing and consciousness of itself... It is as if they had taken the different fashions of fitness which have been emerging at the time and had them placed the name of "yoga", to sell it better. Against that, the most powerful is education, training, know what is Yoga. If you try it at least once, you'll see that the Yoga know peace, tranquility, relaxation, and already do not fool yourself.
How do you define Yoga?
It is an experience of relaxation and peace which leads us to the unit. It should not be something that excite the nervous system, or the senses, which takes you to compete, to do something very fast or very violent. You must have three components in harmony: body, breath and mind. A Yoga class without relaxation, for example, does not work. Because during the relaxation it is when the body can assimilate all the work that has been done. And the mind too, because we observe and learn how the prana, energy flows... Without it, one moves for an hour without knowing very well what he is doing.
We at Sivananda try to explain and teach what is Yoga, and if comes to the people, it is up, it is enough. In fact, the Yoga works on their own. We don't have to do much more than put the basic conditions to make it work. And then, following these rules, one obtains the results.
Each one has their need for deepening, does not think?
Yes, it is a particular path for each person. We see it in the Center each day; but there are many people who take their time. It is very interesting how it works the Yoga absolutely naturally, without one having to do much. With regular practice, one begins to feel more subtle things, energy, nervous system calms... And the first thing that changes, in a very surprising way, is the need to adapt the diet, which for many people comes from inside; no longer feel the meat as before them both.
Therefore, it is not that we are there, trying to convert anyone. We present the information, and then the person has to make their own decisions. And if it is not prepared at this time, the information is there like a seed, and in another moment, when the seed is mature, will sprout.
Little by little, one is changing the power - as in a desire to purify and simplify their habits-, lifestyle, relationship with others... And there comes a time when one wants to meditate, know a little more about himself. And it is a search for inner; No one can convince us to begin a meditation practice. But the practice of Yoga makes this awakening, that search.
Is there something you still want to you who teaches Yoga?
Yes, of course, the learning never ends; We must learn every day, at all levels. There are so many things to discover... But finally, what we want is more and more peace, deepen that peace is the goal of Yoga. Someone maybe think that it is a very boring life, because it is very simple and very focused, but that is not incompatible with the experiences of the world. One does not lose anything; It's all more, not a less. But otherwise, that Yes. It is a more subtle way of living things, the same things.
Our desire is that more and more people take advantage of the science of Yoga, which is rich and powerful; that you must not be afraid of losing their own culture; nothing is lost, it expands. As coming from India, it sometimes seems that it looks exotic, strange, but the intention is to connect with the essence, and that essence is the same in all cultures. You just have to feel how Yoga makes us better and gives us more peace, especially in this difficult time in which people have fears and uncertainty. Yoga is a good antidote to fear, gives confidence. A life lived in fear is not worth anything, does not like.