Interview with Cayetana Ródenas: "need to change from one's own, without requiring to change the of the side"
Specialist in Yoga for kids, Cayetana is representative in Spain of Rainbow Kids, organization that teaches Yoga to children and their parents through the magic of the game and the emotions.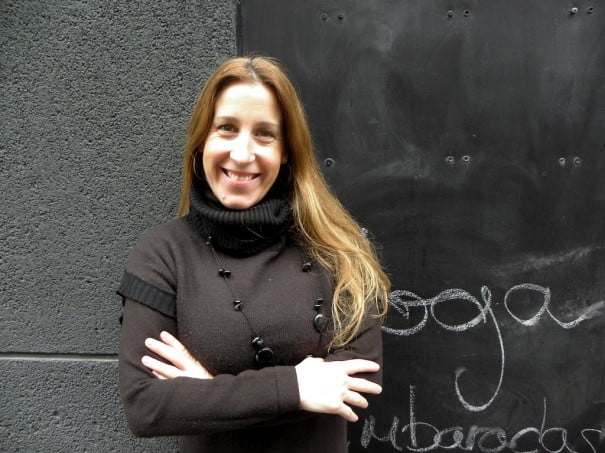 Cayetana Ródenas is dedicated to Yoga for 13 years. Previously, aged 18, was a dancer and actress of theatre. "I went to a Yoga class and I thought it was aburridsimo, there all sitting doing breathing '. Years later it was moved to Australia with her former husband and reunited with the Yoga, Ashtanga. "I went to a class, I was totally hooked, and then I began to see how my life things were changing. I, who had enough genius, was pacifying me... Each time I was more me getting into Yoga. I decided to do training in Melbourne and started giving lessons of Asthanga, Hatha, because I needed to share it."
Now Cayetana, who just had Sun, his second daughter, considered overcome the phase of "the great stunts" and found in the opposite phase, in which his interest opts for therapeutic Yoga, for introspection... "When you're more evolve in Yoga, you realize that the physical part is not the goal. But that is also the time of each one."
Each person has to follow its own process, isn't that?
Yes, for me already Yoga involves my way of life, is my way of life, and that is it I try to pass on to my students, that Yoga is not I come to center hour and a half and I'm going home running; It is to see life from another perspective, knowing that everything depends on you, everything is in your heart and trusting that you are the owner of your existence and no one more.
Is that one of the main lessons that you want to convey to your students in your classes?
From the moment zero in which people come to class I tell them that I am a part on their way, do not try to do what I do or almost make me case in what you say here. In the classes we guide them so that they find their own inner master, so they trust themselves, their intuition. Because I see that many people are completely lost in life and they blame and they blame everyone from their sentences. And what if the crisis, and that if this Government... but look out, what you're doing. We need to change from us, not demanding that he change the of to the side, and that is what I try to convey to my students, who are all within them: answers and questions. And when you understand that, gives you great peace of mind because you say: if I am angry is because it gives me the win, because I can decide to be OK (although I have my outbursts and exceed them).
How do you explain the spirituality emanating from Yoga?
The spiritual part is in Yoga, is the basis of the same and everyone benefits. But I think that you get to delve into it through a process. If you go to a class and teacher gets to speak of the Hatha Yoga Pradipika or on yogic philosophy, many students will come through the door. I believe that everyone should be creating, little by little, that interest in Yoga. Normally people come to class for physical reasons, or because the doctor has recommended him to his back. And just to find the spiritual sense. I think that it is the basic part of Yoga but you have to climb a couple of previous steps: reach class for the reason that it is, and go to awakening the desire to deepen. If you start to climb up the side of spiritual teachings, it is very dense; necessary to understand it from the inside to read it in a book.
But there are people who loves this part more spiritual and philosophical. I is that I'm much more practical. In the classes I give a practice, with his theory applied to this practice. But I don't like much give talks because I feel that everyone has to find the spiritual part, and that there are great teachers who know it to transmit and great books that can be read. I don't feel anyone to get me to talk about these issues.
Each person has a degree of interest in deepening...
Yes, sometimes people are so disoriented that they going to class and a teacher guides them through certain paths and are already created those gurus around the world following. Some quotes, is, a "brainwashing", and I know that there is the world of Yoga, sadly. I, therefore, I am dedicated to the practical and each one finds vision who wants to meet you to Yoga. I think that there are no gurus, that you are your own guru, others may be more evolved than you, or have more experience, but nobody is more than anyone else. All will arrive, if we want to.
Your specialization is Yoga for kids...
Yes, always the children I liked. I studied teaching, specialty music, and never exercise. But about 12 years ago I found that Yoga for children was my way, and I became all the specialized courses that had, as Yoga Kids. Then I met Gopala Australian (Amir Jaffa, former director of the Sivananda Bahamas ashram), the founder of Rainbow Kids Yoga, which is the international organization that has three-day training courses. And I said if he wanted to be the representative of these courses here in Europe and give them in different countries. It made me happy. It is what I have done in the past three years, travel around Europe twice each month giving this course, a wonderful experience.
How are the Rainbow Kids Yoga courses?
Wonderful. They are three intensive days of children and families, and it's all through the game, the music, in groups, in pairs. It is to focus on Yoga for children in a totally fun way through storytelling. The transformation that is at work in people who come to do the course is amazing, because they end up being their own child. And that is the aim of the course: looking for your inner child, you don't shame get insane, clown, laugh, falling down; This is how you connect with the children, without barriers. And when children perceive it, are happy and taken up Yoga with joy and passion.
There are laughs and tears because there are many dormant emotions, many fears and insecurities as adults. But sharing the process among all; It's wonderful.
And what is the goal with respect to children?
The same as with adults: you're the Prince or the Princess of your own story, that is your life. You have to know that you choose angry or laugh, and above all, you choose to love yourself. With children is that, leaving to accept all the emotions that have. The course is closely linked to emotional intelligence. Which is good because in schools education is quite obsolete, so mental, and emotions do not paint anything. In the course children share with her father and/or mother moments of game, spirituality, of great quality. There is also much acroyoga, Thai massage, yoga as a couple... Everything is integrated into these courses from which the most important is that you're your own one hundred per cent, to create your own child Yoga classes.
But after so much adaptation, which is Yoga?
Just like a class of adults, but perhaps more magical or fun. With children, we do all the same positions, with names of animals, and they are always embedded in a story or a story. And also conscious breaths are made but playing with aromas or musical instruments, until children begin to integrate than breathing it's reassuring. And then to relaxation, with Savasana, perhaps more short, telling them that if they are still they will notice the vibration of a Tibetan Bowl or the heat of a candle.
And so the children connect with their own inner world...
Effectively. They are allowed to be themselves, without MOM or dad to say well done. Here the word there is evil, impossible, or "I"... The other is not education, but training and alienation... In Yoga class children are not governed by those values, but by themselves, by feeling good about themselves making out what they have inside. And if they are OK with themselves, they will also be with others; that is always the case.