My favorite position: inverted position on head with legs open, by Antonio Quintanar
In this section "My favorite position", different teachers choose one asana and explain their keys of realization and benefits. This time is to Antonio Quintanar Jiménez.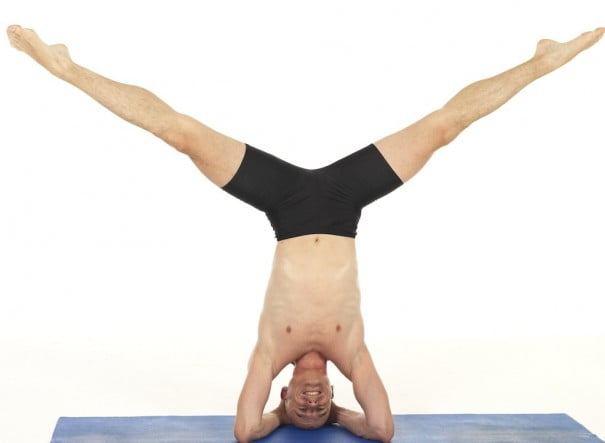 It is true that there are more than 250 asanas with its variants to Iyengar, with his usual domain, already has shown on many occasions, and each intern ends up picking up true love many of them during your personal sessions.
I usually practical yoga in the mornings in regard to execution of asanas, and there is one that tends to accompany me for the love that I have taken and by the incredible feelings that I passed and is none other than the inverted position over the head with open legs.
It is not usual to perform this type of asanas in beginners, but it would be useful to assist beginners as soon as they pick up a bit of confidence, then the asanas of investment are deeply beneficial, as the most common sessions, candle, in its different variants.
This inverted asana, in particular, has added an obstacle that tends to be common, and fear to drop us and having to roll on the ground, with the possible bodily harm that can assume this if it happens. But with practice and a person who instruct us in its realization, their achievement is usually effective and very rewarding experience.
I've seen many people face with fear this asana and, ultimately, end up doing with total solvency, being a double satisfaction, for making it and the instructor who sees it at that moment.
The stance has so many benefits that would be very difficult to list them all in a single article, though, to approach us, we say that all the asanas invested have the benefit of investing the arterial network doing that the heart receives an irrechazable help.
We must understand that our lives often evolve into positions, whether standing or sitting, on legs suffering from a normal stagnation of the blood supply. When we perform these asanas invested, we facilitate the blood supply in the most vulnerable areas (feet, legs and brain) in addition to massage the heart.
Another benefit is the rejuvenation of the lymphatic system, as in the asanas invested the effect is similar to when we can do a lymphatic drainage. The consequence of this is that we approach the lymph to the solar plexus, causing an acceleration of its virtues. We all know the important thing is the lymphatic system.
When one faces performing asanas with this difficulty, has to put everything in one basket and focus all their energies on what it is doing, betting on return to risk "your body" and "fear", against the excess of comfortable boredom in which we have lived for years. It is as if that voice that said "be careful who you'll fall" had finally become engrained, preventing us from fun a bit and do something that is a little out of the ordinary.
A hug and hope that it has been like this small contribution.
Antonio Quintanar Jimnenez is the author of Learning to be happy (Ed. Cultivalibros), book that tells how he overcame a serious psychiatric illness through yoga.