Course of yoga with Babacar Khane
In El Escorial, 23, 24 and 25 November 2012. Topic: "The benefits of perfect concentration"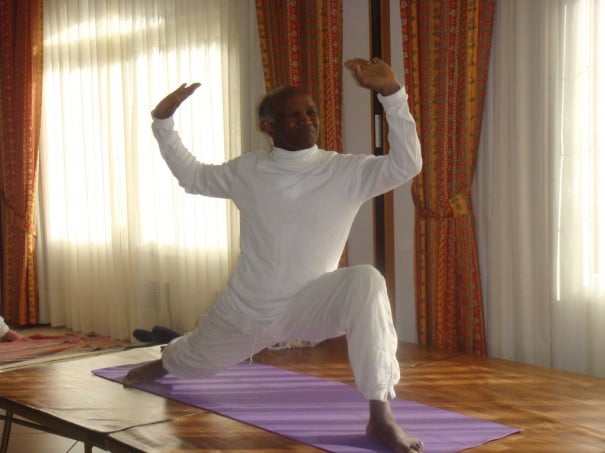 Babacar Khane was born in Dakar (Senegal) in 1935. From an early age he is interested in the spirit through the body, expressing a mystical nature. It is an Indian master who reveals the Hinduism and the teaching of Paramahansa Yogananda. You also receive a complete teaching of the Yoga of Patanjali. Doctor in osteopathy and chiropractic, Yogi Khane has worked closely with personalities from the medical world, especially psychiatrists and rheumatologists. For many years he collaborated and researches with the renowned gerontologist and rheumatologist Dr. Baumgartner with whom he collaborates in the treatment of rheumatic patients.
Babacar Khane has developed an original method of teaching in a unique partnership of three disciplines: the Hatha Yoga of the India, the internal styles of Kung-Fu (Nei Chia) and the Yoga of the ancient Egypt. This partnership has allowed him to create more effective yoga techniques in the prevention and treatment of many diseases. He is the founder of the Institut International de Yoga, with sections all over the world.
Program

Friday, November 23: preliminary practice in preparation for the course.
Saturday, November 24: Chi Kung and Kung-Fu (which allows a complete energy recovery and practice that carries a deep concentration). Egyptian Yoga (the yoga of verticality). Lecture: "The benefits of perfect concentration". Practice of Integral Yoga, for a total balance.
Sunday, November 25: Integral Yoga and Egyptian. Rehabilitation of the musculoskeletal system and active concentration with Egyptian yoga.
More information: Paquita Melgar, Manager in Spain of L'Institut International de Yoga
T 91 3529037-666712411
e-mail: info@paquitamelgar.com