Interview with Gopala: "We fought for to be recognized the classical yoga in the Official Gazette"
Words yama and niyama, asana or samadhi already gathered in the Official Gazette of the State as part of knowledge which must be a yoga teacher. Is that good or bad? This we spoke with Gopala.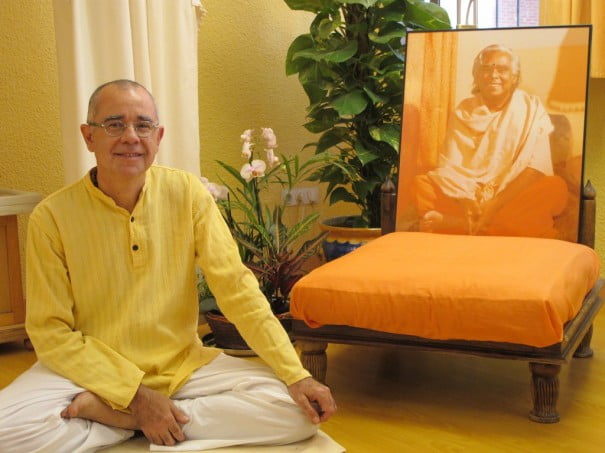 When Swami Vishnudevananda crossed it in the life of José María Márquez Jurado this it was 17 years old. Already never would be the same: born Gopala and yoga joined throughout its existence.
However, the most charismatic teacher of the Sivananda Vedanta Centre in Madrid since 1975 is also a brilliant high official who gets each day the necktie of her position as Manager of the General Council of the judiciary without altering its aura of calm the slightest.
Anything else? So yes: Gopala is a poet and has already released his second cd of poems set to music by David Gonzalez, Slowly.
What can you contribute the yoga today people?
Yoga, said Swami Sivananda, is a technique to improve: your physical form, through the practice of asanas; your respiratory technique through pranayama; incorporate into your life the notion that your body and your mind can be relaxed; improve the way to eat, preferably with a vegetarian diet. And these four elements lead to the transformation of the anguish calm, the restlessness in peace and in silence thinking. Yoga is, therefore, an art of living, through very simple elements.
Is there a better than other yoga?
No, because there is only a yoga. Sometimes in the West we qualify the yoga, and that creates confusion. In the science of traditional yoga of the India rather than types of yoga there are paths, approaches. One is that of selfless service or Karma Yoga; another of the Raja Yoga as the Asthanga yoga, which includes the eight steps and ethical behaviour or Yama and Niyama; a third path is called Gnana yoga, very intellectual approach that defines what is reality and what is not illusion; and a fourth path is Bhakti yoga or devotion.
What to choose?
On a mountain, you can go up the north side, to the South, the East...; There are infinite ways to rise to the top. Similarly, in yoga, there are trends that encourage more helpful attitude, other intellectual or the devotional. When it began to transmit their knowledge, Swami Sivananda said that the trend that you feel far away is the most one to practice, because it is the vital aspect you have to develop.
In the West we like change, do not accept the concept of "classic" well, what has always been done. So we jumped out of the aerobic yoga to the anaerobic, aquatic yoga to yoga with heat of...
That how it looks from Sivananda, from tradition?
We see him with affection, because in the background is a way that different generations approach to yoga. For example, between 20 and 30 years people have enough acceptance the acroyoga, or couples yoga. From a classical school, we look at it with absolute respect. We continue to teach yoga that is taught always but never against these phenomena, which serve to attract people who might not aproximarían never yoga if it wasn't for those styles that enhance the athletic, or do sweat, acrobatics or physical contact. These people almost start playing and then go deeper into yoga until you reach the most important thing, which is silence, meditation: Yogash chitta vritti nirodhah (el yoga es la detención de las vibraciones de la mente), Pantanjali Yoga Sutras 1.1).
Silence to connect with your inner peace.
And for that reason your body has to be prepared. No you can meditate if you don't do asanas and pranayama to stabilize your body and slow down your mind. Moreover, if you want to do advanced practice of meditation also have to take care of your diet.
In September has been published in the Official Gazette with the rules of regularization of the yoga teacher training.
Yoga does not need a regularization, we are convinced of this. There is thousands of years ago and it will continue to exist many others, regardless of what we do. The Spanish State made the decision, according to Community legislation, include in the process of yoga professional qualification, as he had done before with percent and hundreds of professions.
This Squeak a bit with the spirit of yoga, which is very free, but was a decision by the Administration, which established a principle: teacher training processes must meet some minimum educational requirements and expertise that ensure, according to the State, those teachers to teach without harming people.
You specifically been split Committee to advise the Administration on those minimums.
Yes, a particular title. Qualifications are regulated by the rules of the pedagogy and are all very similar. But we have always believed in the traditions, the yamas, niyamas, pratyahara, diana and samadhi, or self-realization, the last step of raja yoga. And we are fighting so that was included in the Official Gazette. And it is.
It is also a yoga teacher has to know first aid.
The purpose of the State is that certain securities, are met as assumes that you can something happen in a group of 20 or 30 people, and a teacher of yoga, like other judo and swimming, know-how, for example, assisted respiration.
Will it ensure that regulations that improve the quality of the teaching of yoga in Spain?
Time will tell it. Perhaps any Federation which has promoted this movement will tell you Yes. We are sceptical about that... But probably is as well.
Yoga regulated? No, it is not that

Yoga standards published in the Official Gazette, warns Gopala, are not a regularization of the legal profession. A yoga teacher may continue taking classes has been formed or not according to the qualification which designates the BOE.
However, it is likely this "official" qualification to count when hiring a teacher, for example, by a public body.

See publication BOE
Pepa Castro