Stories to share: the light of being
Ramiro Calle comparte su reciente visita al Monasterio de Silos, donde conversó con el monje Víctor Márquez Pailos, practicante, lector de sus libros y autor de

La santidad de lo cotidiano

and

Conversaciones en Silos.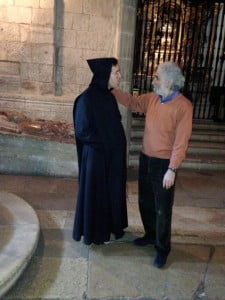 Quiero compartir una anécdota con los lectores de Yoga en Red. En 1974 salí por las calles de Madrid con una unidad móvil de Radio Nacional para ir preguntando a los distintos viandantes qué era el yoga. Todos se quedaban perplejos, pues no habían oído nunca ese término. Pero he aquí que uno de ellos, tras escucharlo, se aventuró a preguntar: "¿Un jugador de futbol?".
Desde esos tiempos el yoga ha ido adquiriendo carta de ciudadanía en todo Occidente, donde seguramente se practica mucho más que en su patria de origen: la India. El yoga se practica en centros especializados, aulas y centros para personas mayores, colegios, gimnasios y un largo etcétera. Es apreciado y practicado por personas de todas las profesiones: médicos, psicoterapeutas, músicos… y hasta religiosos.
Y este es el caso que os cuento hoy. Le prometí a mi buen amigo, monje de Silos desde hace muchos años, Víctor Márquez Pailos, llevarle mi DVD de hatha-yoga, pues lo viene practicando hace años y tiene interés en profundizarlo. Está fascinado por mi novela En busca del Faquir, y ahora ha comenzado a leer otra novela mía titulada The Yogi. Hablamos de todo ello en un día soleado. Me ha acompañado mi alumno avanzado y extraordinario amigo Antonio García Martínez, procurador y lector empedernido de temas psicológicos y espirituales.
Hablamos de la excelencias del yoga y de la meditación. Victor nos obsequió con su obra recién aparecida, La santidad de lo cotidiano. Ya tiene otras obras publicadas y yo mismo le prologué Conversaciones en Silos, donde tiene como coautor a Jesús Fonseca. En este precioso libro, como se indica, se recogen las humildes verdades de un monje de Silos.
Le pongo al corriente a Victor de cómo debe planificarse una tabla de asanas y de que las combinaciones son muy numerosas, para que vaya constatando cuáles le reportan mayor provecho. Sin duda, en ese paraje tan apacible y silente podrá sacarle toda su fuerza inspiradora al yoga.
Conversamos también sobre la necesidad, como nos dicen tantos grandes yoguis y monjes zen, de ir más allá del pensamiento ordinario, del puro intelecto, basado en la dinámica asfixiante de los conceptos, para conectar con la vida misma sin etiquetas, juicios o inútiles racionalizaciones. En este sentido cuánto nos pueden ayudar las técnicas de instrospección y meditación, porque, como reza la muy antigua instrucción del yoga: "Cuando el pensamiento cesa, se revela la luz del Ser".
Calle Ramiro

Did you like this article?
Subscribe to our RSS so you don't miss anything