Lo + seen/ Witness Awareness, axis of meditation and transformation
Danilo Hernández (Swami Digambarananda) explains in this article why our mental stability is often interminent and superficial, and how to make balance our usual nature thanks to living consciously of every moment of existence.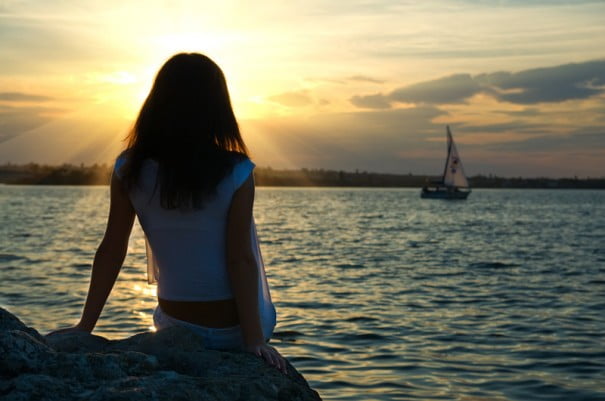 It is possible that while you start this reading you are comfortably seated enjoying a state of some tranquility. But maybe it's a very fragile peace of mind... Imagine being told about bad news or a violent and unpleasant event right now. In that case, your peace of mind is likely to vanish immediately and you'll start to feel uncomfortable and tense. This would indicate that your mental stability is rather superficial and that it is at the mercy of any event that is presented. Why is this happening?
It happens because there is not a sufficient state of alertness and the mind identifies with the event, causing an emotional response of discomfort and tension. And this usually happens to us very often, regardless of whether we practice Hatha Yoga, meditation, or any other technique.
Todas las prácticas que solemos realizar son muy beneficiosas y nos ayudan a encauzar nuestra vida de un modo armonioso y positivo. Las posturas de yoga, el pranayama, la relajación, la meditación, el kirtan, el Karma Yoga, etc., nos aportan salud y equilibrio. Pero este equilibrio con frecuencia tiene una duración breve y se puede alterar a la primera de cambio. Para que el equilibrio se convierta en nuestra naturaleza habitual y deje de ser un estado intermitente que depende de los acontecimientos, es necesario que nuestra práctica deje de ser una simple práctica y transforms into a lifestyle. This entails a profound development of care at all times of our existence. A conscious living from moment to moment.
Human beings are asleep
Schools of self-knowledge and the development of human potential consider ordinary man to be asleep. He suffers from chaotic and aimless mental activity. He is usually lost in long ramblings, consumed by an internal dialogue that is often obsessive and meaningless. He lives immersed in stories of mechanical thoughts, in a state of almost continuous distraction that is also often the first cause of all kinds of accidents. In fact, he becomes aware of how distracted he lives only when he is about to suffer an accident that can cost him very dearly.
This state of care, in which the inertia of involuntary and undirected thoughts prevails, has enormous and devastating consequences. On the one hand it is forgetting himself. The individual does not realize that he exists while living, thinking or acting. He has lost his connection to his center, to his essence, to his Being. On the other hand, the impact of negative thoughts passes a big bill to your physical and mental health.
The root of the "disease" is in the mind
Buddha And Patanjali agree on the diagnosis of human "disease." The problem does not lie in the body, although this is the vessel where ailments and their symptoms usually develop; the root of the problem is in the mind. Specifically, in reactive mental patterns of "attachment-aversion" (raga-dwesha) and uncontrolled fluctuations of thoughts that create tremendous mental chaos.
Medical and scientific research has verified what has been known in the science of Yoga for millennia. The most fearsome enemy to the body is not microbes, bacteria, viruses, but mental reaction patterns and negative thoughts.
El pensamiento es una función natural y esencial en la vida del ser humano. La capacidad de pensar es un bien inestimable que nos diferencia de otras especies y nos ha permitido evolucionar y transformar el mundo. Es obvio que necesitamos pensar, especialmente cuando ello nos sirve para interactuar en la vida, relacionarnos con el presente o hacer previsiones de futuro. Pero hay muchísimas ocasiones en las que el pensamiento se convierte en una inercia mecánica y turbulenta que nos desconecta de la realidad y nos predispone a estados de ansiedad, preocupación, miedo y todo tipo de emociones negativas. En consecuencia nos desequilibra y nos precipita hacia el sufrimiento.
El cerebro es el ordenador que dirige al conjunto del organismo. Trabaja sin cesar durante toda nuestra vida regulando cada una de las funciones del metabolismo y su equilibrio químico. La ciencia ha descubierto que cada vez que tenemos un pensamiento el cerebro produce unas sustancias llamadas neuropéptidos y lo que sentimos y experimentamos es la producción y asimilación de dichas sustancias.
Immune system cells that defend the body from bacteria, viruses, germs and ultimately any disease have a specific loading point that receives neuropeptides. In this way the immune system perceives our thoughts and reacts to our internal dialogue.
The immune system's response to pathogens may weaken or even stop working because of these substances. It is clear that what we think has consequences and that the immune system's response is conditioned by thoughts. Positive thinking boosts the functioning of the immune system and negative thinking weakens it. We can now understand that the root of many ailments, imbalances and diseases is in a way of thinking that alters and hinders the work of the immune system.
Desde esta perspectiva, podría dar la impresión de que el pensamiento es el "malo de la película". En absoluto. En realidad, el problema en sí no son los pensamientos sino la relación que establecemos con ellos, la Identification and consequent reaction. A neurotic relationship in which the thinker is hunted by thought, identifies with it and is dragged, forgetting that his true identity is independent and different from the ephemeral flow of those thoughts.
Witness Awareness, Axis of Meditation and Transformation
The best way to free ourselves from the negative effect that involuntary or spontaneous thoughts and internal dialogue have on our physical and mental health and internal dialogue is what in Yoga is defined as the development of "Witness Consciousness". A attitude of acceptance and impartial observation to our emotions, thoughts and sensations. Tal actitud nos permite ser conscientes de que no somos esos eventos pasajeros y de la independencia que existe entre nuestro Ser o Yo profundo y lo que sucede en nuestra periferia. De este modo no nos afectan ni contaminan los acontecimientos internos o externos. We preserve freedom and spontaneity. Dejamos de reaccionar mecánicamente y nuestra respuesta a todas las situaciones de la vida se convierte en plena acción consciente.
Among all the resources we have to enhance and update Witness Awareness, the method of meditation of the "Inner Silence" (Antar Mouna) that our teacher has bequeathed us Swami Satyananda. With his help we can train care and remain a witness - not involved - of the spontaneous activity of our mind. When we sit down to meditate we are in a privileged position to develop Witness Awareness and deactivate the conditionings of the mind. However, it should not be forgotten that when the sitting is over, the meditative attitude must continue. Hay que seguir establecido en la Consciecia Testigo en medio de las situaciones del vivir cotidiano. Es así como la práctica meditativa deja de ser una simple práctica y se transforma en un estilo de vida. Es así como la meditación se expresa en la acción y fructifica la sadhana (práctica personal).
Están muy bien todas las prácticas que realizamos, las terapias que nos aplicamos, los seminarios en que participamos, los textos que estudiamos, los profesores que frecuentamos. Todo ello es una gran ayuda y nos proporciona salud, equilibrio, crecimiento y el despertar a la dimensión profunda de la existencia. Pero en muchos casos se queda solo en flashes of waking up. As soon as the alert comes down and this is an old habit deeply rooted, the mechanity, the patterns of conditioned behavior and the avalanche of thoughts with which we identify and to which we react unconsciously return.
In a sense, it doesn't matter where we live, it doesn't matter what we do, the therapies we do, the techniques we practice. This is all very well, But as long as we don't have the firm determination to be aware at all times of our internal dialogue, Our involuntary thought, we will remain immersed in sleep. Internal dialogue usually accompanies us throughout the day and is more constant in our lives than any attitude, practice or method we perform.
Awakening and profound transformation only happen when we update Witness Awareness and de-identify and de-infril from the mechanical internal dialogue. Carrying out this awakening is not only a matter of practicing techniques but of cultivate an alert attitude that begs all our lives. The techniques will help us a lot, help us to go slowly, to finally establish ourselves in the attitude of being conscious at all times.
Meditation in everyday life
But as long as in the day-to-day we are not aware of the internal dialogue, the waves of the mental ocean will continue to wallow with us, dragging us and generating poisons that poison the whole of our body-mind. Sonly by becomes aware of internal dialogue can we free ourselves from it. Then we stop being shaken by their swell and we can navigate in the right direction. This is a process that begins with attention or self-preservation, matures with meditation and leads us to self-realization.
Witness Awareness is a "white glove" process. It doesn't require action and it's not a job. You don't have to suppress or feed anything. It's a non-do, not intervening, not getting involved. It is a pure observing from acceptance that frees us from mental conditioning and allows us to see things as they are and understand the profound nature of every phenomenon. Witness Awareness synthesizes the essential factors that characterize the sadhana of Patanjali's Classical Yoga or Yoga: "constant practice" (Abhyasa) and "non-attachment, de-identification" (Vairagya).
Cada momento y situación de la vida cotidiana es una invitación a vivir conscientemente, a desarrollar la Consciencia Testigo. Podemos observar el cuerpo mientras caminamos, podemos observar nuestra respiración mientras estamos en el autobús, podemos ser conscientes de nuestros pensamientos mientras hablamos, trabajamos, en todo momento… ¿A qué esperamos?… Es cuestión de determinación, de acordarnos y de perseverar…
Let's go!
Swami Digambarananda (Danilo Hernández). Recognized as a Yoga Teacher (Yogacharya) in 1993 by the International Yoga Fellowship Movement and the Bihar School of Yoga in Munger, India. Founder of "Bindu" Chamartín Yoga School in Madrid, 2,002. Author of the book Claves del Yoga. Teoría y Práctica, La Liebre de Marzo publishing house, where the teachings of Yoga are synthesized and ordered in a clear and narrative style. He regularly runs yoga courses in other Spanish cities and in South America.
(Este artículo fue publicado en enero de 2014)