Last Days to Sign Up for Yoga for Change
Si aún no te has inscrito, mira qué estupendas actividades te esperan cuando lo hagas. De este modo entre todas y todos demostraremos que hay un yoga solidario y activista, que puede transformar la vida de muchos seres humanos. Por favor, sigue leyendo…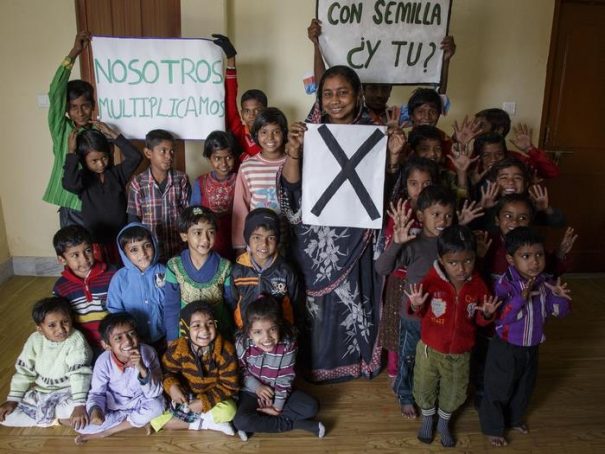 ¡Únete y participa en nuestra 4º edición de «Yoga para el Cambio En Casa». Un año más, SEmilla for Change and YogaenRed se unen con un fin solidario: recaudar fondos para responder a la pandemia en Varanasi, India.
El evento, que se realizará online (a través de la plataforma Zoom), tendrá lugar los días 23 y 24 de mayo, desde las 8 de la mañana hasta las 20 horas de la tarde, con un programa de sesiones de yoga, meditación y otras disciplinas, ofrecidas por centros y profesorado de toda España.
–Mira el programa completo aquí: https://www.semillaparaelcambio.org/centros-yoga-para-el-cambio/
–Mira en este página del Evento de Facebook con las publicaciones de los participantes: https://www.facebook.com/events/866709000509770/
The donation to participate is 10 euros, AMPLIAMOS el plazo de inscripción hasta el viernes 22 de mayo. ¡Contamos contigo!
Si no vas a realizar o participar en ninguna actividad del evento solidario «Yoga para el Cambio», pero igualmente quieres colaborar en la respuesta de Semilla para el Cambio a la crisis del coronavirus en India, puedes hacerlo a través de «Yoga 0»: https://bit.ly/yogaparaelcambio_yoga0 .
Gracias por unir yoga y cooperación y ayudarnos a responder a la pandemia en India. ¡Participa y ayúdanos a difundir!
Seed Founder's Invitation for Change
Maria Bodelón, Director of Seed for change, invites you from Varanasi to join the solidarity action Yoga para el Cambio En Casa los días 23 y 24 de mayo.
Watch the video: https://www.facebook.com/semillaparaelcambio/videos/3850117698362749/
Todos los fondos serán destinados a paliar los efectos de la pandemia entre las comunidades más vulnerables de la ciudad de Varanasi.
¿Aún no te has inscrito? Hazlo aquí: https://bit.ly/meapuntoayogaparaelcambio