Vegetarian recipes/ Spinach with vegan cheese
Las espinacas son una fuente poderosa de vitaminas y minerales y bioactivos. Se pueden cocinar de muchas formas, pero esta, tomada del recetario hindú, es deliciosa.
Write, share, and kitchen Gauri, Professor of vegetarian cuisine of the Sivananda Centre of Madrid and the affiliated Centre Sivananda Vedanta of Granada.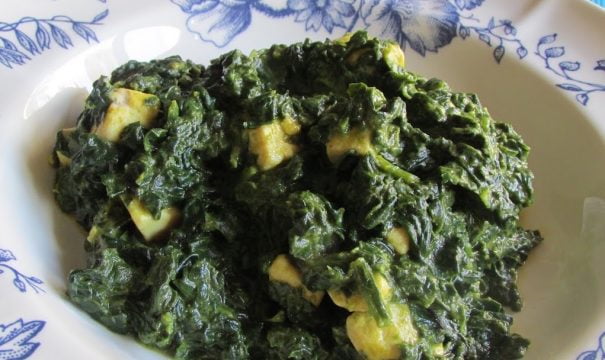 Esta receta es adaptada de la cocina de los Hare Krishna, se llama Panir sak. La hemos hecho completamente vegana y hemos añadido pimentón una especia básica, en la cocina meditarránea.
Ingredients: para 2 personas
• 400 g de espinacas frescas, lavadas y cortadas en tiras.

• 2 cucharadas de AOVE (Aceite de Oliva Virgen Extra)

• 2 cucharaditas de cilantro molido

• ½ cucharadita de cúrcuma

• ½ cucharadita de pimentón

• ¼ cucharadita de pimienta de cayena

• 75 g de Quefu (Queso Vegano) cortado en cubitos.

• 2 cucharadas de nata vegetal (opcional)

• 1 cucharadita de sal

• ½ cucharadita de panela
Preparation:
Poner el aceite en una sartén grande de fondo grueso, añadir las especias en polvo y mezclar con el aceite, medio minuto.

Añadir las espinacas, en dos o tres tandas hasta que quepan todas. Tapar y dejar cocinar al vapor a fuego medio unos diez minutos. Si queda mucha agua destapar y esperar que evapore un poco.

Añadir el queso en cubos y la nata vegetal, si se usa, la sal y el azúcar y remover todo con cuidado, dejar cocer unos 5 minutos más.

Servir acompañado de arroz basmati o chapatis.
Notas sobre los ingredientes:
Si puedes, utiliza espinacas ecológicas de manojo; las hojas tendrán más cuerpo y no será necesario destaparlas para evaporar el agua. Si son de bolsa ya lavadas y cortadas te recomendamos que las laves previamente. Es posible que tengan más agua y tengas que añadir más cantidad de espinacas.
Respecto al queso vegano, nunca hablamos de marcas, pero dado que hay muchos productos ya elaborados para personas veganas que no son muy saludables, haremos una excepción. Nos hemos estudiado todas las etiquetas de los quesos y el único que hemos encontrado bueno para utilizar en esta receta es uno de Soria Natural hecho de tofu. It is called Quefu semicurado, sólo tiene 185 kcal, por 100 gramos, es ecológico y además la mayor parte de las grasas son insaturadas.
Gauiri Leles. ACG by Raya Yoga-Sivananda Tradition

Calle Marqués de la Ensenada, 2 Esc.A. 2oB 18004 Granada
T 660288571 / www.sivanandagranada.es/
http://comemosparavivir.blogspot.com/