Music by kora and sitar with Gorka Gandharva in Madrid
We encourage you to celebrate spring with a beautiful Indian sitar and African kora concert by Gorka Gandharva. You can also practice Yin Yoga and Yoga Nidra with Raquel Sanz. A round weekend, March 21 and 22, promoted by Kamala Bazar.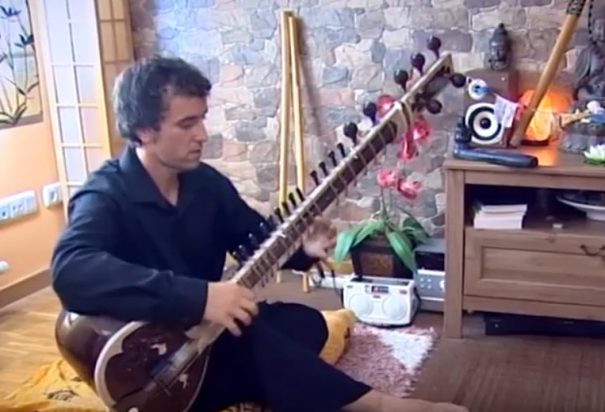 Gorka Gandharva he's a musician and composer. He began a journey that took him from the traditional African music of the mamadou Kante school in Bamako (Mali) to the sitar of India, to the Hang, a melodic percussion instrument invented in Swiss laboratories.
In his tireless quest to capture his music, he created the Nadanta Music Group quartet (violin, flute, board and sitar). Currently, as a result of deepening the experience of music, he works as a composer.
You can listen to him on his youtube channel: https://www.youtube.com/channel/UCX960bapF41tZQUPFfAQQIQ
Sitar (India) and Kora Concert (Mali)
–On Saturday 21 March Gorka Gandharva will give a concert by Sitar and Kora, from 20:00 to 21:30h:
"An intimate journey across the ocean of music". We will travel through the deep sounds of India and Africa where musical improvisation is common in these cultures. A music created in the present by this Navarrese composer.
The sitar is an instrument of India and Pakistan, better known than kora. It belongs to the lute family. It has been in its current form for approximately 700 years. This instrument has had a great development in the classical music of northern India. The Kora it is usually an instrument usually of 20 or 21 strings, a mixture of harp and western African lute: Mali, Guinea, Senegal and in The Gambia.
Price of the concert: 10 euros. Pre-booking, limited capacity is recommended
And besides... a weekend of spring celebration
On the occasion of the next Kamala Bazar showroom, where you will find ethnic fashion, tribal and decoration accessories brought from India, Nepal, Bali, Vietnam and Mauritania, there will be two interesting yoga workshops with music:
–Saturday 21 from 11:00 to 13:30h and Sunday 22 March from 11:00 to 13:30h (shifts to choose):
Workshops: Yin & Yoga Nidra + Live Music with Raquel Sanz and Gorka Gandharva
Yin Yoga it is a therapeutic practice whose purpose is to promote Yin energy (passivity, not action..) to promote states of tranquility and tranquility.
Yoga Nidra es una técnica de meditación-relajación que podría traducirse como «sueño psíquico». Con Yoga Nidra conseguiremos que nuestro cuerpo y nuestra mente obtengan un completo estado de relajación.
La fusión de ambos métodos nos llevará a un profundo equilibrio físico, mental y emocional. Un estado de quietud y calma interna poderosamente sanadora.
Acompañados en todo momento por los acordes dulces y envolventes de la Kora africana de Gorka, profundizaremos en los matices de cada sonido en una experiencia única para despertar soñando.
Precio de los talleres: 30€ (alumnas/os Satkara Yoga: 25€) Imprescindible reservar, plazas limitadas.
Dónde serán el Concierto y los Talleres: Satkara Yoga. C/ Moratín 7 (Barrio de las Letras). Madrid

Reservas para los Workshops y Concierto: T 620 870 238 / info@satkarayogastudio.com

More information: Herei