"Cleanup" intuition
Intuition is one of the main tools to lead us in our lives. With certainty the practice of yoga and meditation can train us in the development and "refinement" of this important faculty. How to get it? Joaquín G. Weil writes.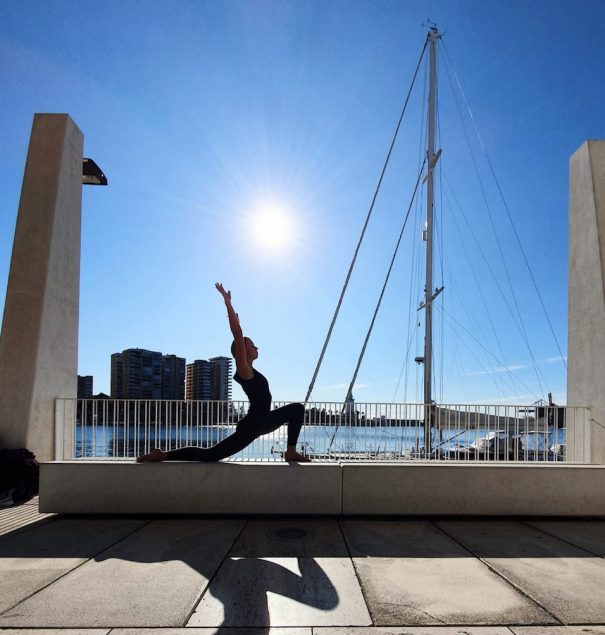 I'm going to do some clarifications first and then focus on yoga and meditation.
Put in a symbolic language: to throw the arrow it is necessary not to directly push it forward, but to pull back the rope that drives it, in order to be able to direct it towards the target forcefully. We live in an environment where hasty action and mechanical practice prevail; although they are meditation (with object) and theoretical understanding of the issues that help us to target it.
It's a subject I started in the article published in Yoga Online at the end of last year: Yoga and forbidden spirituality. Since this article has received such generous praise, I want to continue to develop the issue of the practical aspect of spirituality.
Readers will have found that for the billions of neediest people in the poorest countries, prayer and spirituality are literally a matter of life and death, a basic necessity. It is something that I explained in another article also published in Yoga Online a few years ago: Maslow's pyramid was upside down. People prone to spirituality live more and better (especially among the poorest). This is not an assumption or belief but a scientific (statistical) fact, as this news illustrates in The Independent. https://www.independent.co.uk/news/ health/religion-live-longer-muslim-jewish-christian-hindu-buddhist-life-expectancy-age- a8396866.html
As is well known, the United States of America is the only rich (and indeed the most powerful country in the orb) where the degree of religiosity and spirituality is at the level of the poorest countries.
Well, equally, for us Ispirituality may not be a matter of life and death, although it is an important instrument in our day-to-day development, and in the development of all our potentialities.
No se trata de un mero debate de argumentos o creencias. Evidentemente que cada cual crea libremente en lo que tenga a bien. Y tengo por seguro que aquellas personas que quieren persuadir o convencer a otras es sencillamente porque ellas mismas no están ciertas de lo que pretenden profesar. Tampoco se trata de un asunto sólo teórico, sino que, como ya dijimos, tiene una vertiente práctica y útil, y otra vertiente histórica.
Alma y consciencia
As I said Rupert Sheldrake en su interesante conferencia Anatheism, Rediscovering God, la diferencia entre el Universo materialista ateo y el Universo teísta consiste en que éste está habitado por la consciencia, mientras que aquél es inerte y mecánico (lo cual incluye todos las cosas y seres vivos, también el ser humano, todos ellos, de un modo o de otro, reducibles a mecánica). Lo cual importa, y mucho, al asunto de la meditación y la intuición, como luego veremos.
En el aspecto histórico, el segundo concilio de Constantinopla, en 553 (en tiempos de Justiniano I) declaró, entre otras cosas, que el alma humana no era preexistente, con lo que convertía a la religión cristiana en una excepción dentro del panorama de las religiones y creencias espirituales del mundo. Tanto en el propio Platón, como en los neoplatónicos y gnósticos, en el judaísmo, en el budismo y en el hinduísmo (entre otras) se considera que el espíritu o la consciencia humana existe antes del nacimiento y susbsiste tras su muerte. Incluso en Orígenes (uno de los padres de la Iglesia cristiana) está presente esta creencia, por lo que fue declarado herético y destruidos sus libros. También en algunos pasajes de los Evangelios se da a entender que existe la transmigración de las almas.
"Respondiendo Jesús, les dijo: Es cierto que Elías debe venir y que habrá de restaurar todas las cosas. Pero yo os digo: Elías ya vino y no lo reconocieron. Así también padecerá el Hijo del Hombre. Entonces los discípulos comprendieron que les había hablado de Juan el Bautista". Mateo, Cap. 17.
Como estamos tan acostumbrados a esta "rareza" del cristianismo (a partir del II Concilio de Constantinopla), no nos damos cuenta de lo extraño de dicha creencia. Hoy en día sólo es profesada, además de por el cristianismo actual, por el Islam, a su zaga, y por… (precisamente) las creencias neurocientifistas, que consideran que la consciencia es un "producto" neurológico del cerebro, y que, por tanto, nace y muere con él.
Está claro que la intuición es un acceso directo (insight) hacia el inconsciente. Pues bien, en Occidente el concepto del inconsciente viene condicionado principalmente por la definición que Freud hizo de él. Como bien explican Frederic Lenoir in his book Buddhism in the West, and Rüdiger Safranski in Schopenhauer y los años salvajes de la filosofía, el concepto psicoanalítico del inconsciente lo extrajo Freud del budismo, a través de la lectura, y la traducción conceptual que de él hiciera de Schoppenhauer, quien, a su vez, lo había aprendido de Karl Kraus.
Sin embargo, hay una radical diferencia entre el inconsciente freudiano y el budista. Freud, pese a ser judío de origen, secunda el principio cristiano y cientifista del origen mundano o terrenal de la consciencia. A su vez rechaza con vehemencia, como señalara Jung, cualquier atisbo de espiritualidad. Por lo que, a diferencia del budismo, su inconsciente no era ya cósmico y eterno, sino meramente individual y biográfico. Tuvo que ser Jung quien, desde esta comprensión, comenzara a hablarnos del, así llamado por él, "inconsciente colectivo". Lo cual se aproximaba, aunque fuera tímidamente, al inconsciente universal (en cuanto que consciencia universal desconocida) propio y original de la meditación budista.
Desde esta inmensa fuente de conocimiento que es la consciencia universal es desde donde podemos obtener, mediante nuestra intuición, los recursos para ser más eficiente, sabios y felices en nuestra vida cotidiana.
Felices intuiciones
Más allá de nuestros análisis racionales, argumentos y discursos mentales, la intuición es una herramienta imprescindible en nuestra vida cotidiana: nos permite percibir las emociones, sentimientos e intenciones de las personas con las que convivimos y nos encontramos en nuestro día a día; nos facilita tomar decisiones de un modo ágil y certero; nos indica la diferencia sutil entre lo correcto y lo incorrecto; nos permite, de algún modo, anticiparnos a los acontecimientos de futuro, del mismo modo que comprender el presente; y nos posibilita conducirnos con serenidad y certeza en un mundo sobreabundante de mensajes y comunicaciones diversas. Para que la intuición funcione de un modo eficiente es necesario limpiarla de preconceptos y depurarla de las ilusiones del ego.
¿Cómo podemos, desde el punto de vista del yoga, entrenar la intuición para lograr nuestros objetivos? Es algo que indudablemente requiere un mayor desarrollo y explicación, tal vez en próximos artículos en YogaenRed, y en venideros libros, nuestras inminentes charlas, retiros y talleres que podréis encontrar en nuestro blog de YogaSala Málaga. Gracias por la atención y paz para todos.
Joaquín G Weil

Próximo taller de Joaquín G Weil Cómo "limpiar" la intuición con el que el 29 de febrero se inaugura el Primer Congreso de Ciencia, Consciencia y Espiritualidad, a celebrarse en el Centro Atma, Málaga. Imprescindible reserva previa. http://yogasala.blogspot.com/2020/02/joaquin-g-weil-abre-el-primer-congreso.html