YogaenRed collaborates on an article on 'El Pais' about sexual abuse in yoga
You just published an excellent article in supplement S Moda Journal The country, with the title 'The inventor of Bikram yoga abused his students: the lessons left by this new scandal'. Thank you to the author, María López Villodres, for her work and for requesting the collaboration of YogaenRed.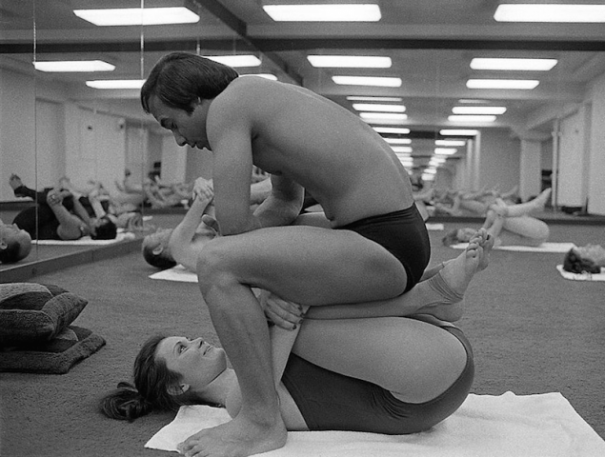 The article (see original Here with all his photographs) is posted to the thread of the Netflix premiere of the documentary Bikram: yogi, guru, predator. We transcribed your text below:
As has been the case in film or gymnastics, the movement #MeToo has given rise to the allegations and reflection on sexual abuse and power exercised on women also in the world of yoga. "There may not be a greyer area than a yoga studio, where physical intimacy, spirituality and power dynamics come to the ground in a sweaty little room," melves journalist and yoguini Katherine Rosman in her Article Yoga is finally facing consent and unwanted physical contact, published in The New York Times.
As a result of these allegations, some changes have taken over. In Hollywood, the batteries have already been put on, hardening the clauses regulating nudity in cinema and figures such as the intimacy coordinators, who are responsible for creating safe spaces for actresses and actors in the filming of sex scenes. And the trial of Larry Nassar, the physiotherapist who abused hundreds of American gymnasts, was evident thanks to Judge Rosemarie Aquilina's efforts, the importance of being heard by victims. By becoming infected with these initiatives, many women in the yogi community have broken the silence against the gurus who have abused them in recent years and are now developing new codes on how to raise contact and adjustments -the physical modifications that the teacher can make on the student to help him get the asana (the posture) that is worked on-, contributing to a more comfortable and protected environment.
There are few known cases in which the figures of these gurus, taking advantage of the asymmetry of power and the devotion of their followers - sometimes crossing the barrier of the sectarian - have committed abuses. In the 1970s it was rumored, with different versions over the decades, that Maharishi Mahesh Yogi, creator of transcendental meditation, would have tried to rape Mia Farrow during his retirement in India, where he agreed with the Beatles -- following what John Lennon would have written Sexy Sadie-. Swami Satchidananda, the 'Woodstock guru' who took charge of the opening ceremony of the festival in 1969, denied the accusations with which, by banners praying "Stop covering it up" and "to abuse", some alumni approached him on the way out of a conference at a hotel in Virginia in 1991.
In 2012, John Fried, creator of the anusther yoga, He admitted to sleeping with several students while maintaining a relationship and enacting a lifestyle opposite the party and the excesses of which he was accused, which undermined his credibility in his own community. And Bikram Choudhury, billionaire inventor of the hot yoga, was denounced for raping and sexually abusing his students and his legal counsel, Minakshi Mikki Jafa-Bodden, who assured that the guru had forced him to lie to defend him in court. Fleeing to Mexico since 2017, Bikram continues to teach despite being in search and capture in the United States (Netflix premieres the documentary about his story on November 20: Bikram: yogi, guru, predator).
With the virality of network #MeToo, the most explicit and documented accusations have come. Karen Rain, Jubilee Cooke and so many other women have reported in different media (including photographs) how Patthabi Jois, the inventor of ashtanga yoga died in 2009, too often crossed the line of consent when making its adjustments. He lay on them, grazed his genitals and penetrated their vaginas with his fingers through the tights and underwear with the excuse of correcting the chakra lowest (mule bandha). Accusations dating back to 2010 and for which, until last July Sharath Jois, grandson of Pattabhi Jois who has taken the witness as guru, shared a Instagram post asking for public forgiveness, there had been no official response.
Outside of yogis elites, these practices have also been perpetuated. To uncover nearby cases and put on the table the real situation about abuses in the yoga environment, the influencer Rachel Brathen (@yoga_girl), creator of the '#yogaeverydamnday', called to share anonymously through your account the testimonies with the intention of combating these situations. His surprise came when he had to deal with hundreds of messages which he then rescued on his website through several posts. Messages of denunciation that, as Roseman sums up in The New York Times, reflected "a constellation of abuses of power and influence, which included [sexual] propositions after class and in yoga retreats, forcibly kisses during private meditation sessions and aggressions on the post-yoga massage stretcher. Complaints also included inappropriate touching during classes, essentially in public."
In Spain, the magazine YogaenRed se posicionó frente a este problema de abusos sexuales y de poder con varios artículos en 2017, publicando íntegro y en español el testimonio de Karen Rain. "Estos artículos tuvieron mucho eco y apoyo a las víctimas por parte de la comunidad del yoga, que se expresó a través de las redes sociales de YogagenRed, a pesar de que no han trascendido casos de abusos aquí", cuenta a S Moda Pepa Castro en representación del medio. Entre los comentarios, Pepa recuerda que se plantearon dudas sobre «por qué los abusos no se denuncian antes, el temor ante las figuras de autoridad de los gurús (y los profesores en general) y el peligro del silencio».
"En los programas de formación de profesores no hay contenidos específicos que aborden el tema. Pero sí se detecta una mayor sensibilización y conciencia, por ejemplo, respecto a la adecuación de los ajustes con el fin de corregir una postura", explica Pepa Castro. "Estamos seguras de que todas las escuelas que hacen formación de profesores abordan el tema en sus clases de un modo u otro y recomiendan, como mínimo, un trato muy escrupuloso a la hora de hacer ajustes, pudiendo incluso solicitar permiso a los alumnos para ser tocados a estos efectos". Es el caso de Belén González, profesora acreditada por la Junta de Andalucía al cargo del estudio Yoga Yume (Málaga), quien explica a S Moda su forma de proceder: "En la ficha que cada alumna o alumno rellena antes de comenzar sus clases he incluido una casilla para que marquen si quieren o no que les realice ajustes". Un modelo más cercano al de las tarjetas X y O popularizado en Estados Unidos, que colocadas en la esterilla de cada alumno durante la clase indican si consienten o no el contacto físico y los ajustes".
"En mi experiencia, aquí ocurre más bien lo contrario. A las personas que vienen a las clases de yoga (en mi caso, un 90-95% mujeres) por lo general les gusta que les toquen con el fin de corregir la postura. Diría incluso que hay un pensamiento de fondo por el que, si no haces estos ajustes a través del contacto físico, no se te considera buena profesora", expone González. Una idea que la formadora Mayte Criado, directora de International School of Yoga, que ha formado parte del comité de ética y estándares mínimos de la Yoga Alliance para combatir la mala conducta sexual en las salas de yoga, reconoce: "En España (y en la cultura hispana) ahora mismo no existe tanto esta conversación como en Estados Unidos. Culturalmente somos de tocar mucho, muy cercanos. En terapia, incluso antes de preguntar qué te pasa, ponemos las mano en el hombro o la espalda. Los estadounidenses no lo entienden igual. Esto no quiere decir en absoluto que los abusos no se den en el mundo del yoga ni que no sea algo muy serio. Aquí es aún una conversación pendiente. Por nuestra forma de ser, denunciamos poco y en seguida olvidamos. Yo misma he sido testigo de esto. Tuve una experiencia así hace 20 años e hice lo que hacía todo el mundo -entonces denunciar algo así provocaba risas-, dejé a ese profesor y me fui de esa escuela", explica Criado.
"En definitiva, es más difícil que un alumno aquí comprenda por qué se le pide que firme un consentimiento de contacto físico antes de una clase". En su escuela, donde forman a futuros profesores, Mayte asegura que se basan en transmitir un "cuidado esmerado a la hora de tocar al alumno", fomentan que se pida "permiso verbal" y el "ser muy cuidadosos con el alumno que no quiere ser tocado". Las nuevas bases sobre las que se construyen las clases de yoga en la era post #MeToo.
Auora: