Yoga as an anti-stress method... or the confusion we live in
Paradologically, the more yoga becomes popular, the worse it communicates. Who are the culprits of so much confusion and a mix of ideas? The media or the sources themselves that we didn't agree to explain the essentials of a complex discipline? Why is it so hard to understand that yoga is a set of practices that fully benefit the person? Pepa Castro writes.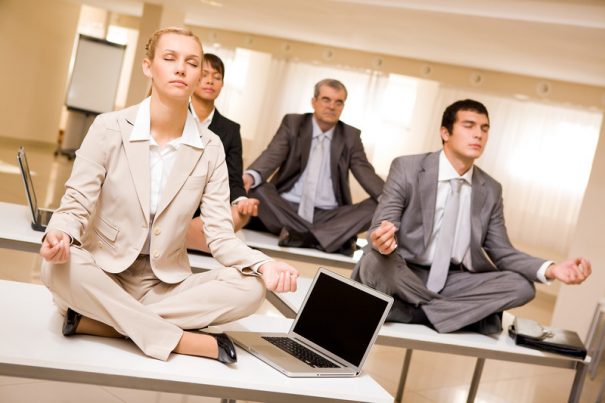 Recommending meditation as an anti-stress or relaxing method is a blushing reductionism, but using it to extract higher job performance from people is already a court banalization on duty.
But you better judge what is written in this article of The country: 'Namasté', the Zen fever in the world of money in Sao Paulo
The media in general talk a lot about yoga but seem to understand very little, because they continue to treat it as something extravagant, mystical, when they do not associate it directly with the superstitution. They only show it on their face more "tolerable" when presented as a manner of exercise or friendly physical activity that some doctors recommend for back discomfort or to relax.
Three days ago, back the paper The country would come back to the burden with the theme of pseudotherapies in this article titled Why yoga is on the list of possible pseudotherapies. If the previous article was court of court on duty sowing confusion, this one is crazy.
One starts reading it in the hope of finding something like a half-wise response to the official mismatch of blacklisting pseudotherapies... but at the end of it only increases the feeling of confusion and nonsense with which the venerable and respectable yoga is wrapped.
A sample:
"As long as they are kept (referring to yoga practices) in the field of relaxation, well-being or exercise there is no problem, but sometimes they become pathways to different pseudotherapies and are tried to attribute capabilities that they do not have or have not been shown"says the president of the Association to Defend the Sick from Pseudoscientific Therapies.
And things get worse as we move forward in reading. In the last part, they title "Meditation, a magnet for sects", it says: "And yoga is not the only practice where tricksters are hidden. Meditation, which is also on the list of therapies under evaluation despite having scientific studies to support it — such as one from the University of Melbourne that suggests that this practice can be useful in helping with psychological problems such as anxiety, depression and stress—this is another discipline behind which charlatans and scammers hide. There are mindfulness classes that can hide scams in course forms, retreats and 'healing therapies' for exorbitant prices that exceed several hundred euros".
Seriously? Do you believe it? Do you know or have seen such scams? There will be, but no more or worse in yoga than in insurance or pre-cooked foods, to say the least. But such comments describe meditation as a dangerous world plagued by unscrupulous individuals willing to assault us.
Can yoga be divulged without deforming it?
It's one thing to use the word Yoga to sell fitness inventions, DJ's and posture chill out (which, however, is happening but which curiously only seems to alarm a few veteran Yogis), and another that abound the scammers who invoke yoga to offer miracles to evicted and desperate sick.
What's wrong? Where does so much inaccurate and confusing information come from, at best, and toxic at worst?
It is the responsibility of those of us engaged in yoga as transmitters of information and/ or teachings explain with sufficient breadth and accuracy what yoga and hatha yoga consists of, what objective it pursues, what its benefits are, what kind of practices and styles encompasses and, above all, how best we can incorporate it into our lives today. And let us do so from the normality of a sector formed by numerous professionals, centers and very specialized schools that impart a quality yoga aimed at optimizing the unity (body, mind and spirit) of the being that practices it. That is what abounds in our country, much more than pseudoyogas and of course yogascams.
It is clear that today's society has an interest in yoga, so we must learn to divulge it without reducing it to a simple relaxing or gymnastic exercise but also not elevating it to impenetrable doctrine hardly applicable to the mentality of our day.
We want to know your opinion and your ideas in this regard. You can write to me pepacastro@yogaenred.com and we'll stay in touch.
Pepa Castro is co-director of YogaenRed.