Bhagavad Gita Always, The Song of the Lord
Simplement by talking about the Bhagavad Gita awareness is stimulated and its study involves the transformation of personality. Not because we intellectually understand its meaning, but because a single drop of intuitive or true understanding of this teaching transforms the way we see life and reminds us of who we really are. Writes Jamie Estella.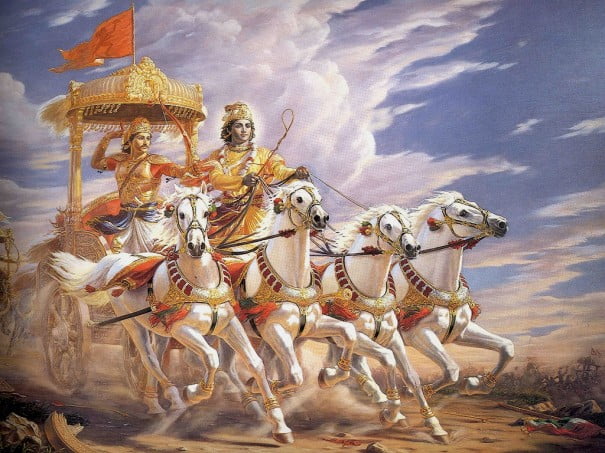 The Bhagavad Gita talks about a struggle. This battle takes place on a very special field and its protagonists are also.
The first verse of this text begins by saying: "Dharma-ksetre kuru-ksetre ..."
What does that mean? Well, it's telling us the scenario where the story, the battle... Let's look at word for word.
What the? Dharma? "It's the right order of things." What it has to be, go. The right thing to do, what we've come to. The real thing. Ksetre o ksetram it's the countryside. He's talking about the Dharma field (Dharma-ksetre).
And what is our Dharma? Just be happy, that's what we're here for, to be really happy.
And what is kuru-ksetram? The word "kuru" means action, that is, kuru-ksetram it is the field of action; therefore the Bhagavad Gita starts by saying: "Being in the field of the Dharma, in the field of action..."... what do you mean? It does not refer to a specific moment, spiritual or mystical, in which we sit down to meditate and want to transcend, nooo... He's talking about the battlefield (and we use the word "battle" affectionately), he's talking about every moment of our daily life, every moment we deal with the "battle" of being happy or not, that's how the Bhagavad Guita.
Habla de todos nosotros porque todos lidiamos la misma batalla en nuestro interior.
This text is going to Remember qué es lo que no nos permite ser felices y cómo serlo.
We are all
The cast of characters is spectacular: cada uno de nosotros como actor principal, por un lado mundanos (Arjuna), desenvolviéndonos en la vida cotidiana, y por otro lado la divinidad que tenemos dentro (Krishna) y que nos habla continuamente, que brilla e intenta expresarse, sólo hay que dejar que lleve las riendas, ¡ahí está la clave!
Each decides who reigns within: el ego, fuente de sufrimiento y miserias, o la divinidad, estado perenne de felicidad no dual. Este texto nos muestra cómo identificarlos y elegir por nosotros mismos… ¡¡¡A luchar!!!
Todos los personajes del Bhagavad Gita are or have been in us. We have all been spiritually blind once and we have all had flashes of consciousness, we have all wanted to surrender and we have all wanted to fight.
El primer capítulo es clave para entender la trama. Aparecen tanto las cualidades "positivas" que necesitamos para avanzar en el viaje espiritual como las "negativas" que nos mantienen enredados en la mente y no nos dejan acceder al corazón. Representadas por personajes, en el lado de "los malos" destacan el Ego y los hábitos de pasado. Bhisma y Drona. Pero no es que sean "los malos"… es que trabajan en el ejército equivocado. Por ejemplo, el Ego podría mirar hacia la divinidad en lugar de aferrarse por satisfacer los deseos interminables… Por eso Duryodhana, el deseo siempre hambriento, sabe que tiene que mantener al Ego de su parte, ante todo tiene que proteger al Ego en su bando… (I.10-11)
Mientras tanto, Dhritarashtra, el rey ciego, en lo alto de la colina mira el campo de batalla. Cuando nos ocurre algo en la vida, ¿dónde nos colocamos? Normalmente somos el sujeto que actúa, nos enredamos con lo que está ocurriendo y por tanto estamos dentro de la situación. Cuando nos damos cuenta y queremos separarnos, intentamos colocarnos en lo alto de la colina para observar desde la distancia, para comprender, ser objetivos y tomar las decisiones adecuadas. Pero como Dhritarashtra, estamos ciegos. ¿Por qué? Todo esto y mucho más nos desvela el Bhagavad Gita.
Este texto es parte del Mahabharata, poema épico hindú, y por tanto también ayuda conocer algunas pinceladas de lo que ocurrió antes del comienzo de la batalla. ¿Quiénes van a luchar y por qué? ¿Qué significado tiene el exilio del que viene uno de los bandos? Y ¿qué pasa después del Bhagavad Gita? ¿Da Krishna por cumplida su misión como "encarnado"?
The Bhagavad Gita es un texto para siempre presente en la vida de un yogui, pero no siempre es fácil comprenderlo.. Cuántas veces hemos intentado leerlo y no llegamos a entender sus mensajes…
El Retiro especializado
Por eso planteamos un weekend retreat en Brihuega, Guadalajara, para saborear este texto. Es del próximo 22 noviembre por la tarde al 24 de noviembre después de comer.
Las plazas son muy limitadas. Si quieres más información del retiro escribe a: borneo2006@hotmail.com / T699 06 31 26
Share: Yamila Estella (Sn. Yogadhara)
Sobre la profe: Yamila recibe el nombre de Yogadhara ("base o fundamento del yoga" ó "corriente de unión") de su maestro SW Niranjanananda Saraswati, tradición a la que está muy unida con iniciación de Karma Sannyas. Aprende de Danilo Hernández (Sw Digambar) hace más de 15 años a quien debe todo su agradecimiento por sus enseñanzas, ejemplo y oportunidades y ha dado clases en su escuela de yoga "Bindu" de Madrid durante muchos años. También ha dado clases varios años en el Instituto de Salud Carlos III a empleados del centro de investigación biomédica, entre otros sitios. Cuenta con numerosos cursos y múltiples estancias en monasterios de distintas tradiciones; vivir en el ashram de Bihar School of Yoga (India) más de 2 años es lo que más le ha servido para des-cubrir la esencia del Yoga. Práctica y experiencia son la base de su transformación.