Vegetarian recipes/ Tofu and vegetable cakes
Estos pastelitos están inspirados en unos pastelitos de arroz integral que fue de las primeras recetas vegetarianas con las que experimenté. Acompañados con una buena ensalada, es un plato completo.
Write, share, and kitchen Gauri, Professor of vegetarian cuisine of the Sivananda Centre of Madrid and the affiliated Centre Sivananda Vedanta of Granada.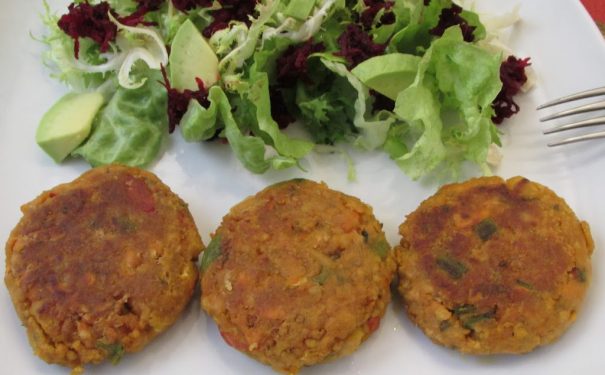 Ingredients:
200 gr de tofu suave

1 grated carrot

1 penca de apio verde rallada

1/2 red pepper, cut into squares

1 pimiento verde cortado en cuadraditos

1 cucharadita de pimentón

1 teaspoon turmeric

1 cucharada de concentrado de tomate

2 cucharadas de tamari

2 Tablespoons extra virgin olive oil
1 teaspoon oregano
1 teaspoon thyme

2 cucharadas de perejil picado

Harina de trigo, de maíz o de arroz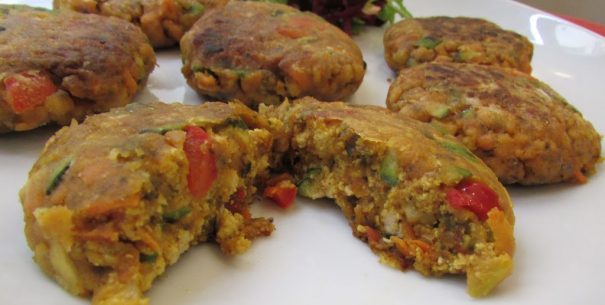 Preparation:
Cortar el tofu en trozos y ponerlo a cocer en agua hirviendo durante un par de minutos.

Escurrir y colocarlo en un bol, aplastarlo con un tenedor, añadir el resto de ingredientes (cortados) y mezclar muy bien. Se puede amasar con las manos colocando en ellas unos guantes, por higiene y porque la cúrcuma mancha las manos. Dejar la masa reposar en el frigorífico, al menos una hora para que se mezclen los sabores.

Formar bolas del tamaño de una pelota de pin-pon y aplanarlas para formar los pastelitos. Emborrizar con harina para que mantengan la forma. Si cuesta formar las bolas, se puede añadir a la masa un poco de pan rallado o harina.

Poner un poco de aceite de oliva en la sartén y freír unos minutos por cada lado hasta que se doren.
Yoga Sivananda VedantaGranada-afiliado. Calle Ángel 13, 18002 Granada
Phone: 660288571
www.sivanandagranada.es/
http://comemosparavivir.blogspot.com/