What+Seen/ Yoga Pedagogy 10: General Ideas in a Yoga Class
Starting to teach is undoubtedly a challenge. We can't channel a yoga class because it's an art and therefore difficult and complex. But we can't turn it into a complicated cabal either. From a few minimums we develop a way of transmitting that cannot be encoded in a mere formula. Writes Julian Peragón (Arjuna).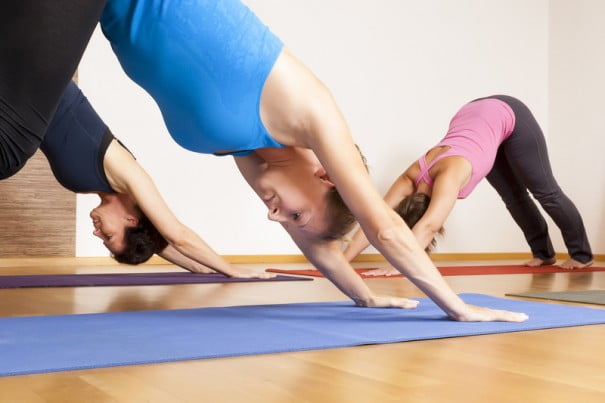 Input, we must distinguish between technical and transmission. With regard to the technique, we should master a few (but not too many) that are affordable and effective. To put an image, yoga is not the circus "the more complicated best". In fact 98% of students need a simple "technology" that do not damage.
By putting an example gastronomic, the best food is that that with the minimum expenditure energy for its digestion us provides of a greater amount of nutrients and of energy. Also in yoga, often "less is more". And by follow with them examples, when we buy a washer new think in all them benefits that can have, but at the time of the truth, as I passes to me, use a pair of programs of them 30 that has.
Let's see some yoga postures technology. Dvipada Pitham, the table of two legs, is relatively easy in its execution, but an analysis more detailed us makes understand that power the musculature of them legs, facilitates the return venous, drains them organs abdominal, stretches the diaphragm, stretches all the musculature back-cervical, between others elements. On the other hand, positions as Sirsasana or Bhujangasana require an advanced domain not to damage us in the cervical or lumbar area. So we have very well weigh the positions that we choose to know their risks and benefits.
Now well, in the transmission of the yoga might be more relevant our attitude that our domain technical. To the student it comes with safety our delivery, our availability, our respect. Our commitment with the yoga and our honesty These are elements that gradually emerge over time once the fireworks of seduction are exhausted. From there the need of holding our practice with passion.
Now it's dip into the pedagogy for transmit this passion. First we need to know our students, meet their demands, needs, your map of tensions. That healthy curiosity for what happens to them builds confidence and gives security. The best way is to establish interviews personal especially at the beginning and as much as when suspect difficulties in monitoring classes. And in addition to the collection of information must refine our degree of observation. In this way we can better identify practice within a group.
One way to identify the practice of yoga is the media regulators have in the class. Blankets, pads, straps, blocks, chairs, sticks or the same wall will serve as elements of support or intensification. Also work in pairs can fulfill this function of self-regulation.
And, since we are talking about the room of yoga, we must take care of all the details: natural light if possible, ventilation, minimum noise, order and cleaning, symbolic Centre, etc.
Suggestions to guide the class
We are often led by the moment and improvisation, and it is true that listening and flexibility are important to take into account, but We must mark a direction to our classes. This is achieved with objectives simple that we help to live better: flexible them hips, win balance, remove tension to the box thoracic, relax it Strip eye, tone abdominal, etc, etc, objectives that the great majority of our students with security need. And this fan of objectives simple there is that stringing them in a thread that you of sense, through a certain progression throughout the school year. Smart progression, without haste but without pause.
To cover this progression we must have the courage to repeat classes with some variation. We have fear that our students get bored (and is leaving as consequence), of such way that propose always things new, that will surprise, that seduce. And thus it is very difficult to move forward because no overlooking what is teaching.
With regard to the moment of directing the session is important not put is of example, be rigorous with guidelines that them can guide to three levels. Technical guidelines for implementation of the posture, recognition and experience guidelines and guidelines, finally, in connection with the depth of our being.
It is important to correct not like the one in possession of the truth, but as one who invites you to check a particular position.
As the musician has a structure which are bars them, we have a structure stable that can not forget: listening, warming, progression, core, compensation, preparation for the internalization and the same assimilation in the form of relaxation, breathing or meditation exercise. But, let us not forget, since this solid structure we can make "music", we propose each posture so to compensate the former or to strengthen it, that leads to a more calm or a greater force.
From time to time, at the end of a session, it leaves some room to make a verbalization. Insurance that arise comentarios interesting to assess the follow-up to our students. From those comments can refer to the philosophy of yoga which is linked to the same life, since yoga is an art of living. Not there is that fear him to the word spirituality.
Not forgetting the aim main
Do not you forget of carry a notebook where point them series and the suggestions that go out, of this way is more easy carry a follow-up. And not be wrong, from time to time, monitor your lessons with your teacher or with any colleague veteran, since the same routine makes it difficult for us to see our own mistakes.
In this sense, be aware of the traps that typically use those teachers It helps us to avoid them. Especially put as example, not practicing, improvising as usual, not correct, do not observe, wanting to have all the answers, the desire to like, make therapist or become too esoteric, among many others.
On the other hand We can not forget that yoga is not a sweet gymnastics and even if our students come to do yoga for the back or stress, in the background there is an existential discomfort that yoga can pick up since, in reality the yoga is a response to the suffering. Yoga means availability to that suffering, take it home and without having to clear it, but open, looking at him in the face without running out. That is the greatness of our profession.
Julian Peragón (Arjuna), Trainer of teachers, directs the Yoga synthesis school in Barcelona.