Updated Guide to Teacher Training Courses and Specialties 2019-2020
The new Yoga and Advanced Teacher Training Courses begin for 2019-2020, most in October and also in January. We will be adding new information in the coming months, as it comes to the draft. Proposals are sorted in chronological order.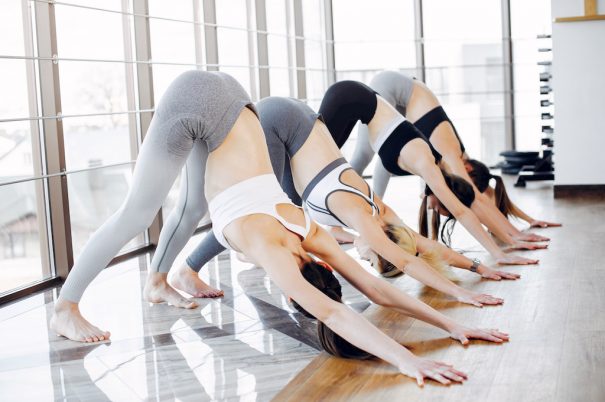 If you organize a training course can send basic data to publicidad@yogaenred.com and we will publish them in this article. It is a free service.

For direct advertising, outstanding and personalized, we offer a "Special campaign" with advantages and special offers, from 160 euros, all inclusive (ad or banner+ article on newsletter + social networks). Extensive information without obligation by writing to publicidad@yogaenred.com or calling T 629 833 632 and 616 015 933.
–Training of Yoga Instructors and Teachers, Master and Specialization
Where: International School of Yoga in Madrid, Elche, Santiago, Gijon, Mallorca, Cadiz, Girona
Start: from October 2019
Los cursos están abiertos a todas las personas que desean profundizar, sea en su propio crecimiento y como base para perfeccionar la práctica personal, sea por un interés específico en prepararse para la enseñanza del yoga en sus diversas aplicaciones. La Escuela convalida las horas cursadas (a partir de títulos de 200 horas) en otros centros o escuelas de prestigio, para poder acceder a los cursos de nivel 2 (Instructores) y 3 (Máster) de la EIY. Los títulos de la Escuela están debidamente registrados en la Yoga Alliance y reconocidos por la European Yoga Federation, la Federación Española de Yoga Profesional y la Federación Española de Entidades Formadoras de Yoga.
Address: Mayte Criado
Contact: 91 416 68 81 t / 648 078 824 / info@escueladeyoga.com
More information: https://www.escueladeyoga.com/formacion
–Comprehensive Yoga Training of the Shiva-Shakti Association of Integral Yoga
Where: Organic Yoga Madrid
Start: October 2019
This formation of Integral Yoga is inspired by both classical texts and methodological contributions and adaptations born in the West. We train teachers who must be an example of ethics and professionalism. This training provides the technical knowledge for personal and professional development in the field of yoga. We do not conceit the exercise of this profession without a personal and constant process of research and personal growth to support it.
The total duration of training is 500 hours. The standard of two training cycles of 200 and 300 hours of the international Yoga Alliance certification is followed. It is also equated in hours and content with the professional yoga qualification approved in July 2011 by the Council of Ministers. Our association is a member of the Spanish Federation of Yoga Forming Entities (FEDEFY).
Address: Jose Manuel Vazquez
Contact: 91 310 51 81 / info@yogaorganico.org
More information: https://www.yogaorganico.org/formacion-de-profesores-de-yoga-integral/
–Certificate of Professionalism "Yoga Instruction" - Polytechnic University of Madrid
Where: Madrid (Faculty of science of physical activity and sport - INEF, Polytechnic University of Madrid)
Start: November 15th. Possibility of joining until December 23.
The Polytechnic University of Madrid is the only public university center in the community of Madrid, accredited by the Ministry of Economy, Employment and Finance and the Public Employment Service, to impart, in the face-to-face modality, the Certificate of Professionalism "Instruction in Yoga", regulated by RD 1076/2012, of July 13.
The Certificate in "Yoga Instruction" does not correspond to any particular school or style, but is a basic and essential teaching applicable to all styles of yoga existing today.
Duration: 550 hours (430 theoretical-practical hours + 120 hours of professional internship in companies)
Address: Gabriel Romo Rodriguez and Enrique López Adam
Contact: gabriel.rodriguez@upm.es
More information: www.inef.upm.es/CertificadoYoga
–Yoga Training for Businesses
Where: Yoganet, Sardenya 202 bis, Barcelona
Start: 9 and 10 November
Learn how to tailor your yoga class to the needs of the company and its workers.
With Ximena Escobar Avila and Paula Colantonio
More information: https://yoganet.es/yogalab-especializacion-en-yoga-para-empresas/
–Yoga 200hrs teachers in Spanish in Goa
Where: Goa (India)
Start: November 2019
We are organizing official Yoga Alliance courses for 200hrs trainings as a Yoga Teacher in Ashtanga Vinyasa at Sampoorna Yoga School in Goa, India. We know that in many cases future Yoga teachers do not decide to train in India because of the language barrier, since the formations are usually in English. We have worked so that now there is no impediment to obtaining quality training in India in your own language, Spanish. The next dates in Spanish will be: November 2019 and April 2020.
It teaches: Gemma Gregorio. Yoga 500RYT Teacher (Member of the Yoga Alliance)
Contact: livinglavidagemma@gmail.com
More information:
https://www.sampoornayoga.com/yoga-training/200-hour-ashtanga-vinyasa-teacher-training/
–Training of Yoga Teachers for Pregnant Women
Where: Murcia. Dhyana Yoga School
Start: November 20
Pregnancy Stages/ Pregnant Preparation Exercises / Asanas / Pranayama in Pregnancy / Conscious Relaxation / Meditation with Visualizations/ Yoga Series Stufio / Know Your Pelvis/ Pelvic Floor Exercises.
It teaches: Mati Carmen Hernandez Planes
Contact: jortiz@yogadhyana.com / T 968 277 477 and 699 582 688
More information: https://www.yogadhyana.com/
–2nd Yoga Chair Training Module
Where: Madrid
Start: 23 November
On Saturday 23/11 and Sunday 24/11 November 2019 the 2nd module of the Yoga Chair Training with Ximena Escobar will take place.
The training is circular, which means that it is possible to incorporate into any module and continue the wheel.
Topics: Heating. PIE positions with the chair: push-ups, extensions, inclinations and twists. Posture anatomy. Benefits and contraindications. Most common pathologies in these postures.
Contact: Paula T and Whatsapp 34 648 18 36 49 / paula@yoganet.es
More information: https://www.yoganet.es/formacion-chair-yoga-con-ximena-escobar-avila/
–International Intensive Yoga Training in Peru
Where: in the heart of the Sacred Valley, halfway between Cusco and Machu Picchu
Start: November 27 to December 22
Training of Yoga Teachers of 200 hours endorsed by Yoga Alliance International. The training proposal is intensive (26 days) and will be developed in Peru. The training is residential thus requiring a complete dedication during the stay. Being of an intensive character, we will enjoy an authentic retreat of Yoga while training as instructors, being a very positive experience at all levels and truly transformative. In addition to the practice of daily yoga, different activities/excursions will be proposed to group activities where you can discover the treasures and magic of the place where the training is carried out. This training is suitable for all kinds of people who want to have a deep experience with Yoga; both beginners and people who regularly practice this discipline.
They offer: Nacho Kaleta and Felix sailor Vendrell
Contact: info@elementuak.com / T 695 186 506 y 615 317 675
More information: https://elementuak.com/
–Training of Hatha Yoga School Chermeed Teachers
Where: Madrid
Start: January 2020
A course to deepen personal practice and acquire the tools to guide others on the transformative path of Yoga. A Yoga without labels, based on personal experience and away from dogmas, schools and iron styles. Transmitted with rigor and truthfulness, respecting and enhancing the essence of every professional future. The course is taught from January to December 2020, on 11 weekends, one of them in coexistence of the group in the wild.
They offer: Lola Irusta and Javier Hernández (teacher accredited by the Community of Madrid to impart the Certificate of Professionalism in Yoga Instruction)
Contact: Javier Hernández T 637872747 / javihervi@hotmail.com
More information: www.elcaminodelyoga.wordpress.com
–Karam Kriya Formation
Where: Yoganet, Sardenya 202 bis, Barcelona
Start: 18 and 19 January 2020
Karam Kriya works with the archetypes of numbers to achieve a personal, professional and spiritual transformation. Get in the language of sacred numerology.
Enrich your meditative experience and let the numbers guide you.
With Seva Kaur and team.
More information: https://www.yoganet.es/formacion-karam-kriya/
–Formación de Profesores de Yoga para Personas Mayores y Necesidades Especiales
Where: Yogavida School. Barcelona
Start: January 25, 2020
Course aimed at yoga teachers who can accredit a training of at least 300h and want to obtain a specialization in yoga for the elderly and people with special difficulties (fibromyalgia, recovery of a cancer, severe pathologies in the spine, etc.). We have been teaching these types of students for more than 10 years.
Hours: Saturday to month from January to June 2020. The price includes Training + training materials + unlimited attendance, from January to June, to hatha yoga and nidra yoga classes held at the school (optional) +1 eye yoga workshop (visual education), between January and June 2020 (optional) .
Address: Montse Ramirez, director of Yogavida School
Contact: info@escolayogavida.com
More information: http://www.escolayogavida.com/actividades/especializacion-en-yoga-para-personas-mayores-y-personas-con-dificultades-especiales-141
-Yoga teacher training
Where: ETC – School of Body Techniques and Alternative Therapies (Madrid)
Start: January 25 and 26, 2020
Theoretical-practical yoga training for those people with a particular experience as practitioners and who want to give the step to teachers and teach Yoga classes.
128 hours of training spread over 8 weekends throughout 2020 in Madrid. Training certified by the Spanish Association of Body Techniques and Alternative Therapies.
Contact: info@escuelaetc.com / T 651088461
More information: www.escuelaetc.com/yoga
Training in somatic movement education with Lisa Petersen
Where: City Yoga. Madrid
Start: January 30, 2020
Somatic Movement Education (EMS) offers a safe, fast and deep way to free and recalibrate tense muscles by retraining the nervous system and reorganizing soma (body-mind) patterns.
This training brings modern neuroscience and ancient yogi wisdom into the practice of somatics. Learn how to make the unconscious conscious and feel everything become easier and painless from head to toe.
Address: Lisa Petersen
Contact: info@city-yoga.com/ T 685 549 906 and 91 553 4751 – 91 025 92
More information: http://www.city-yoga.com/servicios/formacion/formacion-eduacion-movimientos-somatico
–Training Hatha and Vinyasa Teachers / Therapeutic Yoga
Where: Kaivalya Yoga School. Barcelona
Start: March 2020
The training is aimed at all those who have practiced Yoga long enough to feel intensely attracted and interested in the benefits that this wisdom gives us as old and wish to deepen and broaden their expertise in the science of Yoga, either as personal growth or intending to devote himself to teaching and dissemination.
Address: Elizabeth Cervantes
Contact: T 629981115 / info@kaivalyayoga.net
More information: http://kaivalyayoga.net/formacion-profesor-de-yoga/formacion-hatha-yoga
–International Training in Pre and Postnatal Yoga and Yoga-Doula
Where: Yoganet, Sardenya 202 bis, Barcelona
Start: 8-10 May 2020 - January 2021
This unique double education prepares you to perform an active and practical accompaniment to the mother and father during the 3 stages of motherhood from a yogiandandal and Ayurvedic vision.
With Gurujagat Kaur from France and team.
More information: https://www.yoganet.es/formacion-yoga-para-el-embarazo-y-yoga-doula/