CD/ 'Three Windows', el mágico EP colaborativo de Michelle Qureshi y Songs of Eden
Three Windows
es como un pequeño jardín de música diseñado para el deleite de los sentidos con el fin de alcanzar el alma de quien lo percibe. La sutileza, la ternura, la fuerza, los diferentes efectos y sonidos de teclados y guitarras, hacen que escuchar cada uno de los temas que lo componen resulte un momento único de apreciación profunda del arte y de movilización espiritual.
Writes Paul Rego.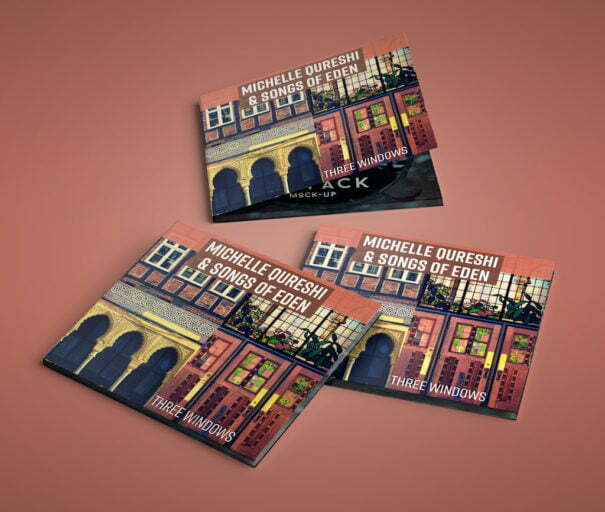 La fusión, la colaboración del sueco Mans Ek, conocido como "Songs of Eden", y Michelle Qureshi enriquecen mutuamente la propuesta habitualmente creativa de ambos en un sonido que por momentos es muy sutil y profundo y de a ratos es energizante y provoca sacudir la quietud y las estructuras del Ser, como una dynamic meditation que termina renovándolo todo para volver a conducir a la calma.
Pinceladas sutiles que pintan horizontes luminosos, con una danza emotiva entre el piano de Mans y la guitarra de Michelle. La música pasa por diferentes paisajes que evocan formas orientales, étnicas o esenciales con armonías sintéticas que expanden la energía de la música con un poder movilizador en contacto con el clima interior de la naturaleza y la fuerza de la vida, utilizando elementos acústicos, electrónicos y pasando por el ambient, la new age o el neoclásico.
Los cuatro temas de Three Windows: "Kumi Daiko" se desarrolla en un ritmo relajado con una deliciosa interacción entre guitarra y piano, "Asking" con una serie de instrumentos de percusión y pulsos que invitan al oyente al movimiento, "Color Theory" que es suave, nostálgica y dulce con una reconfortante progresión armónica introducida por primera vez en la guitarra y "From My Windows" trae al oyente de vuelta al corazón de esta colaboración con el relajante optimismo que surgió durante el trabajo conjunto. Los artistas eligieron el título "Three Windows" porque esta colaboración en cierto sentido creó una tercera ventana para ver su música.
El compositor sueco Mans Ek crea música que toca el corazón y lleva a liberar la mente. Con su música se puede bailar al ritmo de África del Norte o Brasil, practicar yoga a ritmos suaves y edificantes, o meditar para alcanzar la calma con su piano relajante, porque "Songs of Eden" se inspira en todo el mundo. Sus dieciséis álbumes y singles tienen una audiencia global entre la comunidad de yoga y más allá.
La galardonada artista Michelle Qureshi es una compositora, multi-instrumentista y guitarrista de formación clásica que aporta una estética contemporánea pero atemporal a su música. Sus álbumes se escuchan en todo el mundo en los programas de radio y listas de reproducción de new age, ambient y especializados en guitarra, y está licenciada en una plataforma global. Three Windows es su primer EP, junto con cinco singles, y diez álbumes publicados desde 2012 tanto en Heart Dance Records como en su propio sello Music as Metaphor.
Three Windows está disponible para ser adquirido Online
Paul Rego. Crítico Musical. Profesor de Yoga