Yoga is not a pseudoterapia
A veces la imagen del yoga en los medios de comunicación, e incluso desde los propios profesionales del sector, se reduce a un conjunto de ejercicios ordenados que nos estiran y nos hacen sentir bien. Parecería que la meditación es otra cosa, que las técnicas respiratorias son secundarias y que sus orientaciones éticas no van con nosotros.
Jose Manuel Vazquez writes.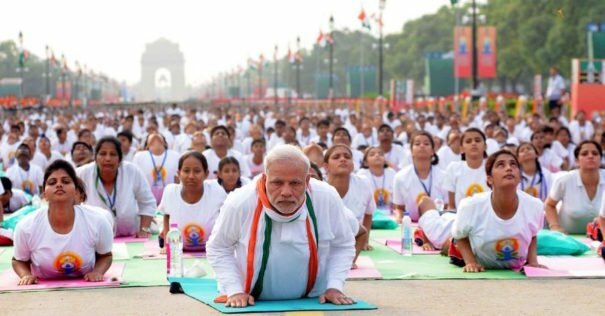 En este contexto, no es de extrañar que el yoga esté expuesto a malentendidos, usos indebidos y sea infravalorado; además de despojarlo de una de sus funciones principales: la recuperación de nuestra percepción de la realidad.
También hay que decir que a veces se reproducen formas de hacer yoga que se han fosilizado en el tiempo, y no parece recomendable, en este sentido, reproducir al pie de la letra lo que dicen los textos antiguos (ni otros más actuales) utilizando criterios prestados o directamente sin criterio. Desligar las técnicas originales de su contexto histórico, social y filosófico deja la estructura del yoga desprovista de contenido, sin sentido y a merced de las leyes del mercado.
Ya saben que el yoga es una disciplina de conocimiento empírico que necesita de un cierto grado de compromiso y constancia. Aunque quieran venderlo como una gimnasia espiritual para "modernas" y gente "guay", el yoga ha sido en esencia y en sus orígenes revolucionario. Permitió a los primeros yoguis independizarse de las autoridades "brahamánicas" e, interiorizando el ritual hindú, nada más y nada menos que responsabilizarse y dotar de significado moral y trascendente a sus actos y pensamientos.
As it has happened with other disciplines which have also become in mainstream, el yoga se nos presenta mermado de su poder reflexivo y transformador. Al copiarse y estandarizar sus señas de identidad, ha entrado en la rueda "samsárica" del consumo masivo y, en cierta forma, se ha invertido el sentido con el que originalmente se creó.
It's not new; has happened with all the arts almost without exception, also with philosophy, psychology and scienceiness in general, and of course with social movements that questioned the status quo, such as the "hippie" counterculture and the "queer" thought; it even seems to be happening right right under our noses, with a matter as misunderstood as feminism. Anyway, nothing new as I say.
Yoga and our current environment
There are others remember that yoga is a pathway to first-person knowledge. It allows us, at a very basic and therefore fundamental level, to become aware of how we move in the world, from where and for what purpose. It invites us to experience the respiratory process as an internal regulator of vital importance for the integration of our conscious and unconscious processes. It makes possible the exploration of pain and pleasure that connects us to the world and to the origins of our individual and collective existence. We are responsible for our value judgments, limitations and abilities. In addition, it allows us to observe how all this influences our environment and at some point fall into the account that we are interconnected by a chain of events of which we are an active and receiving part.
Yoga has its own particular imagination. He shares and hybridizes his myths with those of the society in which he develops and reproduces. New deities are born that closely resemble those of yesteryear and who unconsciously guide the footsteps of the mortals on foot. Despite their luminous appearance, these new "gods" continue to cast their shadow on us. In the hands of what modern myths are we depositing our collective dreams and efforts? Where are they driving us? Where are we headed? If it seems that we are all projecting and building a future among many possible, what role do we want yoga to play in the society of the future? What part of responsibility do yoga practitioners and professionals have in all of it?
Our right to protect yoga
Who decides what yoga is? How is it possible that yoga is included in a list of pseudotherapies (another way of saying fraudulent therapies) when the public administration issues professional degrees of grade 3 in Yoga instruction endorsed by the king of Spain? Do we send to the bonfire the hundreds of scientists around the world who around the world have devoted resources to researching, explaining and corroborating with Western parameters the effects of yoga techniques on the body? Do we discredit the work of philologists, anthropologists and Hindu scholars who have studied the cultural heritage that has supported the practice of yoga for thousands of years?
The reality is that yoga was declared in December 2016 Intangible Cultural Heritage of Humanity by UNESCO, United Nations Educational, Scientific and Cultural Organization. I remind you in case there is still someone left with doubts about the legitimacy of yoga. Yoga is for everyone. It's our right to protect him.
That said, I want to make it clear that the frivolity in yoga doesn't seem like much fun to me. Suggesting that yoga is a pseudotherapy, as we have seen, can be the result of many factors, including inculturation and misinformation. Inculturaism is clearly reckless, blind, unfair and dangerous; and misinformation leads us to draw hasty and erroneous conclusions. Experience tells us that if we have not been prudent, at least rectifying at the right time makes us wiser. I therefore dare to think that the solution to the problem of ignorance and its variants is now available to all: study and training; acquire knowledge so that our actions reflect virtue and not barbarism.
Less manipulation and more culture; less prejudice and more professional rigour; less spectacle and more outreach; less arrogance and more responsibility.

Jose Manuel Vazquez He chairs the Shiva-Shakti Association of Integral Yoga. He is Professor and Formator of teachers certified by Yoga Alliance. University expert in yoga therapy by CEU and European Yoga Alliance. Member of the International Association of Yoga Therapists, of the Spanish Association of practitioners of Yoga and the Professional Association of Yoga teachers in Madrid.

Since 2001 he has run its own school of yoga, Organic yoga, where investigating organic comprehensive teaching of yoga and since 2010 directs a teacher training based on these principles.

He is the author of The therapeutic values of yoga and Manual of yoga for Westerners (both Alianza Editorial)

Beginning of the training in October 2019

Information: Madrid: T 627 007 121 – 91 310 51 81.