YogaMar Festival, the healthy feast of Guardamar, Alicante
From 9 to 12 may, the Alicante Town of Guardamar del Segura will become the center of healthy tourism with the celebration of the third edition of the YogaMar Festival.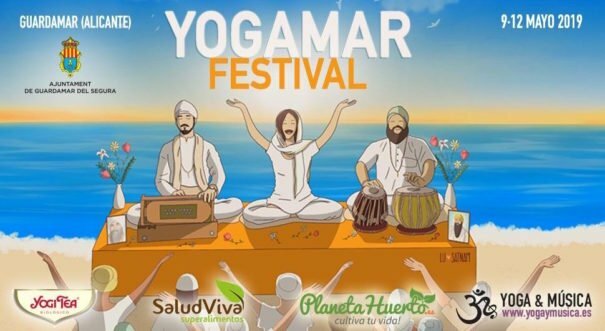 For third consecutive year the City Hall of Guardamar del Segura (Alicante) bet firmly for a festival dedicated to yoga, meditation, dance and music in collaboration with the Association for the diffusion of yoga, health, and art, which will be the responsible for the Organization of the event.
Its director, Harchand Singh, recognized teacher of Kundalini Yoga and his team, have designed a plan of 4 days of yoga, dance and tourism in the form of sound Festival which will attract hundreds of people from multiple locations who will enjoy a programme of activities for all ages.
The celebration will take place at the Park Reina Sofia where a tent that will host most activities and concerts, except some of the practices to be carried out at dawn on the beach will be installed.
The festival will feature international artists of the stature of Jai-Jagdeesh (USA) -recognized Music New Age - artist, musician and Professor of German Hansu Jot, Madrid Silvia Jaén or the creator of Shakti Dance, Sara Avtar (Italy).
In addition, multiple recognized teachers of yoga and dance on the national scene will offer activities and workshops to attendees. Among them, the Association practice Yoga Elche will offer a pleasant and practical workshop on the history of yoga. A market open to the town of Guardamar and exclusive will offer products related to yoga, crafts and organic products throughout the duration of the event.
The highlights of the Festival will be broadcast live via the facebook page of 3HO, the world Organization of teachers of Kundalini Yoga, which this year celebrates its 50th anniversary.
The growing trend of healthy lifestyles are invited to generate this type of event and YogaMar the Town Hall of Guardamar del Segura becomes one of the consistories pioneers in opting this option, making a difference with most tourist destinations.
Tickets are on sale through the web www.agendaguardamar.com and you can see all the information in www.yogaymusica.es.
For more information, contact:

Harchand Singh / T 656.288.038 / info@yogaymusica.es

Nidhan Hari Kaur / T 649.444.586 / gracias@yogaymusica.es