YogaMar Festival, la fiesta sana de Guardamar, Alicante
Del 9 al 12 de mayo, la localidad alicantina de Guardamar del Segura se convertirá en el centro del turismo sano con la celebración de la tercera edición del YogaMar Festival.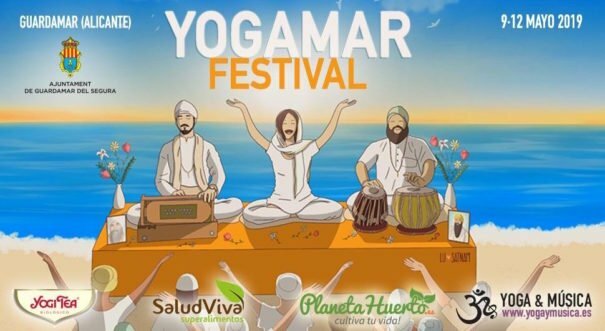 For third consecutive year the City Hall of Guardamar del Segura (Alicante) apuesta firmemente por ofrecer un festival dedicado al yoga, la meditación, la danza y la música en colaboración con la Asociación para la difusión del yoga, la salud y el arte, que será el la encargada de la organización del evento.
Su director, Harchand Singh, reconocido profesor de Kundalini Yoga y su equipo, han diseñado un plan de 4 días de yoga, baile y turismo en forma de fiesta sana que atraerá a cientos de personas de múltiples localidades que disfrutarán de un programa de actividades para todos los públicos.
La celebración tendrá lugar en el Parque Reina Sofía donde se instalará una carpa que acogerá la mayoría de actividades y conciertos, salvo algunas prácticas que se realizarán al amanecer en la playa.
The festival will feature international artists of the stature of Jai-Jagdeesh (EE.UU.) – reconocida artista de la música New Age-, el músico y profesor alemán Hansu Jot, Madrid Silvia Jaén o la creadora del Shakti Dance, Sara Avtar (Italia).
Además, múltiples reconocidos profesores del yoga y la danza del panorama nacional ofrecerán actividades y talleres a los asistentes. Entre ellos, la Asociación Practica Yoga Elche ofrecerá un ameno y práctico taller sobre la historia del yoga. Un mercadillo exclusivo y abierto al pueblo de Guardamar ofrecerá durante toda la duración del evento productos relacionados con el yoga, la artesanía y los productos ecológicos.
Los mejores momentos del Festival serán retransmitidos en directo a través de la página de facebook de 3HO, la organización mundial de profesores de Kundalini Yoga, que este año celebra su 50 aniversario.
The growing trend of healthy lifestyles are invited to generate this type of event and YogaMar el Ayuntamiento de Guardamar del Segura se convierte en uno de los consistorios pioneros en apostar por esta opción, marcando la diferencia con la mayoría de localidades turísticas.
Tickets are on sale through the web www.agendaguardamar.com and you can see all the information in www.yogaymusica.es.
Para más información, contactar con:

Harchand Singh / T 656.288.038 / info@yogaymusica.es

Nidhan Hari Kaur / T 649.444.586 / gracias@yogaymusica.es