Tattwa Shuddhi: Tantric Sadhana
Tantra as well as a philosophy is a way of life. A perspective from which every moment has a teaching, not intellectual but from the inner experience. Everything can become a step toward liberation, even when the mind catalogue it as "negative". Writes: Yamila Estella.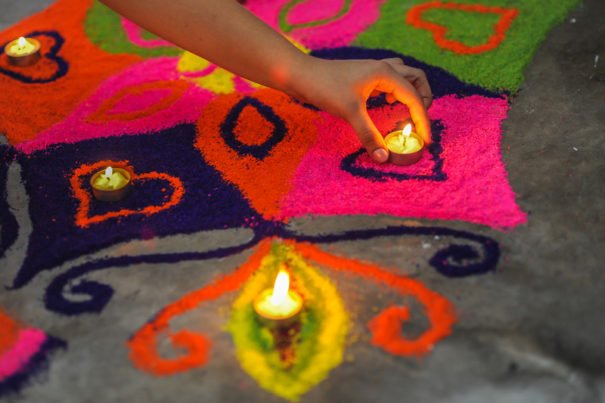 For the authentic practitioner Yoga understand the philosophy of the Samkhya is revealing. And the Samkhya leads to Tantra since it was born in the heart of the Kashmir Shaivism, one of the main Tantric schools.
According to Tantra, the cosmic consciousness is expressed through the cosmic energy or Shakti, also called Yogamaya. This name is revealing: Yogamaya is the gateway to both input and output, on the one hand to the Union or consciousness (Yoga) and another to the Illusion or ignorance (Maya).
Yogamaya creates and manifests the universe we know through Prakriti: from insight or Buddhi to the element Earth or Prithvi. If we are able to harmonize our nature internally and externally our environment, we will connect with the forces of nature (Prakriti) and all his wisdom; then opens the door to Yoga and we will leave behind Maya.
This Tantra offers us practices such as mantras, the yantras, techniques of concentration and meditation and even offerings through fire to honor nature and that this will lead us through the right vibrations to the ultimate goal of our existence: the Union. All knowledge is in nature, just tune in with it.
Tattwa Shuddhi of sadhana
The sadhana Tattwa Shuddhi, with a holistic vision, us closer to this balance, leaving aside the intellectual filter, the name and the shape. This sadhana has been put at our disposal by Satyananda Yoga preserving the spiritual knowledge of the sages of antiquity. A sadhana is a spiritual commitment, life is not limited to a specific daily practice in meditation posture, but to a way of feeling from the Awareness, appreciation and recognition. This sadhana practices establish a vibrational dialogue with all elements of the demonstration; dialogue in which we realize that our inner nature is part of the Godhead manifested in external nature.
We propose a five-month sadhana for practitioners with experience in meditation. It is not training or teacher training. There will be two classes per month in Madrid, on Saturday (2 and 16 February, 2 and 16 and 30 of March, 13 April, 4 and 18 may, 1 and 15 June 2.019) all hours of 11.00-15.00 h. There will also be a retreat: 21, 22 and 23 June.
To register you should contact with Yamila Estella (borneo2006@hotmail.como 699 06 31 26 T). It is essential to answer questions via phone previously.
We will work with japa and likit japa mantras, yantras, chakras, nyasa, different practices of meditation, trataka, yoga nidra, ashwattha bid... and will give us a bath in the philosophy of Tantra and the Samkhya in the manifestation of the elements and their relationship with Yoga. All the work is based on tune vibrations.
It will require a daily hour of practice at home. An open mind, devotional attitude and intense desire for liberation is indispensable.You have to love the practice.
More information:
www.yogabindu.net/escuela-yoga-madrid-chamartin/wp-content/uploads/Cartel-Tattwa-Shuddhi-2.019.pdf
Yamila Estella is called Yogadhara ("base or foundation of yoga" or "union power") of his master SW Niranjanananda Saraswati, tradition that is close-knit with Karma Sannyas initiation. Learn from Danilo Hernandez 15 years ago, who must all his gratitude for his teachings, example and opportunities and has taught at its school of yoga 'Bindu' of Madrid for several years, among other places. He has numerous courses and multi stays in monasteries of different traditions, but live in the Bihar School of Yoga ashram (India) more than two years is what has served more to dis-cover the essence of Yoga. Practice and experience are the basis of its transformation.
"(Nada de lo que veremos en el curso me pertenece ni es mérito mío...;-)." Everything is in the Scriptures and just put it into practice."