Removal of Yoga and hiking in Picos de Europa
Enjoy every sunrise and sunset, the practice and study of Hatha Yoga, meditation and the philosophy of yoga. From 22 to 27 June, six days in the incredible Valley of Liébana, Picos de Europa. Write Violet Arribas.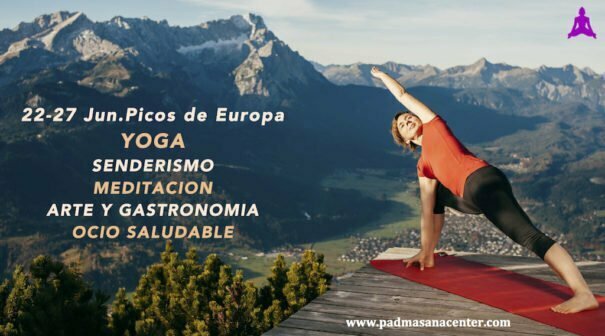 As a highlight of spring, we propose an alternative holiday of six days, five nights, in the paradise of the Picos de Europa, in Cantabria. The biodiversity of the Liébana Valley makes it one of the favorite places of nature lovers, as it combines the high mountain of the massif of the Picos de Europa, territory of bears, wolves and alimoches, with beech forests, oaks and holm oaks , furrowed by streams of pure water, where they live among other moeds, deer, foxes, grouse, various mustelids and a court of birds.
Postcard villages such as Potes, Mongrovejo, Torices, etc. full of tradition and history will offer their ethnographic value to this retreat of Yoga and Nature, where there will be time for leisure and fun.
This holiday includes 6 days-5 night accommodation in bunk dormitory rooms and full board with an organic and homemade vegetarian cuisine, in the nursing house La Perezosa, located in the village of Torices, at the foot of Peña Sagra, with views spectacular valley and mountains.
Also includes 7 yoga workshops, with a total of 14 hours of classes, that will combine the psychophysical techniques of hatha yoga (pranayama, asanas, relaxation, etc.) with psychomentals (meditation, Yoga Nidra, mantras and sound yoga), as well as the approach of themes for psychological and emotional improvement in the light of Yoga.
Some of the classes will be held in a meadow belonging to the house that opens as a balcony to the valley. Also, we will have in the retreat with a workshop of dances of the world and another of risotherapy, in addition to a small night out for observation of the stars and some group dynamics that we prefer to leave as a surprise to enjoy the most leisure in our Evenings.
As for the Excursions 4 departures, usually part-day, that will combine half-mountain route to meet the rebecos (suitable for the physical level of the group); route through one of the beautiful beech forests of the region, feeling the magic of the forest; ethnographic route (peoples of historical-artistic interest such as Mongrovejo, Potes, Santo Toribio de Liébana); and gastronomic route (tapeo in the area, visit to local cheese shop, etc).
It includes the use of the pool, gardens where you can relax in your hammocks or learn about medicinal plants, other common areas, library, board games, etc. Optionally, but at an affordable cost you can enjoy the Spa and health cabinet of the house, where massages, physiotherapy, hydromassage, etc. are offered. Each participant will receive a 50% discount bonus. for the thermal circuit of the nearby resort of Hermida and discount also in one of the best restaurants in Potes.
Holiday price: 375o in bunk room (possibility of triple room for 425 euros.

He leads the removal: Violet Arribas, teacher of Hatha Yoga and meditation, ayurveda therapist, author of the book Yoga and Ayurveda, integral health anxiety. Director of Padmasana Center Madrid.

Registrations and info: info@padmasanacenter.com or T 913 822 733

More information: www.padmasanacenter.com