Yoga life Festival
Yoga life Festival was born as a global community with the objective of inspire, empower, and reach out to people, to create and follow a healthy and happy life. Of the 22 to 24 June 2018 in Tunkashila, Casavieja (Ávila)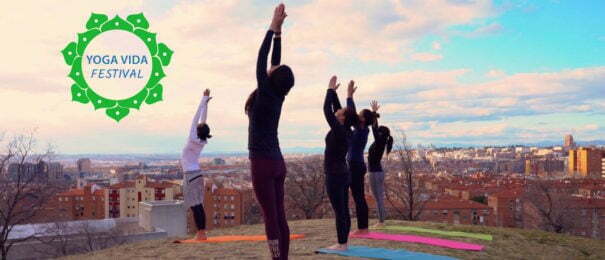 This transformative event encourages us all us with the slogan "Follow your happiness" Discover all our potential.
The Mission of the Yoga life Festival It is bringing people together in community with positive energy, love, peace and harmony; creating value in the world through the human connection, interaction, the practice of yoga and meditation, dance, and music.
In celebration of the international day of Yoga we invite you all to spend three days in the community of yoga, music and celebration of life! We can learn from local and international masters of yoga and meditation!
Practice yoga together with international Yogis and enjoy this spiritual adventure! Watch this video:
And sign up now:
https://www.eventbrite.es/e/entradas-yoga-vida-festival-43552222871
Detailed information: https://www.yogavidafestival.com/
Yoga life Festival will be held on 22 to 24 June in natural, Tunkashila, located in the natural region of the Valle del Tiétar, Casavieja (Ávila), about hour and a half of Madrid.
The program
The event will start in 22 June at 6 pm with workshops in meditation, yoga classes and concert harmonics. The workshops are in English and Spanish. You can come alone or as a family with children.
The June 23 the workshops start at 9 in the morning: Kundalini Yoga with Javier Esteban Salmerón, Mindfulness with Elizabeth Ward, Hatha Yoga with Cyril Moreau of France, Vinyasa Yoga with Victor Medina.
You can select other workshops in the morning: Vinyasa Yoga, Ashtanga Vinyasa Yin Yoga, Arm Balance, Back Bending Yoga, Aeroyoga, Acroyoga, therapeutic Yoga. And in the evenings dance, movement and music up to 10 o'clock.
In June 24 workshops include Hatha Flow Yoga with Marcus Wistika of Indonesia, Yoga Sports with Munish Kumar of Viet Nam and Acroyoga with Susann Mayer. Other workshops throughout the day include Ashtanga Flow LED, Power Yoga, Yoga for kids, Acroyoga for families and children; The African Caribbean dance and Tai Chi movement, and Kula Roots.
The event will close at the end with Yoga Nidra with Caroline Druitt of Rutland or Meditation and Pranayama with Javier Esteban Salmeron of Spain. And celebrate with Ecstatic Dance of DJ Pascal de Lacaze of Germany.
Where: Tunkashila natural area, located in the region of the Valley of Tietar, Casavieja (Ávila), on the South side of the sierra de gredos mountains, in a setting of great natural beauty, about hour and a half of Madrid, Toledo and Avila in the C-501 (Madrid - Plasencia).
Ticket prices
Half Day Pass: €55 (only on Friday, including all workshops)
1 Pass Day: €85 (one day, Saturday or Sunday, including all workshops and musician)
2 Day Pass: 145)Two days, including all workshops and music)
3 Day Pass: € 175 (Three days, including all workshops and music)
1 Day Pass Family Ticket: €175 (two adults and one child for one day, Friday, Saturday or Sunday, including all workshops and music)
Limited 3 Day Pass with Accomodation: €245 (one adult for three days, with tent accommodation, including all workshops and music)
Contact: yogavidafestival@gmail.com | 672 89 41 74 (Cherie) t