"Sports law" regulates the teaching of yoga in Spain with a title
A few days ago I was reading an article published by Ramiro Calle on titles and training in our country. While it is true that I agree with much of its content and understand your criticism regarding these courses and the "titulitis", we must be very careful with generalizations. Writes Olga Jimenez.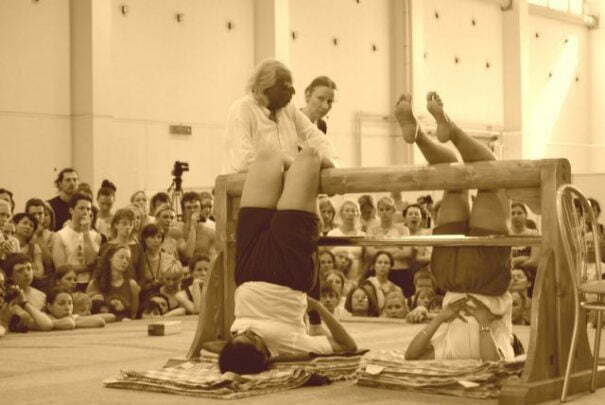 Master B. k. S. Iyengar in a class
I put an example of generalization that I think everyone will agree. In addition to yoga teacher I am a farmer and I have the fortune to personally meet small producers, consume their products and visit their farms. They do admirable work, taking care of the Earth and of the final product, thinking about consumers and the quality of the product. The world of the large food producers, subject also know quite well exclusively profits and in many cases making authentic atrocities with food and animals. Can we say that all products are manufactured under the same conditions? The food market is a danger, which can end up harming our health? No, this generalization would be a mistake.
In the world of yoga takes place exactly the same. We cannot say that the training courses are generally bad. What about those sincere teachers trying to transmit their knowledge and their love for art students looking for that science extends and arrive correctly to benefit more people? Of course, there are those who fill hours and have only a commercial purpose, but you can not say without case-by-case basis. The economic issue is rather delicate when we talk about yoga; It seems as if a yoga teacher is not entitled to earn a decent salary as in any other profession. Perhaps those who criticize these economic benefits not paid their classes and also earn money by teaching?
If we focus the theme on yoga teacher titles, we must first know a reality:
In Spain we have a new law "the sport". In Madrid he entered into force on June 15. This law regulates our profession and requires titles so it is exercised within the law. In this situation we have, from my point of view, three options:
To say that the law does not like us and we are not going to follow it. Also we can do it with the VAT, road tax and and so many things, which we would place on the ground of illegality
Look for a country to live where there is no such regulation.
Take advantage of the framework of legality, offering 550 hours of training to provide those hours a superb content, both in practice and in philosophical content and Anatomy, for who these future teachers have the best tools for them themselves and for their students.
If we think a little in detail in this regulation, we should understand that your idea is good; There should be one way to control a minimum knowledge in those who work with the bodies and minds of others. There is a real risk that, from my point of view, has been detected and seeks to remedy. The problem is how is carried out.
If these courses are held as churros, which manufactures no matter the previous practice that has the student, future teacher, your pay and you give your title, because I agree that will be one further deception and law will not served more than a few earn money.
But if those hours of good content and with highly qualified teachers, with extensive experience in teaching and a multidisciplinary group encompassing also doctors, philosophers and is required by future teachers are first practitioners are endowed and that already have a previous work with themselves, then we can be an opportunity.
The issue of approval
La ley es muy extensa y bastante clara en sus contenidos. Está detallado que los profesores actuales "que puedan demostrar" sus horas docentes, previas a la entrada en vigor de la ley, podrán optar a standardize their titles. Lo que no aparece escrito en ningún apartado de la ley es la hours approval para cursos que no cumplan los requisitos oficiales.
La legalidad que deben cumplir estos cursos conlleva muchísima burocracia, meses de papeleos, condiciones muy estrictas en cuanto a espacios, metros de las aulas y un largo etc, además de inspecciones por parte de la Administración. Sin estos requisitos, los futuros cursos de profesores, tengan las horas que tengan de duración, no se consideran válidos. Si no para qué redactar esta ley; sería como decir que existe el título de ingeniero que lo otorga la universidad pero que si traes un papel firmado donde ponga que has estudiado las mismas horas que las que se piden en la universidad, te convalidan tu título.
Olga Jimenez is Professor and founder of the Professional School of yoga "Light on Yoga"which poses a few short periods of training in collaboration with the Faculty of medicine. Next workshop "Yoga Iyengar for lower back".