Interview with Steve Brandon: "the student must have the Yoga Sutra as a basis or will not come away"
Steve Brandon visits Spain for the first time in June to share a workshop. Dhara Yoga, organizer of the event, has a few years to learn the teachings of the master Sri T. Krishnamacharya in Madrid. For this reason, contact teachers who, like Steve, have a serious commitment to practice and teaching. It is an interview of Blanca San Román to YogaenRed.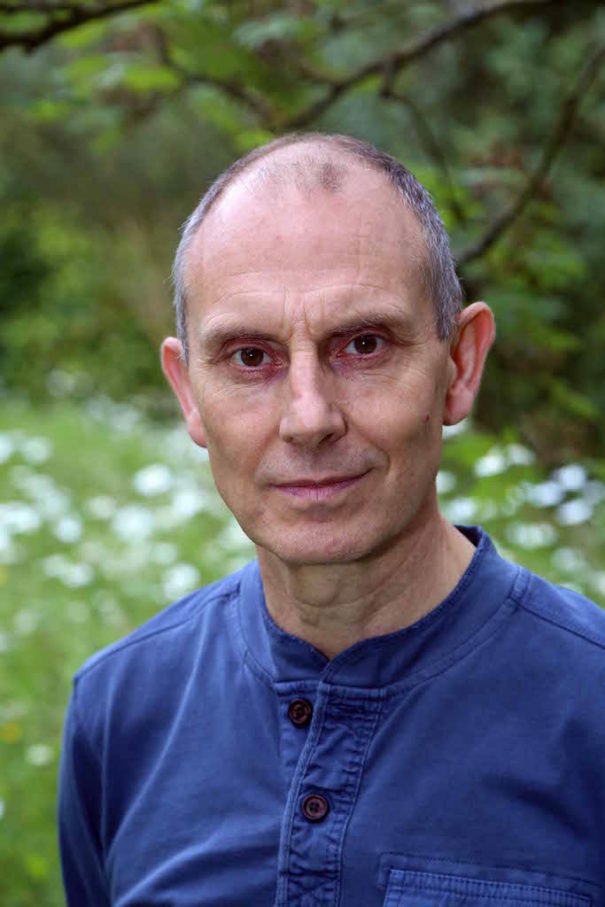 For many Steve Brandon It is unknown, but his career in yoga is very broad. It has been studying with masters of the lineage of Krishnamacharya since 1999. With Ranju Roy and Paul Harvey viniyoga he studied for seven years. He spent attending the teachings of Srivatsa Ramaswami ten years. With it he completed teacher training, attended numerous workshops of Vinyasa Krama and analyzed the Yoga Sutra in depth.
In addition, he attended different seminars and formation of the most important masters of the tradition: T. K. Sribhashyam, T. K. V. Desikachar, A. G. Mohan e Indra Mohan. It is also a scholar of Ayurveda, discipline in which it is entitled, as a member of the Ayurvedic Practitioners Association and the Complementary Medical Association. He is the author of the manual Vinyasa Krama Yoga practice.
With a track record like yours, it might be wondered by the beginning of everything. How was your first approach to yoga?
It was formerly part of a community of meditation with an Indian guru, Sri Chinmoy. We meditated, we did selfless work, meditations for peace. As part of this community first read the Bhagavad Gita, the Mahabharata and other texts on spirituality. This was in 1992; in 1995 I started to go to asana classes with an Iyengar teacher. When I left the community of Sri Chinmoy I kept meditating in Buddhist centers for some time and it was still attending classes.
That attracted you to discover the teachings of Krishnamacharya? Can you tell us how this lineage has shaped your personal practice?
I learned from Krishnamacharya because Iyengar mentions it in his books. But it was not until later, in 1999, when made a more direct contact with this lineage. I took a book from the library called Yoga for body, mind and breath of A. G. Mohan, who was a student of Krishnamacharya in Chennai. It seemed to me that this way of practice was very genuine, logical and rational. After some investigation I found a group in the United Kingdom called Viniyoga Britain which was affiliated to the Krishnamacharya Yoga Mandiram. I started with private classes with Ranju Roy, who is a Professor of this tradition; I continued my training for seven years until the certificate of Viniyoga Britain. During this time I went to a seminar with A. G. Mohan and his spouse Indra. Then met Srivatsa Ramaswami and T. Sri t.k. Sribhashyam (son of T. Krishnamacharya). I have been very fortunate to receive teachings from three direct students of Sri Krishnamacharya. My personal practice comes completely from what I've learned from these masters.
Keep a daily practice also is a commitment. How is your practice?
I practice four hours a day. A long session in the morning and one or two shorter according to my daily occupation. The first classes of Iyengar Yoga, which was were group classes.With Viniyoga I started tutoring from the beginning.Since then, my practice has been at home alone, or under the supervision of my teachers. Haven't a class group except in workshops and courses.
My practice is a comprehensive approach of asana, pranayama and meditation not only asanas. The study of the texts and Vedic chant are included. All my teachers of this lineage have emphasized that asana should not be practiced without the integration of breath, and must be supported by pranayama. They taught me that you can not practice asanas only; You can do pranayama only accompanied by mudras, but asana should be always sustained by breathing. That is something that does not always happen in classes today.
I asked S. Ramaswami what needed to achieve the stated goal in the Yoga Sutras, Since I am interested in achieving it, and he replied that he would have to practice three and a half hours daily. So I spent some time trying to adjust my daily tasks to my practice. My practice changes according to my evolution, and will continue to change with me.
Speaking of master Srivatsa Ramaswami, what have brought you Vinyasa Krama studies with him for more than ten years?
When I met S. Ramaswami in Chicago in 2007, I felt like a thirsty man who has found a fresh water spring. During the morning had classes from Vinyasa Krama and evenings talks about the Yoga Sutras. Then I realized that in general there was more interest in asana as in the philosophy of yoga.After Ramaswami talks felt that there is a clear goal and security it is possible to achieve it. I asked Ramaswami was the most important of yoga and he told me that ATMA Vidya (knowledge of the soul).
I have learned much from Ramaswami in the classroom and out of them, since I hosted him several visits to the United Kingdom. It has provided clarity about yoga, confidence in practice and teaching, the opportunity to serve as a teacher and learn from his example. I will always be grateful for this priceless gift.
You have also studied Ayurveda, how apply that knowledge to your teaching yoga?
In Viniyoga we had to study Ayurveda, it is the anatomical and physiological part of yoga, and it is aligned with its spiritual orientation. I started my interest in it in the course of Viniyoga and decided to study more, completing several programs. I asked Sribhasyam how important it was knowledge of Ayurveda for a yoga teacher and replied me that it was essential.
Viniyoga is the individualized application that adapts to the person in particular. Ayurveda is the personal application of medical practices based on individuality. So in my classes I include Ayurveda and applying any technique of yoga under the wisdom of Ayurveda.
This can be applied to a class in group, you can even adjust the room temperature that goes to each person. If you want to get real results in yoga, you must be a personal practice guided by a competent teacher with knowledge of Ayurveda. This approach is little known, since it does not conform to the mass market or tags, required many years of study and you can't win much money teaching a single student.
The workshop you are going to share in Madrid revolves around to the Yoga Sutra Patanjali, do you believe that it is important for a teacher or a serious practitioner of yoga living according to the precepts contained in the? Yoga Sutras?
Yoga student must have those precepts as the basis or will not come away on the road. Ramaswami says that Patanjali only collected three verses on asana in the Yoga Sutra, However there are many verses about yama and niyama. A reminder in the commentary of the Sutra says that these precepts must be kept even in the higher States. Yoga is also moral, physical, and mental discipline. Yama and niyama, including control of the diet, are earlier than asana. If you walk into the path of asana without their livelihood, asana will bring you greater identification with your body and the increase of the sensory experience. Then you will be on the road wrong from the beginning.
We must apply the ujjayi breath in asana because it prevents that the mind reacts to the sensations of the body that generate mental attachment or aversion. Asana practiced this way peaceful mind and calms the tendency of ego to follow or reject each occurrence. In the Yoga Sutra, yoga for beginner is in chapter II. He says that we must appease the klesas (impurities) and guide the mind for Samadhi.
Ramaswami says that we must start by eating less and talk less; If we cannot control the language, it is impossible to control other senses, that's the beginning. It is in all the sastras and the writings of the masters, but unfortunately we think that we can ignore this part.
White San Román, author of the interview, is a professor in Dhara Yoga

Workshop: Vinyasa Krama to the light of the Yoga Sutra of Patanjali

In this workshop, in a practical way, we will consider the methods, goals and results of the practitioner of yoga and will review each State's transformation to which we invite the Yoga Sutras.

Although it is true that yoga provides numerous health benefits, the primary purpose of the practice is to transform the mind to attain a high State of mental peace (Samadhana). The main theme of this workshop is how we achieve this State through the balanced application of the eight States (Ashtanga) yoga.

When: Saturday June 9 from 10:00 to 18:30 hrs, Sunday, June 10 from 10:00 to 14:00 hrs. The registration period ends on June 1.

Info and reservation of places: dhara@dharayoga.es