Aomm.TV is now Gaia
Aomm.TV joins Gaia. From October 20, Aomm.tv has become part of the largest platform of yoga and consciousness of the world. A wonderful evolution that will all grow in body, mind and soul. Writes Mary Cebrian.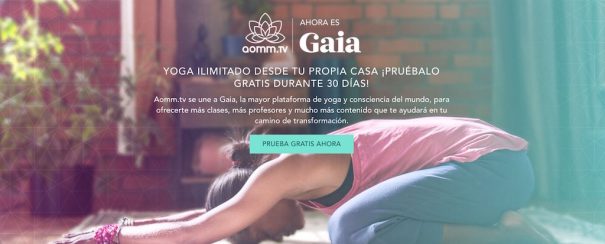 From the Aomm.tv team, we are very grateful to be able to promote this development, since it will allow the community of Aomm.tv access to ma.internationally recognized professors s, ma.s yoga classes, pilates and meditaciorn, and morea.inspiring contents s. Together, we began a new phase open to different ways of thinking and seeing life. Connected with millions of people around the world who, like us, looking for a path of deep transformation.
A wonderful connecting energy and consciousness.
From Aomm.tv we can only Thank you Join us and offer us your trust, and invite you to follow us on Gaia to grow together in this wonderful adventure that is life.
Try 30 days free of charge HERE