Cream of celery with cashew nuts
We share great and sanisimas recipes blog 'Eat to live'. Type and kitchen Gauri, Professor of vegetarian cuisine of the Sivananda Centre of Madrid and the affiliated Centre Sivananda Vedanta of Granada.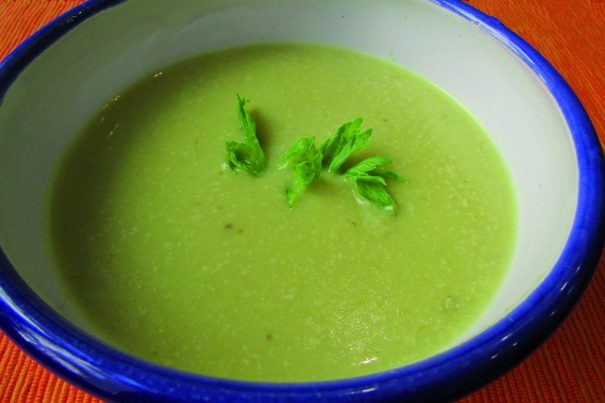 An easy, quick, and very nourishing cream is ideal for the autumn. It is delicious and you can almost constitute a full meal by potato and cashew nuts that give energy and contain protein. If you use organic ingredients you don't need more seasoning because the products used in this soup have taste and presence for themselves. The combination of anarcados and celery is exquisite... course, celery like who!
Ingredients (4/6 people):
4 branches of green celery cut in small pieces, if you have leaves despise them not include them, reserving some for garnish the cream.
2 medium potatoes, chopped
60 g of raw cashew nuts
2 Tablespoons extra virgin olive oil
1 liter and ¼ of water
2 tablespoons of olive oil
½ teaspoon of ginger fresh grated
½ teaspoon turmeric
Salt
Lining (optional):
Cashews roasted and mashed thicknesses
Brewer's yeast
Freshly ground black pepper
Preparation:
Put the oil in the Pan and lightly Saute cashews, ginger, turmeric and celery.
Add potatoes, water, and salt. Bring to a boil over heat medium-high, when she breaks to a boil, lower the heat to a minimum and cook slowly about 20-25 until the potato is tender.
Through the Blender to form a cream soup. Serve hot decorating it with green twigs of celery.
Yoga Sivananda Vedanta Granada-afiliado. T 660-288-571