How should it form a good yoga teacher?
This is a matter on which both veteran yoga teacher as enthusiasts come thinking and talking. Obviously, each of which can have and has its own perspective, but today I'd like to present the point of view of Enrique Moya Hernando, one of the pioneers of yoga in Spain and Andalusia. Joaquín. G. Weil transcribes this his conversation with Enrique Moya.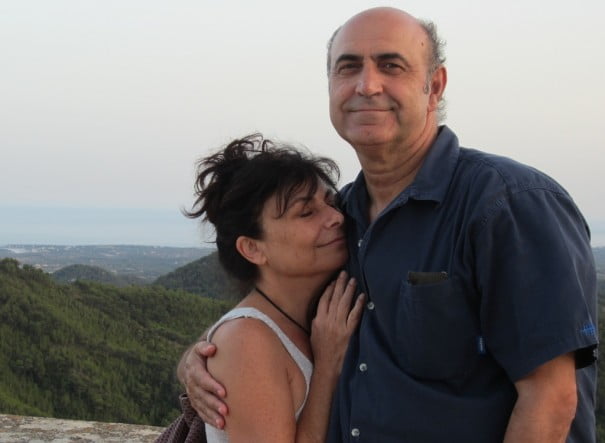 Enrique Moya is the director of the 2nd course Training Institute Andalusian of Yoga (IAYoga) 2017-2018. Veteran teacher with over 40 years of experience, and one and the pioneers of yoga in Spain, will feature the participation of also veteran Professor and pioneer Danilo Hernandez, author of the book Keys of Yoga. Is coordinated by the Professor of philosophy and yoga Joaquin G Weil.
Joaquín G. Weil: Henry, come to practicing and teaching yoga in a constant manner for more than 40 years. Please tell us about your first contacts with yoga and how, in your experience, has been evolved yoga since then until now.
Enrique Moya: In those days, being little known yoga, we approach the people to whom the word "yoga" in itself created a resonance within us. We wanted to know was what we both drew. I was lucky that my great friend of Danilo Hernández youth had a long approaching inside both yoga and the culture of India. We began to practice together in a way that is intuitive and craft with the help of the first books that arrived, they were many and we had to find them in specialized bookstores. We are talking about 1973. Then you could experience is what happened in my energies in vital and emotional both during and after those classes so spontaneous impregnated with the freshness of discovery.
What time and how did decide to deepen the practice of yoga and getting at the same time to teach it? It came, so to speak, so karmic or was an act of will or determination?
E: By then, he was studying economics at Complutense University, more moved by family advice as a personal call. By joining my practice along with the study of yoga, I soon realized I was before something very deep and extensive. I realized that in the same way that it is a good thing for me, is good for all people. The diffusion of yoga that we see today was validated that first intuition. Yoga is one of the most robust systems for the harmonious development of the human being and its autoconocimieto.
J: in those years of pioneering many options there... What did you do to further your knowledge about this ancient discipline?
E: In addition to search for any book or publication, we decided to visit the few teachers who taught yoga classes in Madrid, where we then lived. I have pleasant memories of Roy, Margot, Montenegro, who were people who had some experience in teaching. Danilo and I took a class and then spoke of how that class had resonated in our interior. It was a beautiful time of research.
J: have watched that increasingly more people who practice yoga in regular way consider the possibility of deepening their knowledge and eventually, in turn, teach it well in a professional manner or as a volunteer with public institutions work, associations or NGOs. From the perspective of your long experience, how you think it should be a good training of yoga? Consider what features should have?
E: Yoga now has a problem, which consists in an excess of success, an excess of demand. So it happens that they have come to yoga, two things that are incompatible, and that frequently go together: haste and greed.
J: the haste issue is striking. There is person who barely have studied yoga a few years and do not only want to be teachers of yoga, but yoga teacher trainers. For your part, you've waited forty years to decide to offer a yoga teacher training with that name. Although dozens of Alumni yours come teaching yoga for years. So to speak, they have been trained "to old".
E: Among the thousands of students who have attended my classes, some of them apparently they felt a personal call to the teaching of yoga, something that makes me feel very happy. For a long time, they deepened in it, explored with other people and schools, contrasted it with his personal experiences, and in a way or another retained the link with our Center. I was always encouraged to meet and explore by themselves. I encourage you to remember three fundamental aspects: first, the yoga as mode or practice of health in the broadest sense; Second, the development of empathy, also in the broadest sense; and, finally, the development of clarity that allows you to auto - to meet you. The relational aspect is important in yoga...
J: in the present circumstances, with respect to the training,?that paper are playing, your judgment, rules and regulations in this regard, as the royal decrees that professionally fit yoga in physical and sports activities, and, consequently, new laws of the sport of Andalusia, Madrid and, predictably, in other communities?
E: It seems understandable that, from a certain point of view, at the legal level, given the expansion that has had and is having the teaching of yoga, the administrations have begun to intervenir.Como is logical, something so vast and deep as yoga is difficult to frame.
J: yoga has been framed in physical and sports activities, but it is undeniable that, as you've pointed out, has its appearance of active improvement of health, personal and spiritual, philosophical development... In your experience,?What features should have a good teacher or a yoga teacher?
E: First, spirit of research. Second, be a student capacity. Although yoga is experiential and can be, in part, self-taught, guide an honest teacher, who share their experience with you, is always a great help.
J: what is experience, shared or own, role in the teaching of yoga?
E: It is Basic. There are people who want to be teachers rather than students.
J:Humility is perhaps the first requirement for learning...
E: That's right. That famous phrase that "when the disciple is ready, appears the master", rather than a literal reading means that When someone sincerely wants to learn, are the conditions and those who promote such development.
J: there is a debate which is open, which is the content of the official agenda, as established in the Royal Decree. For my part, I have studied it and it seems comprehensive, although it is undeniable that it is dialogue and consensus. You, that you've also examined it, what do you think?
E: It is an agenda in the training minimum, but need to know.
J: the Andalusian Institute of Yoga (IAYoga) in their training imparts it in full mode. In addition to this official agenda, do you consider that there are other materials or content that are required for a good training?
E: It is clear that in a future modification of this agenda, would have to reach a consensus with veteran yoga teacher... El yoga cannot be a mere content or matter to remember; you need self-motivation, personal experience deep. In yoga this motivation is combined with physical practices of inquiry.
J: have you had opportunity to meet large and veteran teachers Yoga both of the India as in the West. From your perspective, has any discontinuity or gaps in the transmission from the ancient tradition of India to our environment and time there been?
E: Yoga is historically originated as a system of development of the human being and for self-knowledge. Unlike other philosophies, yoga insists physical practices. It is not a mere theoretical knowledge. Aspects such as movement, breathing (relationship), nutrition, relaxation and attention, so fashionable today through the mindfulnes, become a sort of tests in the laboratory of each person.
J: in your career as a teacher, what have been the teachers that have most influenced you?
E: They are many, but I will highlight some: Swami Chidananda, Krishnamurti, André Van Lysebeth, Babacar Khane, Phillipe de Fallois, John Pierrakos, Peter Yang, Dhiravansa, Manuel Franco, Cayetano Arroyo... Behind each of these names is a history of my personal contact with them that would be a bit long for...
J: it happens that historically yoga was developed in geographic different areas of the Indian subcontinent, which has generated small differences in practice, teachings, even denominations... The IAYoga want to recognize, accept and include these traditions, seeking to overcome differences and finding the points that unite us, that means the word yoga, union. Also the rules concerning yoga today are an important reason to procure all adapt to new circumstances, and to create an associative area that supports the teacher of yoga in their training and in their future teaching.
E: in this aspect I want to emphasize that we are happy to support and the participation of my good friend Danilo Hernández in this project. Es required a certain dynamic collegiate, where veteran teachers, each with their own learning and experiences, and also from different professional fields, such as medicine, physical education, psychology, philosophy or law, help on the lens that sits the future teacher of yoga not only well formed, but informed and supported in their future teaching yoga.
More information:
https://www.iayoga.org/2o-curso-formativo-iayoga-2017-2018/