The new paradigms of Yoga, at the Congress of Marbella
September 29 to October 1, the Yoga Studies Institute already celebrates its 11th Congress of Yoga of the Costa del Sol. This year, the Congress of the Costa del Sol will highlight to open a Hall of Tantra white, In addition to by their international guests in the room Master. Writes Julia Castellanos.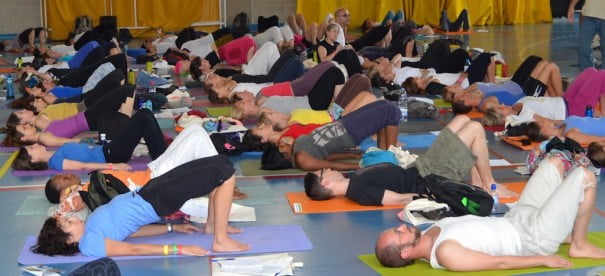 Its founder, Victor M Flores (Senge Dorje), while being one of the firmer guardians of the tradition of the Himalayas, is nevertheless one of the professors more heterodox known within this discipline. The success of their calls and their training courses (in Nicaragua and in Spain, and recently intensively in Panama and Ecuador) is precisely based on the transmission of yoga through representatives of its various lineages, both classic and contemporary, and in his thought that the figure of the guru is currently obsolete, when not constantly discredited by their scandals.
This year, the Congress of the Costa del Sol stands out, not only open a Hall of Tantra white but also for its international guests in the room Master. This room opens Javier Echeverri, Ecuadorian master settled in Miami (USA). Javier is the antimaestro of yoga, what makes him a great Yogi: lived in the Galapagos Islands, where he met the spirituality at the edge of death in an accident in the middle of the Ocean Pacific. Sri Phattabi Jois, Doug Swenson, Sharon Gannon, Kino MacGregor and Ken Von Roenn had among his teachers of yoga.
Julian combining Yoga and meditation with other modalities of healing as breathing and conscious movement, shamanism, and Thai massage. During the last ten years has been certified in reading Akashic records, Reconnective Healing, Reiki, hypnosis quantum sanction (QHHT), PSYCH - K® advanced and more recently, NLP facilitator.
He firmly believes that yoga, breathing, and movement are key for a better life and that, ultimately, these are some of the best ways of becoming healthy, letting go of negative emotions that have us prisoners are mentally, physically or emotionally. In his workshop ¨Limpia Tu Alma¨, Julian explores the five pillars which he considers essential to remove to clear negative energies that we overwhelm every day, which are: breathing, stretching, relaxation, sound and movement. Julian mixes them so they form one powerful cocktail of energy and healing like no other.
The second great guest is the French of origin vietnaminta Xuan Lan (Spring Orchid). After living in New York, Xuan Lan arrived in Barcelona and founded the Free Yoga movement. His method, created in their own practice experience, explores the welfare in a style and urban. Xuan studied with David Swenson, Dharma Mitra, Twee Merrigan and Mark and Joanne Derby. Xuan Lan achieved popularity by mass yoga classes outdoors to promote healthy life style and the practice of yoga, to join up to a thousand people
The third international guest is a great unknown: Jacqueline Lozano, of Nicaragua. Stands out not only for his physical condition, which trains with swings, wheels or aerobic form with SOCKS (to print greater stretch and dynamism), but also by its youth: 22 years. With this early age is already finishing their studies of 500 hours AYA and is the representative of the Universidad Centroamericana in Congress. For her yoga is synonymous with health and physical culture, considered spiritual growth as a private practitioner and teacher of yoga as a coach primarily postural hygiene and later, a search of limits.
You can learn about all three in the Palacio de Ferias y Congresos of Marbella. Julian Friday 29 at 19.00 (¨Sana your alma¨) and Saturday 30 at 1015 (Secret ¨Los of the Yoga); Jacqueline Saturday 30 to the 16,00 (¨Yoga with calcetines¨) and Xuan Lan Sunday, October 1 (¨Lanyoga¨) at 1145.
A great opportunity to learn about the new paradigms of yoga and evolve towards the spirituality of the 21st century.
More information: http://congresosdeyoga.com/desarrollo/?page_id=1794
Julia Castellanos. Director of the Yoga Studies Institute in Spain.