Leslie Kaminoff, this autumn in Madrid
Leslie Kaminoff will share part of the extensive research that for years has carried out about yoga, Anatomy, alignment and breathing. His book Anatomy of Yoga It is a worldwide bestseller, obligatory consultation for any practitioner of yoga. Writes Pio Hernandez.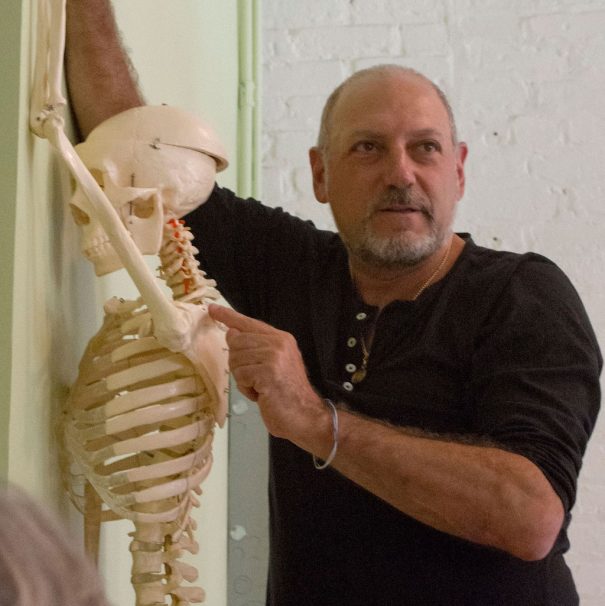 Disciple of T. K.V. Desikachar, each year traveling around the world to expand these teachings that come from the lineage of T. Krishnamacharya, considered by many contemporary yoga father.
TO Leslie Kaminoff likes to be defined as an "educator" of yoga, or teacher or master. The author of the prestigious book Anatomy of Yoga I am happy to consider their work as a process of continuous research open at any time to the personal evolution of the practitioner.
With t k V Desikachar learned to work individually with each student. Practice to adapt to the needs of every person at every stage of your life and keep attention on the breath, in such a way that breath, body and mind to do the same at the same time, It was basic pillar of the teachings of Desikachar. And it is in the Leslie.
In his last visit to Spain, organised by Dhara Yoga, It gave us some of them which are essentials in the practice of yoga. Let the seed which makes it grow any practice: research and customization make us owners of each asana.
Dhara Yoga are delighted with this new encounter. Without a doubt, a new opportunity to learn from a great teacher of yoga. Blanca San Roman, Dhara Yoga, "the rich in these encounters with Leslie is that it leaves you with gasoline for a long time. It is a great Communicator, a great motivator. It makes you see that what appears difficult is actually easy. Just practice". For Pablo Alonso, also of Dhara Yoga, "Leslie makes your relationship with practice exciting".
Asanas are not alignment
Leslie Kaminof say: "never say never with respect to a yoga posture, since it is the key to a safe Asana teaching change the focus to Svadyaya (self-study). Postures there are separated from the body that makes them, therefore the asanas are not alignment; people have it".
This not? It contradicts what most yoga teachers teach, that the positions have an intrinsic form and must be built that way?
"Good - answers Leslie Kaminoff-, Patanjali never spoke of alignment. The key is in the context: sometimes there are alignment keys that agree to certain bodies in certain positions, and at other times not so equal. There is no universally correct alignment; There is only a correct alignment for an individual in a specific position. If something I learned from my studies with Desikachar is the need to respect the individual in his process, Since the individual is the main context of this practice."
We discussed to Leslie Kaminoff teachers often find difficult to teach groups and maintain individualized attentionHow to give a statement that serve some students and doesn't harm others?
"The key is to change the focus of attention. Yoga is not to do asanas, but what it back out on the road of the asana practice. A practice is really to be Yoga, have to understand that we are challenging our patterns, at the same time we invoke the self-observation (svadyaya). Instead of wanting to reach a final goal, what we pursue is the process. The benefit is in trying to learn something about our true nature and be able to do something that we could not do before."
How do we encourage self-observation in students?
"From the questioning, prompting questions make both in relation to the physical Asana experience as well as the transformation of patterns that is happening. The student has to develop its own practice from the reflection of your experience: We only provide the stage, educate your way to deal with the practice of yoga so that they can decide that they should."
PIO Hernandez He is a practitioner of yoga and researcher. Professor of Hatha Yoga certified. This interview is composed of material submitted by Leslie Kaminoff Pío Hernández.

Leslie Kaminoff will be teaching a course in Madrid on 21 and 22 October.

More information on www.dharayoga.es