Presentation of Semilla for change and special yoga class to celebrate the DIY
El viernes 23 a las 19.30 os animamos a participar en una Clase Solidaria de Yoga y Meditación en Madrid, a cargo de Hiria Bernal y Emilio J. Gómez. Antes escucharemos la presentación de Semilla para el Cambio, la ONG beneficiaria de los actos especiales de 'Yoga para el Cambio', con los que estamos celebrando toda esta semana el Día Internacional del Yoga.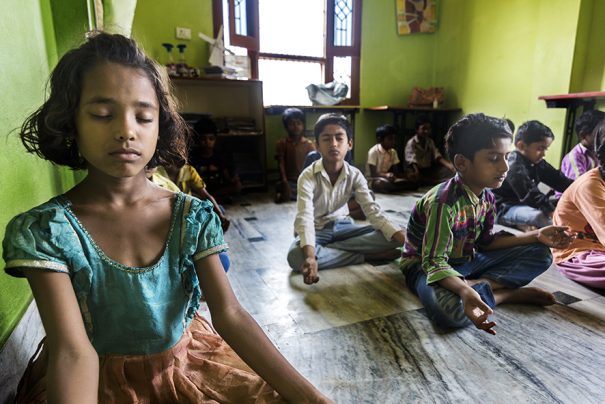 Where:

Escuela de Yoga de Las Tablas. C/ Isabel Colbrand 10, planta 5ª.

local 131. Madrid

When:

Viernes 23, de 19.30 a 21.20 hrs
Esta semana, miles de personas de todo el mundo están uniendo su energía y amor por el yoga, cuyo Día Internacional es el 21 de junio. Os animaos a celebrarlo el viernes, si estáis en Madrid, en un acto de yoga solidario.
La ONG Seed for change ha organizado la acción colectiva 'Yoga para el Cambio', que estamos difundiendo con entusiasmo desde YogaenRed, pues creemos que el yoga es, ante todo, solidaridad y cooperación con todos, pero sobre todo con los mas desfavorecidos.
El próximo viernes Semilla para el Cambio explicará su trabajo con los niños y comunidades más desfavorecidas de Varanasi (India), y lo hará como apertura de los actos organizados por la Escuela de Yoga de Las Tablas junto con el Círculo de Silencio Interior. Los fundadores de ambas escuelas ofrecerán una sesión de Hatha Yoga (a cargo de Hiria Bernal) y de Meditación Silencio Interior (Emilio J. Gómez).
La sesión de Yoga y Meditación comenzará a las 19.30 hasta las 21.20 hrs aproximadamente.
La donación será de 12 €, que irán íntegros a los proyectos de educación, salud, nutrición y empoderamiento de Semilla para el Cambio. Como recuerdo, la ONG entregará una mala de semillas de rudraksha a todos los participantes.
Si no puedes asistir pero quieres unirte a los fines solidarios de esta Acción, pincha HERE
Más información sobre la acción Yoga para el Cambio:
http://www.semillaparaelcambio.org/colabora/yogaparaelcambio/
Did you like this article?
Subscribe to our RSS so you don't miss anything