Vegan recipes / cherry Gazpacho
We share this rich recipe from the great blog Haztevegano.com. Here you will find a huge variety of recipes vegan, for all tastes and palates, which, in turn, readers of the blog share.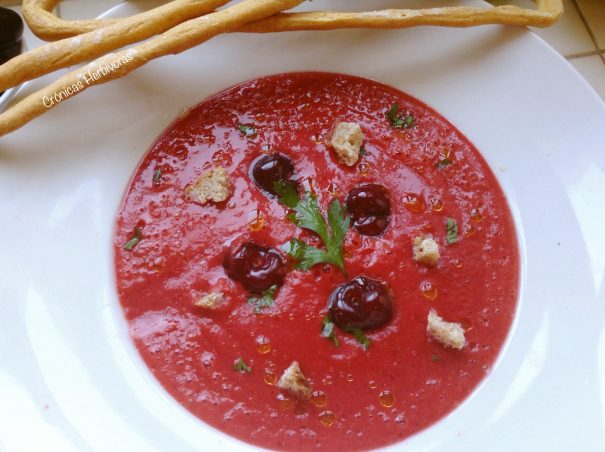 Taking advantage of that we are in full season of cherries, we can finally encourage us to do the cherry Gazpacho with which we have so much time licking his us. This is the original recipe of Haztevegano.com
Ingredients:
½ kg ripe tomatoes
250 gr. cherries
Sweet Onion ¼
A piece of red pepper
1 clove of garlic
Evoo (extra virgin olive oil)
Apple Cider vinegar
4 tablespoons water
Salt and pepper
Parsley and hard to decorate bread
Preparation instructions:
Wash and cut the piece of red pepper and tomatoes.
Wash and debone the cherries.
Peel and cut the garlic and onion.
Enter the ingredients in that order and crushed in a powerful blender. If your mixer is not very powerful or arm we advise you cut the vegetables into small pieces. Add the 4 tablespoons of water or that need.
Add now the evoo, vinegar, salt and pepper and beat so it emulsifies again.
Put it in the fridge about 15 min.
Garnish with chopped parsley, bread and a few drops of extra virgin olive oil.