Ashtanga Yoga Teacher Training, with Cosmin
Time has passed since our students asked us to create a teacher training to help them better understand the yogic experience. For us it was a great challenge to create this program, in which we can offer participants information on quality, intense practice and, in addition, an example of how to live Yoga. Cosmin writes.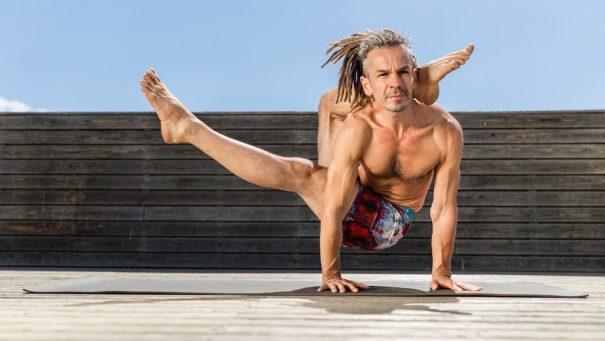 "It teaches what is inside you. "Not how it would apply to you, yourself, but how would apply to the other".
Tirumalai Krishnamacharya
With all the technology that has come to us in recent years, has been shared much information about the practice, so, if one wants to find theoretical answers, there are many resources of good quality there outside. On the other hand, as he used to say Pattabhi Jois: "Yoga is 99% practice and 1% theory". Therefore, one needs to plunge deeply into the practical aspect if there is interest to reap benefits of the practice yogic.
We have designed our program with this in mind. It is practice, practice, practice. Course, some theory Anent in some aspects of the practice which we will do, so we can have better understanding of it, but the approach applies to what happens within us - while we are on the mat, while we move, as we breathe and look at-, do what we do over the two weeks of training.
During this period together, you will take your limits more further to be able to recognize and be aware of your own limitations and gain a deeper sense of the sadhana -the yogic way-. It is possible that you experience strong emotions and feelings and will put you in contact with parts of yourself that you've forgotten or even did not know you had. Cannot create site for the new If not disclaim the old. The practice is a tool of purification that helps get rid of constraints so that it can take aware of the real potential that sometimes are inactive within the subconscious mind.
The intense practice entails one deeper understanding of oneself through a process of self-realisation, and this is exactly what we want you to experience. Of course, you can learn different aspects of the processes yogic and tools through books, but the best way to understand at a deeper level is through a personal accomplishment; This is the way in which the great Yogis understood this, and therefore were able to relay it for posterity.
Two weeks may not be long, but, depending on each karmic baggage, may be sufficient to make a deep mystical experience that could change forever the prospect of life. And this is our goal, offer you the platform - best practice, in the best environment - so you can concentrate fully on yourself, in practice and do it your way. It will be the only way that you understand it to the point that it allows you to pass it on to others.
Requirements for Teacher Training
We ask that our participants have at least one year of experience in the practice of Yoga (which means that they have had at least one year of previous contact with the yoga that has allowed them to recognize their basic tools) and a real desire to share it.
To enroll in our program you will be fully responsible for your own safety, since nobody but you can really get to know your own personal limits. It would be advisable that participants could practice full primary series of Ashtanga Yoga (with or without personal variations, depending on certain physical conditions and limitations). We also assume our right to choose the participants and exclude them in the event of misconduct or misrepresentation of their statements and personal truths.
Any use of drugs or substances that alter the mind and the body is completely prohibited during training, the powerful yogic techniques taught in this training can seriously interfere with these and cause serious damage. Instead, we will focus on the purification of our systems in order to enjoy the practice to a deeper level.
Cosmin. He has studied with Bhooma Chaitanya in Dharamsala, India, who introduces him in the techniques and practices of Yoga. Self-taught and passionate about the practice of Ashtanga Yoga, is formed with Sri Manju Pattabhi Jois, the son of Sri K. Pattabhi Jois and his teacher of Ashtanga Yoga, and receive his grace to teach this practice. He has participated in workshops with David Williams, Kristina Karitinos, Peter Samson and Chuck Miller among others. So far, Cosmin is dedicated to the teaching of the classical styles of Hatha, Raja and Ashtanga Vinyasa, sharing workshops and organizing sadhanas.
The course, when and where

The Teacher Training will be held from August 30 to September 13 in Sammati Wellness Finca, Pilar de la Horadada, Alicante.

The course (of a total of 100 hours) is accredited by Yoga Alliance as a "continuing education", and can add to your resume if you are an authorized yoga teacher.

Reservations: living@yogavlc.com | T + 34 667815377

More information: www.yogavlc.com