India, the great teacher
India)Bharat in hindi), the exotic and far away place surrounded by legends, gods, symbols, beliefs, spirituality... India, the great unknown for many, and the beloved to others... India, which does not let you indifferent... what makes this place a long-desired destination? They say that to India or the love or you hate it, and it seems that it is true. Writes Cristina Iglesias.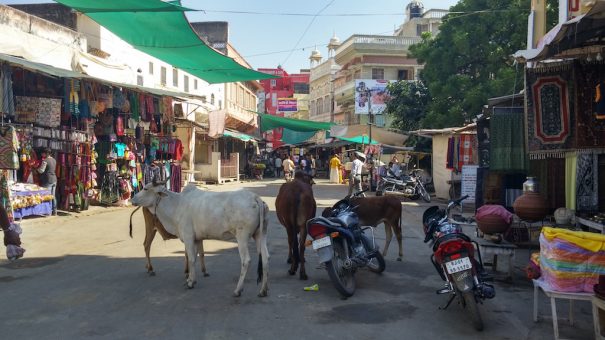 A country with over one billion inhabitants, with thirty-three languages and thousands of beloved, with different ethnic groups; India, cradle of Hinduism, Buddhism, yoga; a country full of color and differences, where everything is possible; where the concept of the impossible is lost to make way for the AWE before the flavors, smells, sounds, images...
India goes beyond what we consider preset, because here nothing is taken for granted, nothing is guaranteed for better or for worse.
When you arrive to India the senses are altered. The noise and the chaos of the streets is one of the first things that surprised the country underfoot: a chaos full of order where everyone knows has where to move and what is their function, doing things to flow naturally, but without predetermined order.
The colors of saris on the dark skin of their women, along with the street stalls of fruits and vegetables, give the landscape joy and liveliness.
Odors from street food stalls, of the chais with masala (tea with spices), make the palate to feel curious to taste something so exotic and unknown... Although it is spicy! A little rice or lassi (yogurt beaten) smother the burning to make way for the pleasure of the new flavors.
Cattle, Bulls, buffaloes, dogs, elephants, camels, donkeys, horses, cats, monkeys fauna living on the streets of most cities blending with the landscape, forming a whole with the people, who accepts them as part of their lives. All animals are respected (to greater or lesser extent), and live together happily following the course of nature.
Children still run free through the streets, barefoot, shoes, hairstyles, tousled, free at last and all. After school come out to play with their kites, or improvised toys that imagination helps them create. And enjoy outdoor activities in the districts, between cars or rickshaws, or ghats, parks or squares. Any place is good to have fun, to be a child, to learn and grow playing!
The domes of temples rising to the sky, reminding residents that God is present everywhere. Bells, incense, flowers, coconuts accompany the rituals that daily Hindus celebrate both in their homes and out of them. Because religion is the engine that moves them, encourages them to get up each day, which offers them protection and committed them internally to improve as people to finally break free from the cycle of birth and death for them.
India surprised us puzzled, stuns us, we love. Once our senses have adapted to change, little by little the country begins to penetrate us, making us feel free, letting us flow without masks in this chaotic maremagnum persons, vehicles, animals... We are already part of that everything, and we realized that Yes, you can! The concepts are broken and we can now begin to enjoy everything around us without fear, without trial, simply feeling and loving India, enjoying everything that gives us.
Because in India, everything is possible, and after stepping on its soil nothing nothing now returns to the same...
Cristina Iglesias lives in Varanasi. Promoter of the Agency Sangha Services, organza to trips to the India (next, July and August), also runs the NGO Swawalambi together with his partner Ravi Dubey, native of Varanasi, a degree in archaeology and with over 12 years of experience in the tourism sector.