Yoga and emotional balance
For centuries, Yoga has proposed a way of life of higher quality, with practices that optimize physical and mental functioning of the human being. This psychophysical development therefore includes practices aimed at comprehensive health care. Type Gabriel Aguilera Venegas.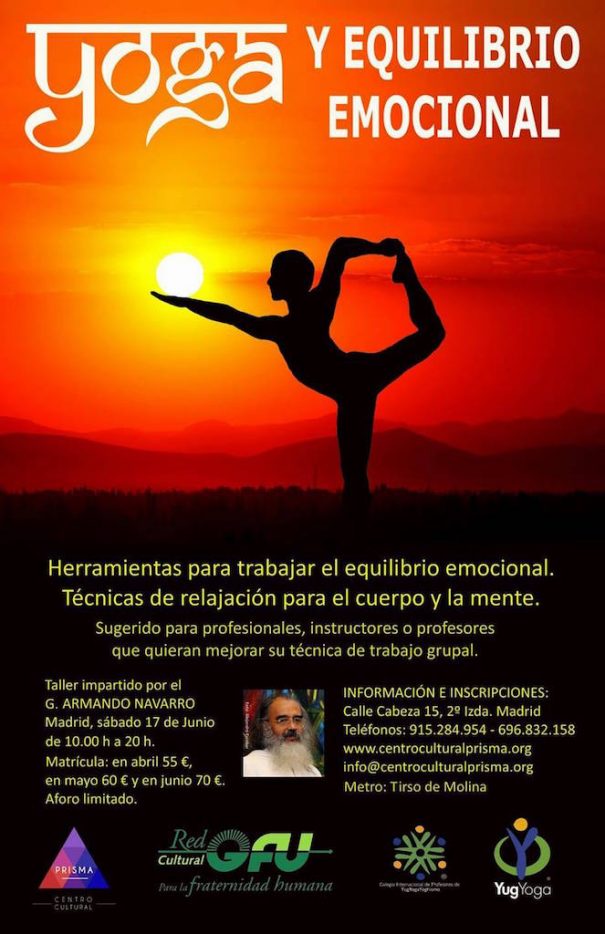 On the other hand, the Foundation of psychotherapy helps provide tools that serve as a basis for the development of the human being, his emotional balance, and self-help.
As well as, Yoga techniques combined with psychotherapy created an updated base that helps the person in their development, favouring both its internal integration and external, giving you a philosophy that gives you the knowledge to live. It proposes the integration of the human being, as a form of personal growth and self-realization, helping you to be responsible for its existence.
Yoga and emotional balance workshop
LRedGFU, through its school Yug Yoga, within the framework of the celebrations of the international day of the 2017 Yoga, it presents an experiential workshop on Yoga and emotional balance, in Madrid on June 17, aimed at all those people who wish to deepen the work on themselves, and in a special way those instructors and teachers who want to improve their techniques of group work.
The yoga and emotional balance workshop will be taught by H. Guru Armando Navarro, who has a long teaching career in this field, being since 1980 trainer Professor of the College international teachers of Yug - Yoga-Yoghismo (COIPYYY), in addition to a Instructor in meditation and initiation. It has more than 40 publications on exploration, dissemination and studies on Yoga. As a psychologist and holistic practitioner has exerted an intense work in the field of research, training, therapy, healing personal and group level, couples, young people and children in hospitals, clinics, prisons, businesses, universities, centers of development human, transpersonal and transcendent. He was the founder and director of the Nebadon Foundation in Mexico, who works in the human and transpersonal development, and is aimed at people with limited economic resources.
This workshop can be a good preamble to celebrate yoga in all its facets in the Meeting national open Yug Yoga at the ashram of the forest of San Martin de Valdeiglesias following weekend 23.24 and 25 June. Details of the program are in the link http://yugyogaredgfuesp.weebly.com/
Emotional health and Pratiahara
In my experience, Yoga and psychotherapy complement each other extremely well, helping each other in their objectives. If we consider the State of union as the ultimate goal of yoga, the psychological health It would be the goal of psychotherapy. Both tools help in the two goals and produce a synergy that makes the joint advance more than the simple sum of the individual advances in each one of them. While yoga is an ancient science and psychotherapy is centuries-old, both are powerful tools to help human beings.
Four important aspects of the human being are traditionally considered: the physical, mental, emotional and spiritual. Yoga not only improves each of these aspects, but it helps a balance among them looking for the harmonic union of them. Patanjali described eight steps or members of the asthangas in the Yoga-sutras. Although all of them are related to the four parts of the human being, that traditionally has been considered more related to the emotional part is the fifth member of the ashtanga, called pratiahara. Pratiahara has to do with the withdrawal of the senses and in ancient times was associated with a certain asceticism, which could even become almost absolute isolation. En los tiempos modernos esta visión no suele ser compartida por muchos practicantes de yoga. Por tanto, en mi opinión, la psicoterapia puede complementar esta vía y ayudarnos en esa parte emocional que mucha veces no comprendemos y que incluso rechazamos.
Gabriel Aguilera Venegas. Catedrático de la Universidad de Málaga. Profesor de Yug-Yoga Redgfu (COIPYYY) y Terapeuta Gestalt (AETG)