9th Iberian meeting of Yoga
The city of Avila will host this year the celebration of the bi-annual meeting of yoga that will take place the days 28, 29, 30 April and 1 may 2017 in the Palace of congresses and exhibitions canvas North.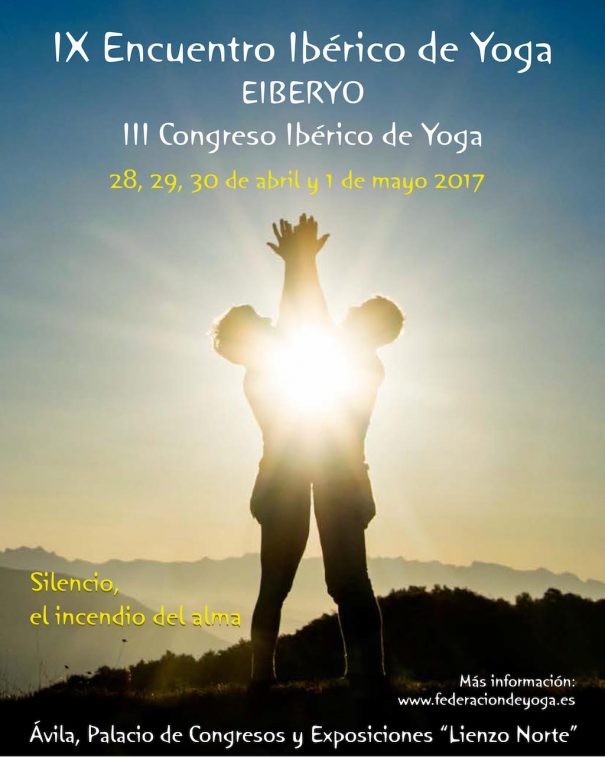 Organized by the Federación Española de Yoga Satsanga (FEYS) as a member of the Iberian Confederation, it is a meeting of schools, teachers, and practitioners of yoga of the Iberian peninsula. Four days will be shared experiences and projects of different disciplines through practical sessions, conferences and presentations. More than 400 people pass through about 30 workshops of all types of disciplines, from hatha yoga, bhakti, ashtanga, kundalini, or Jnana yoga. 20 papers, 1 kirtan, 2 concerts of Amancio Prada and Asher Quinn (Asha) complete program of the Congress.
The President of the Federation Española de Yoga Satsanga, Antxon Elosua (Surabhi), ensures that it is an opportunity very awaited by all practitioners of yoga who see these days as a time for sharing meditations and life-giving practices. "Our purpose is to serve as catalysts, promoters and servers from this exchange of knowledge and experiences that enriches us all."
Extensive program with a variety of possibilities
From 12.00 to 14.00 from Monday, may 1 and Friday, April 28, yoga practitioners who wish to can assist not only workshops and shared various yogic practices sessions, but that they can also enjoy concerts and exhibitions.
Thirty schools throughout Spain They enliven the common areas with an exhibition and flea market with a variety of products linked to the world of yoga. The projection of films and documentaries related to the awakening of consciousness is also expected.
At the same time to hold the meeting there will be activities guided tours for children, allowing families to enjoy together a full Yoga day.
Look at all the information and program in this PDF
The origin of the Iberian meeting
From the year 2013, the FEYS is part of the Confiberyo (Iberian Confederation of Yoga), along with Conporyo (Confederation Portuguesa of Yoga of the master Amrta Suryananda), Iskon (Hare Krishna) and the Sanatna Dharma of the Madhavacharya master school.
The FEYS has decided to give Confluence on this occasion to the celebration of the encounter with the III Iberian Congress of Yoga and Satsanga 9, so it is going to become a great meeting of Yogis in the city.
The inscription

The meeting is open to all interested parties to attend the meeting with a price of €120 per day, which - includes the food vegetarian - and special priced at 190 euros to attend every day. The FEYS affiliates have a preferential rate.

For registration please contact reservas@eiberyo.es or T 627498558.