Mysore, India: my outer journey inwards
Since I was a child always I dreamed of travelling to India. Its culture, its color and its mystery had always fascinated me. Writes Tania Munoz, after reading the interview with Saraswathi Jois we published recently.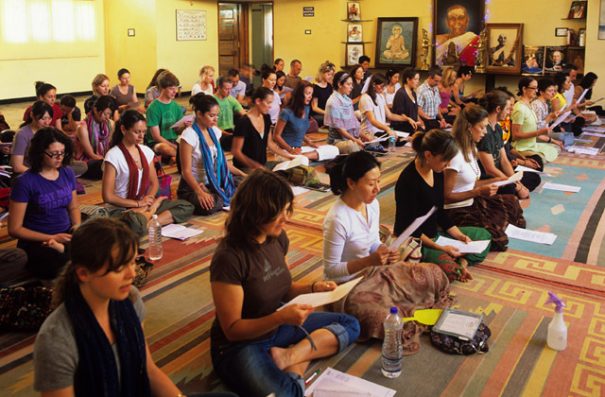 And finally, the 2015 began with my dream spiritual journey in the India. A January 3, arrived at the city of Mysore, to the South of the country, where I would stay for a month and a half, delving into my practice of Asthanga Vinyasa yoga with Saraswathi, the daughter of Pattabhi Jois.
I wish you a great foreign trip inwards,
without inside nor outside.
Pure consciousness,
the force of life,
Fullness
Love
... I received my master's at the airport. And with that good energy, I began my adventure in Mysore.
It might seem that most importantly there would be the practical yoga itself, but above all the experience in Mysore became a kind of laboratory, an opportunity of action research in the interior and the exterior. The teacher knew it...
The first great lesson was to have so much free time. Time to calmly and time to do nothing, time to be with the same in a magical and spiritual environment. The art of "Don'ts" is not laziness or apathy, is an opportunity for introspection, is disconnect from the rush and the productivity of the West and connect with the spirituality of the East.
Thus, with so much time to myself and to pamper my practice, I ran full with my life, my fears and hidden strengths, my addictions virtues and under suspicion. I realized the intense and tiring that was my world for a year.
Find and keep yourself gives you the opportunity to really see how is your finally garden. See the flowers and thorns with clarity and without the possibility of escape or looking the other way. There is no boot the thorns, and dedicate yourself to plant flowers. Get to work!
I speak from me, not from me
On an average day there, after doing the practice early, major occupation was to choose where and what breakfast: delicious pancakes, a bowl of fruits, nutritious granola with a chai tea or watery coffee...
Not having concerns offered the space to simply take care of your stuff, but also the time for unnecessary drama. What laziness! There it is easy to get carried away by the drama; you have to be strong, very strong, to weather the storm and overcome. It is well known to this drama that I speak to people who have been there. Fights with intimate friends by nonsense, neurotic behaviors, bursts of exalted happiness, insulation, sickly show off…
Being so closely and so clearly and powerfully with the inner reality is an intense experience. I think that some people become "a little crazy" there. Seriously. What comes out, comes out with great force.
For me, one of the best gifts to be there, with the distance from Madrid, was that it made me much more simple and natural to see my life with perspective and from shakshi, consciousness witness, instead of seeing things with the color of the Crystal glasses that each one gets.
The seventh sloka of the Shankya Karika speaks of the eight causes that make that reality is not known. There are many things that exist and are not known. There are many causes for which we do not know even material objects. An object is not aware if it is too far or too close, even being a material object. If your senses do not work properly and the mind is not focused on his relationship with the senses, are not perceived. If the object is too small (a virus), if there is some object that separates from the known object (wall), if the object is covered by something else (covered by fabrics light), or when the object is mixed with similar objects.
From Mysore I could realize some absurd and unbalanced situations that have them before so close to or saw them, or saw them distorted, blurred, since they were dyed by the impressions of my emotions and thoughts of doubt, uncertainty, moralina, self-reliance--and all saddled with the yoke of judgments, blame, comparisons, expectations, opinions and other Councils.
Sit in silence, I allowed my mind got tired downloading all their chatter, I serené, I relativicé, analyzed with my buddhi (intellect), and I could talk to myself as with a good friend. Despite the noise of India, there was me easier to listen to the voice of the soul.
In a quiet dialogue with my mind, as if it were another person, my teacher, my friend who wants me, my good counselor, selfless and accommodating, I heard my response to my own questions and dilemmas, since peace, calm, clarity of my being. With love.
And that love is a passage to an inner truth, a level of peace and harmony that starts with yourself, in the same. Then you love love you enough to trust you, take refuge in your inner sanctuary, in the cave of the heart and act from the certainty and calm.
And even if you're a person who, like me, Act and serenely assume the consequences is not your strong point, an invisible force pushes you to take action and align your decisions with your essence. I got peace in my life and put peace in my musings.
An unexpected gift
The peace of meditation in India put clarity and peace in my life. What a gift!
Friends who share road there, each and every one we just ordered our lives in Madrid. One ordered his heart and came family ties; Another dropped ballast giving up hours of work which desgastaban it and also made the decision to become a vegetarian; Another watered excited the seed of a new relationship while she accepted professional challenges: and other reorganizaba your business and friends.
The India offered me a reunion with myself, with a melody background in my particular storm yogic. A place where, protected by the essence of the place teachers, could prioritize beyond the "should", the "say what" or emergencies of everyday life. There you have the time, an open and safe space that supports the awakening of the essence. The India gives you blessings of peace and balance.
But I've also learned from that experience that the true yoga is not somewhere remote, or projected in the great spiritual adventure, or special people. Is in his own practice, in the same and in our actual circumstances and concrete here and now. In the India or the Conchinchina.
But there are times where it is necessary to do something externally, because we don't see clear, then, at the time, to look inside treasure, the only.
I just need a way of being in the world have to do with all the light and all the darkness of the existence. All the enjoyment of colors, while only the pure white of sattva stain my finally.
Everything else, the truth, me too much.
Tania Muñoz (Klayana), is a yoga teacher at www.yogawithkalyana.com In this, your website, you can read their blog with interesting articles.

Tania gives private yoga classes at home in La Moraleja, Alcobendas, Madrid.