Consciousness nude, meditation with Danilo Hernández course
Sunday 26 February and 12 March Danilo Hernández taught this seminar aimed at all persons who wish to enter or delve into the fundamentals of meditation. Nude consciousness is a term which expresses the nature of the consummation of the meditation process. It is the experience of the self, of our last essence. In Yoga Anandamaya, Madrid.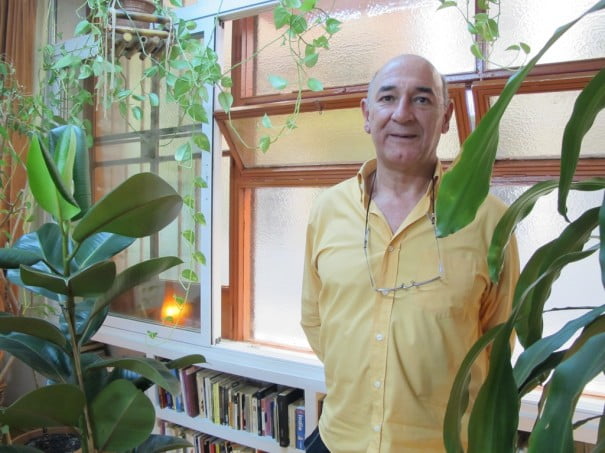 It says Danilo Hernandez (Swami Digambarananda): "It is possible while posting this reading, you are comfortably seated enjoying a feel-good state. But perhaps it is a very fragile tranquility... Imagine that you comment right now on you bad news or a violent and unpleasant event. In this case it likely your peace of mind will immediately lose and you Let's we begin to feel uncomfortable and tense. This would indicate that your stability mental is rather superficial and that is to worship of any event that is present. Why happens this? Happens because not there are a State enough of alert and the mind is identified with the event, causing a response emotional of discomfort and tension. And this tends to go us very regularly, regardless of who practice Hatha Yoga, meditation, or any other technique.
All the practices that we usually perform are very beneficial and help us to manage our life in a harmonious and positive way. But this balance often has a short duration and can be altered at the first opportunity. So the balance is convert in our nature usual and let of be a State intermittent that depends on of those events, is necessary that our practice let of be a simple practice, and is transform in a style of life. This entails a deep development of care in every moment of our existence. "A living conscious mind of instant in instant."
To personal transformation
The seminar is aimed at all persons who wish to enter or delve into the fundamentals of meditation. Naked awareness It is a term which expresses the nature of the consummation of the process of meditating. It is the experience of the self, of our last essence. It is to get to know what we really are beyond our usual references.
The body is a reference, the breath is a reference, information provided to us by the senses are references, thoughts are references. In this seminar we will learn as go progressively releasing references, stripping us of our identifications, for finally bring us to the experience of the consciousness pure.
It is a focused workshop to carry out work that distills the essence of the practice of meditation. It aims to develop a full understanding of the process of meditation and the meditator to learn to adjust the practice to their own reality and real needs. Summarizes the fifth essence of the technical traditional of meditation, such as Antar Mouna, Ajapa Japa, Vipassana, Shine, Zazen, etc...
The teachings complemented with a audio that will send at the end of the first session to perform practice at home and to explore the experience in more depth before the second meeting which will take place after 15 days.
About Danilo Hernandez
Comenzo the practice of the yoga of form self-taught to those 16 years. Disciple of Sw. Satyananda and Sw. Niranjananda. Dedicated to the teaching of the yoga since 1975. He currently directs "BINDU" Yoga school, Chamartín, Madrid. He teaches yoga titled the "Sivananda Yoga Vedanta Forest Academy" in Quebec, Canada, in 1975. Since 1984, it remains linked to the Bihar School of Yoga of Munger, India. In 1993 it was recognized as a Yogacharya (yoga master) by the Bihar School of Yoga and the International Yoga Fellowship Movement. For years, regularly directs courses and seminars of yoga in different Spanish cities and in South America. He is author of the book "Keys of yoga", work of great interest by offering a complete synthesis of the teachings of yoga. exposed in a systematic, objective and clear. SW. Digambar stands out for its high accuracy, depth and sense of humor. The realistic approach that offers about yoga allows that the practice of yoga can reflect in our daily life, projecting in everything we do and live.
The course in Yoga Anandamaya

Opening hours: Sunday, February 26 and Sunday 12 March from 10.00 h to 19.00 h (break from two hours to eat). It sends audio at the end of the first day to make practice in house.

Price: €130 (limited places)

Information and reservations: info@yogaanandamaya.com / 647 51 22 78 T

Place: C / Alcalá, 68, first right. Madrid

More information: http://www.yogaanandamaya.com/evento/consciencia-testigo-eje-de-la-meditacion-y-de-la-transformacion/?instance_id=15