Yoga for people with reduced mobility
For your interest we share information from the magazine Infomedula, of the Foundation of the National Hospital of tetraplegics, titled "Yoga, the power of the mind".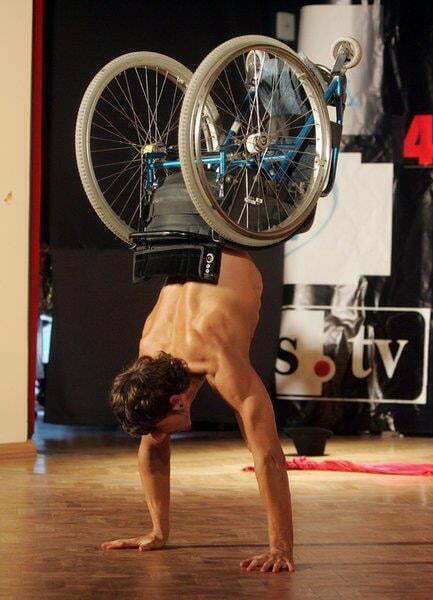 The realization of the various techniques of breathing, pranayama, and meditation that exercise with yoga provide physical and psychological benefits persons with reduced mobility.
He explains on his blog vivianayoga.blogspot.com.es the Professor of hatha yoga Viviana Daya Devi cuts, from his experience with people with motor disabilities to exercise different breathing techniques (diaphragm, intercostal, clavicular, circular, full, square and yogic) are the first steps for a better functioning of the appliance respiratory.
A relaxation that allows to improve the quality of life and advance in the search for inner peace to improve social relations is achieved through these techniques. "Disability can teach us much about ourselves. El yoga and its various methods provide opportunities for a transformation which enables a huge opening mind and body" ensures Viviana Daya Devi.
In the case of people with quadriplegia, movement should be assisted and given the affectation of the diaphragm resulting injury, the different techniques of pranayama which exercise with yoga and breathing are the first steps to improve the function respiratory. In addition, these techniques contribute to the psychological stimulation.
In this sense, the practice of Yoga Nidra, It is a technique to reach relaxation physical, emotional and mental, as well as other meditation techniques, they provide many benefits for the mental health of people with disabilities. Higher States of consciousness that favor having a greater internal security to achieve both emotional as physical improvement "since this technique appeals to the senses, feeling, and not mind" are achieved by relaxing the mind. Clarifies Daya Devi.
Also, the practice of Hatha Yoga and its asanas provide muscle firmness and elasticity, while people with reduced mobility is promoted and carried out passively and in a more limited way. "Yoga must be adapted to the possibilities of each one of those that made it and the use of these techniques will help you get a better relaxation of mind and body".
"Persons with reduced mobility cannot move certain parts of the body, but" Yes they can control their breathing. It is essential to have a good relaxation prior to applying it in different positions that will, according to its possibilities. Relaxation is as valuable as the realization of asanas, Since the two manage a physical and emotional balance and soothe the mind. Each movement and posture should be effortless and comfortable", says Viviana Daya Devi.
In a first stage or making contact with yoga, the most important purpose is not the postural alignment, but make the student feel comfortable and relaxed, and that achieves its own body balance in the way that is easier and more comfortable.
According to Viviana Daya Devi, There are several asanas that can be adapted to each particular, from sitting in a wheelchair or lying on the ground, in the posture of Shavasana. "If you get to quiet the mind, yoga can be and many benefits for our body-mind and spirit will be."
"The practice of pranayama or regulation of breathing and meditation favor the creation of a new consciousness, whatever the disability", concludes Viviana Daya Devi.
Mobilise energy
Nina Adams It is a yoga teacher for more than ten years and in his studio in Barcelona also teaches yoga to people with reduced mobility. "The way to work is focusing on the upper parts of the body: head, eyes, neck, arms and hands," to the extent possible".
The methodology used works with conscious breathing and basic techniques of pranayama, which is the control of prana or vital energy.
According to Nina Adams, students experiment with disabled access is that during a class they feel that "something inside starts to move, they manage to feel more. Through breathing and guided care practice, some get feel his hands, despite the lack of sensitivity in them".
"Yoga is an art of living, the art of being and here and now." You can also practice asanas or postures, or You can sit in your wheelchair and observe your breath; that is also, yoga" Nina Adams has.
"For people with reduced mobility, able to move vital energy is necessary and beneficial. You don't have to do great things, they can be 15 or 20 minutes of conscious breathing and some simple body movements to give a twist to this energy locked in the body. They occur really incredible things after the practice of yoga, so I encourage people with disabled access to try it", Nina Adams concludes.
View the original article here.