The India is my adventure
Agosto de l972. En compañía de Almudena Haurie pongo rumbo a la India, mi país tantas veces soñado y ensoñado. Este primer viaje, que será seguido por muchos otros, ha de ser largo y fatigoso, desde los Himalayas a Tamil Nadu y desde la Bahía de Bengala a Bombay, a la implacable búsqueda de yoguis, mentores espirituales, eremitas, sabios, sadhus y especialistas en hinduísmo, yoga y budismo.
Calle Ramiro writes.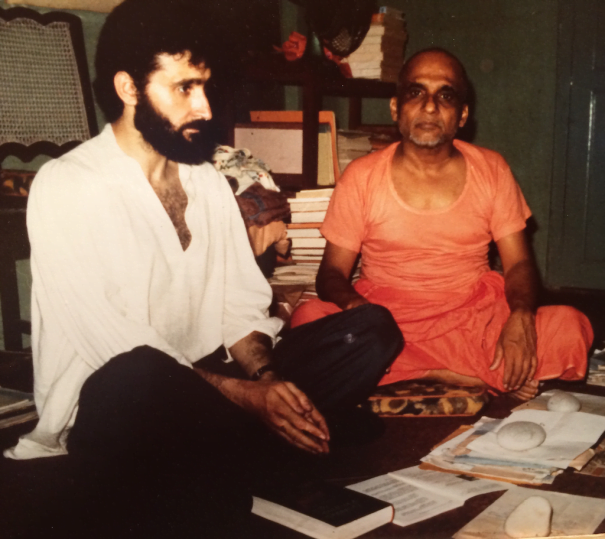 Decenas de entrevistas en las que Almudena coopera como interprete. En los cuatro días que estamos en Rishikesh en este primer viaje, nos alojamos en el ashram la Vida Divina y entrevistamos largamente a varios de los swamis más relevantes, incluído el presidente, Swami Chidananda.
También entrevistamos a un buen número de médicos que investigan en el alcance terapéutico del yoga, tanto en unas como en otras zonas de la India. Es una incursión sin tregua en la sabiduría de la India, de la que habría de nacer una de mis obras más emblemáticas: The wisdom of the great Yogis (Ediciones B), que no ha dejado de reeditarse. Sobre dicha obra, nacida del corazón y saturada de motivación espiritual, Zaniah, Guía para el estudio del conocimiento esotérico, ha comentado: "The wisdom of the great Yogis es sin duda un libro extraordinario en su tipo, no solo por la información que aporta sobre el yoga y las doctrinas colaterales, sino por ser caja de resonancia de los máximos expositores, practicantes y místicos de la India actual".
A ése primer viaje han seguido muchos otros, pero aquel primero fue el más inspirador y también dificil en una India bien diferente y donde todavía Rishikesh, Benarés y otras ciudades sagradas conservaban parte de su pureza y no eran un hervidero de turistas en busca de lo insólito que pueda avivar su capacidad de asombro.
Más de cuatro décadas después de aquel fructífero viaje, Nicolas Gauhtier ha hollado parte de las tierras del país más insólito y variado del mundo para realizar su extraordinario documental Sadhaka, la senda del yoga, que recomiendo se visione en Vimeo, sobre todo para aquellos que quieren conectar con el verdadero yoga, ahora que muchos proponen un yoga que nada tiene de tal.
Aunque he hecho noventa y nueve viajes a la India, volveré. A menudo mi espíritu está allí, porque la India es mi aventura y no hay aventura como la India.
Calle Ramiro

More than 50 years has been Calle Ramiro teaching yoga. He began teaching at home and created an Academy of yoga correspondence for all Spain and Latin America. In January of l971 opened its Yoga Center Shadak, that have already passed more than half a million people. His 250 published works include more than fifty devoted to yoga and related disciplines. He has made Yoga the purpose and sense of his life, having traveled a hundred times to India, the homeland of yoga.

Watch the Calle Ramiro Facebook:
https://www.facebook.com/pages/Ramiro-ACalle/118531418198874