Yoga teachers: to companies!
The demand for classes of yoga and mindfulness in all sectors in recent years is growing a lot. We could say that we are in full revolution of "Healthy" programs in organizations. But are yoga instructors ready to teach in this area?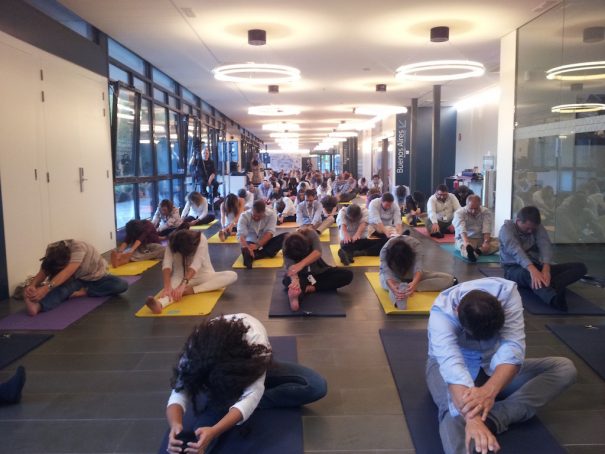 Among the activities that are incorporated inside of the programs of health in enterprises is the practice and care of the body and the mind. Not only because it humanizes the business world, but by multiple wellness tools that promote both employees as managers and induced to improve their own health and relationship with other people's computers.
The idea of promoting this practice has to do with take a break in the middle of the routine, loosened his tie, removed the shoes for a few minutes, relax and disconnect from the daily activity through the practice of yoga.
Stress is one of the most important labor causes of absenteeism from work in Europe. Prevent stress with yoga techniques and mindfulness in business is an excellent way to combat their symptoms. It is proven that companies who practice these techniques improve the quality of human relations in the equipment, Sometimes the work environments are rarefied by all kinds of competition and envy that generate big emotional tensions.
What kinds of Yoga and Mindfulness in business?
It is of group sessions, performed in a space of the company, which aims to identify the level of anxiety and taking awareness of cognitive locks that stress is taking place. They are based on techniques of breathing, relaxation, stretching and simple meditations adapted to the needs of the participants.
They can be practiced by anyone regardless of age or physical condition, and the duration is usually between 60 or 90 minutes, depending on the needs of each company.
Main work areas:
Emotional balance
Mental clarity and concentration
Body awareness
Change management: personal improvement plan
The benefits of practicing yoga in companies there are many: It reduces the stress caused by overwork; It contributes to improving the health of employees and, consequently, can assist in the reduction of costs related to illnesses and absenteeism from work produced for this cause; increases concentration and creativity of teams; recharging energy and vitality staff; It relieves symptoms such as anxiety, fatigue and insomnia; It produces a greater relaxation and concentration on the job optimizing the time in the process; and it helps to have a greater self-control of emotions.
The idea is that there is a confluence between the needs of the individual and the enterprise. Take yoga classes in the enterprise is a way that the staff feel that the company cares about its employees.
In this regard, Soul of Yoga, with a long-distance implementing programs of yoga for companies and managers, provides the first 'Yoga teachers training for companies ' in Spain for all those teachers who want to specialise and offer teachings of yoga in companies.
The training is intended for Yolanda ModregoDirector of soul of Yoga, former Marketing Director and teacher of Yoga and Mindfulness programs in company such as Booking.com, ISS, F-Iniciativas, Media-Markt, Adams Center for studies, Novartis, Viventia, Exoclick and executives programs of high level as the "Transformational Leadership" of the album Foundation (Spanish Confederation of Directors and executives).
The 'Yoga teachers training for companies' It is intensive 3-day and it is of a specialisation module where yoga tools adapted to organizations and personal leadership skills from the Professor, provided It is necessary to be able to teach yoga in business programs.
Training, in addition, allows voluntarily a yoga class in the company Media-Markt, regular customer of Yoga's soul.
For more information about this program, please click here: