II Seville Sacred Festival, from 7 to 9 October
This second Festival of yoga, music and spirituality will take place in the farmhouse of the parque del Alamillo on the Isla de la Cartuja (Sevilla) from 7 to 9 October. It is of the ' II Seville Sacred Festival', a free event that will serve as a national presentation of the Spanish Federation of teachers of Yoga Kundalini (F.E.P.Y.K.)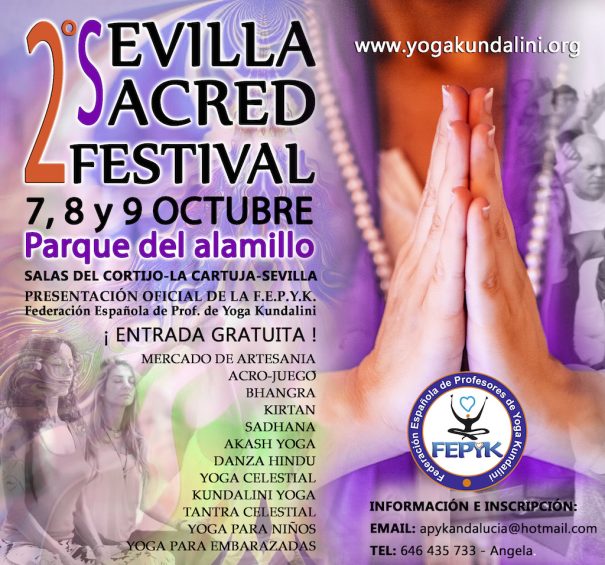 The Andalusian capital is hosting this festival featuring a broad program that hosts numerous classes and lectures at several simultaneous venues for the second consecutive time, and following the success of the first edition. This Festival is organized by the Asociación Andaluza of teachers of Yoga Kundalini (A.P.Y.K.), is completely free and with participation open to all ages.
The Sacred Festival It organizes this year as Act of presentation at the national level of the Federation of teachers of Yoga Kundalini (F.E.P.Y.K.). After more than 20 years of practice and teaching of this discipline, the F.E.P.Y.K. brings together different associations of teachers of all Spain.
Sat Jaswant Guru It is a member of the World Council of Yoga and is the promoter of the Festival as President of the F.E.P.Y.K. In this edition you will give a master class of Yoga heavenly, heavenly Tantra and Akash Yoga, as well as a talk on the activation of the pineal gland and Heavenly healing system.
Next to him, they will participate in the festival Sat Harkirat Kaur Director of training teachers of yoga Kundalini in Andalusia and in charge of the section of Kundalini Yoga heavenly, singing of mantras and Tantric Numerology, as well as Sat Nam Singh as director of training in Murcia with a master of Kundalini Yoga class.
Jessica Milgrom He will conduct a session of Acroyoga which explores the connection with the body, communication and trust; and Lola Chur It will bring the dance attendees. For its part, Siri Seva Kaur, expert in communication between species, will explore the secrets of animal communication.
Poster session of Cardio Kundalini, close it with Siri Seva Kaur, as well as meditations with sound in charge of Tomás Buron and Maria Gonzalez, that it will provide moments of deep meditation and relaxation through the sacred sound of the bowls and gongs.
In addition, there will be a significant presence of yoga to children with Sat Darshan Kaur, Yoga for pregnant women, and yoga for dads / moms and babies with Gurupavana Kaur.
The music will be the protagonist with groups such as Guru Mantra Group and the dance of Amrit Kaur, who enliven the weekend next session of Bhangra, the traditional dance of Punjab in northern India, bringing a touch of celebration and gratitude to life, from the hand of Amrit Kaur.
The II Sacred Festival Sevilla There will be a service of tea and vegetarian food, and a craft market, where can be found from objects of the India to plug-ins for the practice of yoga.
The entrance is free and can be visited from the Friday day 7 of October 2016 at 18:00, without interruption until Sunday, October 9, 2016 at 20:00 hours, time of closing the event in the farmhouse of the Alamillo Park, La Cartuja, Seville.
More information: http://www.yogakundalini.org/Sacred-Festival/