Story: The boy who knew truly love
Brief story of Carmen Caleya belonging to the series The girl who knew everything, in which a girl dressed in white, barefoot and with a Lotus hair flower embodies wisdom. The author has created these stories from stories based on the classic writings of the India.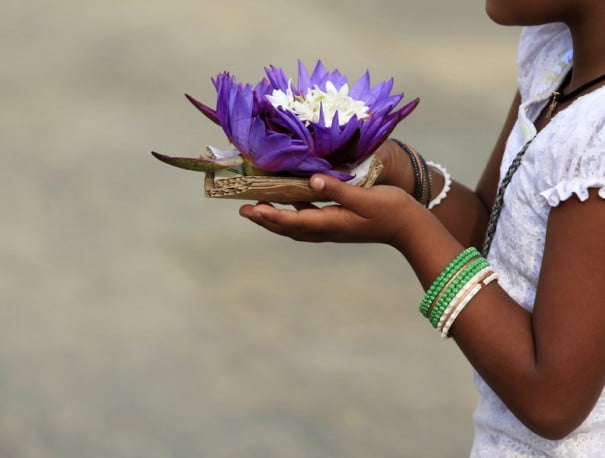 -Not pueeeeeeedooooooooooo!, cried terribly angry shots.!.! I'm already tired of this violin! As much as my effort, not sack him or a note in tune. It's over! Right now I'm going to crash against the wall. Dead dog, fleas gone!
The girl who knew everything was happening at that time under the window of Thomas. With his soft voice, as of waves, he said to him:
-What, Tomas? You seem furious...
-Do not I more than touch this instrument!, Thomas, continued rant while I looked out through the window. Remained silent, enjoyed watching the eyes of the girl, who seemed even deeper than usual.
- But Thomas, if you have improved your technique a lot! -the quiet girl smiled him.
-Took months trying to get something nice of these ropes and the only thing that come out are squeals of rat - replied Thomas, with less conviction. I'll never get to be a great artist. I will never fulfill my dream to be the soloist of the Orchestra...
-Oh, Thomas!, you are not exaggerated. See - get awhile to turn - said the girl-. And tell you a story.
-Really? -replied Thomas, happy. And he ran the stairs of her house down. Before the last step, he heard the girl who began:
There once was a boy who wanted more than anything in the world be Archer, for he, being Archer represented higher courage and righteousness.
The child, named Ekalavya, knew that there was only a wise man able to teach you the art of arrows with mastery. That teacher was called Dronacharya and engaged is to teach martial arts to some Princes who were preparing for a major battle.
Ekalavya, making its value collection, went one day to the place where his teacher was with the other archers. They bowed down before him and said:
–Oh, great teacher Dronacharya, ask please teach me the noble art of shoot arrows.
Dronacharya, who had the power to see the future, rejected it, since she knew that if she accepted him as a disciple, he would become the best goalkeeper and kill Prince Aryuna in the final battle.
-I can not teach you, he said. You'll find yourself another master.
Ekalavya, understanding that there was no way to change the great Drona, decided to stay hidden in the forest where you were learning the other archers. Once they were, he took a bit of mud that had stepped on the foot of the venerable Sage.
Excited, he returned to the forest and built a statue in the image and likeness of Drona, since I felt unconditional love for him and was his deep desire to become their best goalkeeper.
For years, he was again the daybreak at the foot of the statue and with devotion, spent there all day throwing arrows, while receiving the teaching of the image of mud. Its firmness and conviction was absolute.
One day, spent much time, while its practice in the forest, coincided in the same forest with his master.
The dog of the master, who prowled there, discovered it and began barking incessantly. Ekalavya, fearing that they would discover his secret, threw a lot of arrows to the mouth of the dog, not to kill him, but to keep it open.
With lots of arrows in the mouth, without being able to bark, the dog went fleeing towards the Glade where it was Dronacharya.
Stunned, the master acquired at the same moment the certainty that who had achieved such a feat was the best goalkeeper in the world. He carefully pulled the arrows from the mouth of the dog and ordered him to drive it towards the goalie.
Arriving to the place where it was hiding, Dronacharya asked the young:
-¿Quién te ha enseñado el noble arte de las flechas?
-Pues tú, maestro -respondió el muchacho-. ¿Quién podría haberme enseñado si no tú? ¡Oh, venerado maestro!
-¿Yo? -respondió el maestro incrédulo-. ¡Pero si yo te rechacé!
Entonces, Ekalavya se giró y le mostró la estatua que lo representaba. Dronacharya, emocionado, entendió entonces el inmenso amor que ese muchacho tenía hacia la práctica, muy superior al de ningún otro de sus discípulos.
However, it could not allow that you becoming the best Archer, since it would overcome the prince Arjuna in the final battle. For this reason, it was forced to ask for a definitive proof of love. With tears in his eyes, turned to him.
-Do I am, therefore, your teacher?
-You and no one but you - responded firmly Ekalavya.
-Well I have given any gifts in Exchange for my teaching - Drona, replied.
-What can I offer you, master? -offered boy, humbly.
-Give me the thumb of your right hand - I asked the teacher.
Without hesitating a moment, Ekalavya cut the thumb of his right hand and gave it to the wise who, with their faces bathed in tears, received him excited.
Dronacharya finally recognized him as his disciple and received the grace of knowledge. Despite not having your thumb, Ekalavya became a legendary Archer, remembered forever by his tenacity and his courage.
–And this story is true? -asked Thomas, a little bewildered.
-So they say - replied the little girl, with a mysterious smile.
-Well, I think that I get back home. I'm going to keep practicing. It I still have much to learn...
-Bien dicho -parecieron decir los ojos inmensamente bellos de la niña.
Y, desde la calle, empezaron a oírse espléndidas melodías desafinadas.
Carmen Caleya es profesora de yoga y autora de la serie de cuentos The girl who knew everything, en preparación. Cuando se publique el el libro, las ventas las destinará a un grupo de niños que apadrina en un orfelinato de China.

Carmen escribe estos cuentos breves a partir de historias que cuenta su profesor, David Rodrigo (Āchārya Jijñāsu), maestro tradicional de Advaita Vedānta, en su clase de Escrituras clásicas de la India.

MokshaYoga Barcelona http://www.barcelonayoga.es/