Journey to the roots of Indian culture
Approaching Easter, which this time coincides with the hindu Festival of Holi, the Festival of colors. Would you like to make a journey of knowledge to Indian culture? Writes Cristina Iglesias.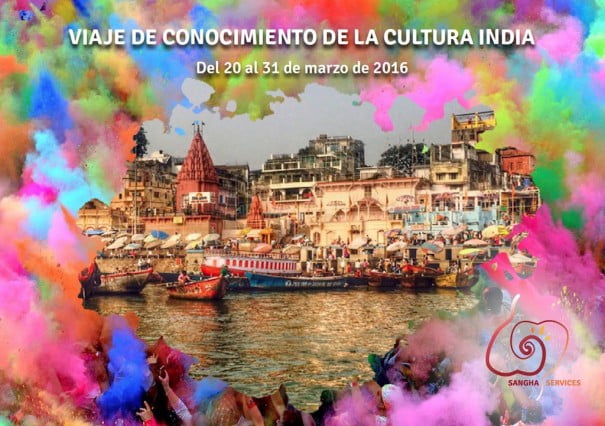 On the occasion of this celebration so special in India, the tourism company Sangha Services based in the city of Varanasi and driven by Cristina Iglesias (that which is written), Spanish birth but resident in this city since the past three years and a half, and Ravi Dubey, archaeologist, guide and tourism expert, offered in collaboration with Traveller 44 and Maita magical trips your new "Knowledge of Indian culture trip".
It's a unique opportunity of entering in the roots of the culture of this country, covering different aspects of the same as the situation of women, the caste system, the origin of yoga and medicine Ayurvedic, different gods and goddesses of the hin religion du, and many more topics.
The "Knowledge of Indian culture trip" It's not intended as a journey of any tourism. It is aimed at an audience that really feel interested in the culture of a country so rich in traditions such as India. An audience that wishes to know not only sights or cities, but wants to live for a few days the experience of being one in the city of Varanasi. A public that can range from young people who are curious to venture into India for the first time to children with their families or more mature persons who wish to live a unique experience in a country full of charm. Or even people who have already been here, but want to "soak up" a different way of culture and traditions of India and the magic of Varanasi.
In our previous trips traveling profiles were very heterogeneous, but all agreed on something: the trip gave them the opportunity to "place" in their minds concepts and ideas that had about India. Some more related to yoga, other music and dance, other general ordered les ideas that had no organized earlier, because, although it seems that we know India, most of us have only small pieces from here and there.
Classes, experiences, living...
On the trip, thanks to the theoretical classes that let you sit, listen, ask, write and interact with the person who taught them, many concepts are repositioned, and gets over the days an overview of what is Indian culture in general (including their spirituality, which both call the) attention in the West). And then vents the afternoons allow putting into practice what they learned in the morning and enjoy the city.
In addition, the fact of live during the nine days in an apartment with other travelers, with a cook who delights us with dishes of local gastronomy, and having time free to enjoy and leave freely, does the period that lasts the trip may have the feeling of having lived here.
I liked to see the process of travelers on other occasions: the first days were afraid, asking all, even fear to move alone, but in three or four days already knew the neighborhood stores, shopkeepers, boys and girls of the ghats , and felt "at home". That's what this trip is looking for! People living India, India, which experience India in a place as magical as Varanasi, and also carried a tidy and concrete knowledge of the various aspects of the culture of the country feel.
No, it is not a trip for everyone. We know that, but we also know that people who decide to make it go through an experience that can change their life. Why them We accompany custom during the process and we invite you to experience fully what they are feeling in their contact with a country that certainly does not leave indifferent. We take care of our travelers with the heart.
This Easter will also fill color with the Festival of Holi!
We invite you to live the experience of a journey that will not leave you unmoved... are you coming to India with us?
Including and not including travel
The knowledge and experience will be during your stay in India, delving deep into the culture and experiencing their day to day...
Why our program includes: • Visit to the Taj Mahal and Red Fort in Agra. • Travel by train and other local transport. • Accommodation with breakfast and lunch for 8 days in an apartment building in Varanasi (rooms will be shared between 2 or 3 people, depends on the number of travelers. If you like single room you can choose for her paying a plus). • Classes of introduction to the culture and religions of the traditional and modern India. • Guided visits to the major temples and lu-gares of Varanasi. • Yoga class, class of Indian cuisine, concert of classical music and Ayurvedic massage. • Celebration of the Festival of Holi. • Excursions to the surroundings of the city. • Accompaniment of specialized guide and person Hispanic speaker from the beginning to the end of your arrival in India.
That does not include: • Flight to Delhi. • Visa. • Health insurance (optional). • Lunches and dinners in Delhi and Agra (2 and a half days). • Dinner in Varanasi and other personal expenses (the apartment has kitchen and utensils for use, so you can cook your own dinner if desired).
Some examples of activities on different days:
India, the land of Gandhi: Departure from the hotel in New Delhi to visit the Gandhi Museum, place of cremation and Lotus Temple. During the trip we will explain the life of Gandhi and his relationship with the India independence.
India, the land of love: Guided visit to the Taj Mahal and Red Fort in Agra.
India, an ancient land: History of Varanasi and explanation of the religious ceremony of Arti. Departure to view the ceremony of Arti
India, the land of yoga: Celebration of the festival of Holi. Explanation about different cults and sects of Hinduism. Guided visit to the District of Assi ashrams. Demonstration of yoga by Dr. Rakesh and practical class.
India, the land of spirituality: Dawn boat ride. Introduction to hindu culture day: System of caste, marriage, status of women. Guided visit to the old town and the crematoria.
India, the land of healing: Introduction to the Indian traditional medicine day: ayurveda. Ayurvedic massages will be offered in the afternoon. Optional for the rest: henna tattoo or massage of reflexology (not included in the price of the trip)
India, land of gods: Introduction to Hinduism day: major gods and goddesses of Hinduism, Varanasi temples, most common ritual. Guided visit to the temples of Bhu, Temple of the monkeys, Durga Temple and Temple of mother India.
India, the land of ancient melodies : Seminar: Indian dance and music: different types of instruments, melodies, dances... Workshop of Indian cuisine. Concert of classical music and kathak dance.
India, the land of religions: Introduction day on Buddhism and minority religions in the India. Tour to Sarnath, 14 km from Varanasi, place where Buddha gave his first teaching after attaining enlightenment.
Note: all activities and meetings are optional attendance.
Price of the trip: 778 euros. To confirm your reservation you must pay 50% of the full price. The rest will be paid very late 15 days prior to the date of travel if you want to make your trip to other dates consult us * the trip will take place with a minimum of 5 persons and a maximum of 10. * Remember that this price does not include ticket aircraft, Visa, medical insurance, some lunches and dinners.
Contact: E-mail: sanghaservices@gmail.com
www.sanghaservices.wix.com/sangha-services
WhatsApp: + 34 639229300. Dossier of the travel
About Cristina Iglesias

Spanish birth, has lived in Varanasi over 3 years. Creator, prmotora and tradutora of the trip, also runs an NGO along with his partner Ravi Dubey, native of Varanasi, a degree in archaeology and with over 12 years of experience in the tourism sector.