Gasol in 'Zen': "Meditation helps me to calm my thoughts"
Ramiro Calle, always attentive to the dissemination of yoga and meditation in the media, sends us this interview with Pau Gasol, published in the supplement Zen Journal The world and signed by Teresa García Alonso with images of Vu Nguyen.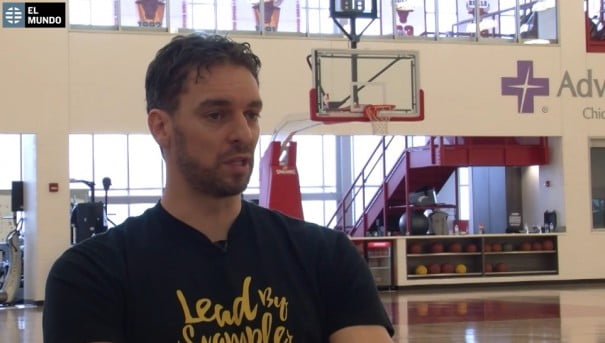 Get the balance to 2.13 meters high with the help of meditation and faith that a positive attitude scoring more points than a triple. The respect that it is your body and the hunger to do things well allow you to, at age 35, a reference in the NBA and winning championships in Europe with an overdose of heart. Being parents forced, and his brothers, to eat everything in the plate, also has much to do with its success. Pau Gasol is like good wine, and reveals the secrets of a great reservation here.
What keeps you with feet on the ground, motivated and focused?
Different things, but above all the tags I think it's balance. That balance that we need so much for our health, our personal development and well-being. What I try to do in this life, of so many parties and travel, is find my quiet moments where I can charge batteries, disconnecting a little bit of everything and a slower speed.
How you find those moments for you in the midst of the madness of the NBA?
I love being in my house and read a good book before bed to disconnect and slow RPM. I also meditate because helps me to calm my thoughts and control of my stress, and focus on the moment.
Where do you get the time for meditation in your day?
I meditate in the morning or after a NAP, before the game. It helps me to be focused. I started to do it about six years during my time on the Lakers because our coach Phil Jackson made us to meditate in a group. Starting from there, deepened.
How passed those sessions of meditation among the giants of the NBA?
We sat in the video room and Phil turned off the lights. Sitting with your eyes closed and your back straight, we focus on the breath. He ran the meeting, billing messages he wanted that we were present at every moment. We came very well at all and was a time of great union of the team. The great quality of Phil is that it was a great Manager, he handled very well the egos and the group. It took the best of each player.
What role does in your life your zen part?
As you birthday, you're learning and your body asks you for different things. For example, you can no longer have that big 20-year-old energy. There are stages where you stop to meditate, but you then restart it when you notice that you are derailed. Meditation always helps you return to your Center. Now I'm at a stage where I am fully enjoying.
What was the last book of meditation you've read?
The Untethered Soul (The unplugged soul, untethered) and talks about the importance of being a good observer. Explains how to avoid that mind control completely our lives to make us, through observation, those who do so. Read me serves as a tool of peace and lower the frenetic pace of life that I have.
How is a party day?
I meditate in the morning and go to the training. I usually prepare myself the food (carbohydrates and proteins) stabbings with pasta and chicken. I sleep a NAP, an hour or an hour and a half Max, and play. I'm not too superstitious but I still do a routine because it helps me to have constancy.
You say that you listen to the messages of your body and, at age 35, continue at your best physically. It is clear that your body and you will understand from Marvel, isn't it?
At the stage of your youth, you can allow yourself to certain excesses. You don't have to train or rest butt out you the good things. But, when you're making you more, you realize that these details are very important if you want to prolong your career as much as possible and play to a certain level for many years. I that understand it through my own experience and watching my results. If I care most, if I like better, if I train better and if I take care over every little detail, best game. Therefore, I enjoy most and I am happier. I am proud to have an outstanding career and want to continue. I'm not a conformist. And I thank God because I have had no serious health problems or major injuries that I have been away from the Court.
Read the full interview here: http://www.Elmundo.es/