Agenda 2016 with the Yoga Sutras of Patanjali
In Sanskrit and agenda with texts translated into Spanish, where are also given small notes on other concepts (chakras, days, numbers, months, and mini introduction to pronunciation), to bring this knowledge to practitioners of yoga.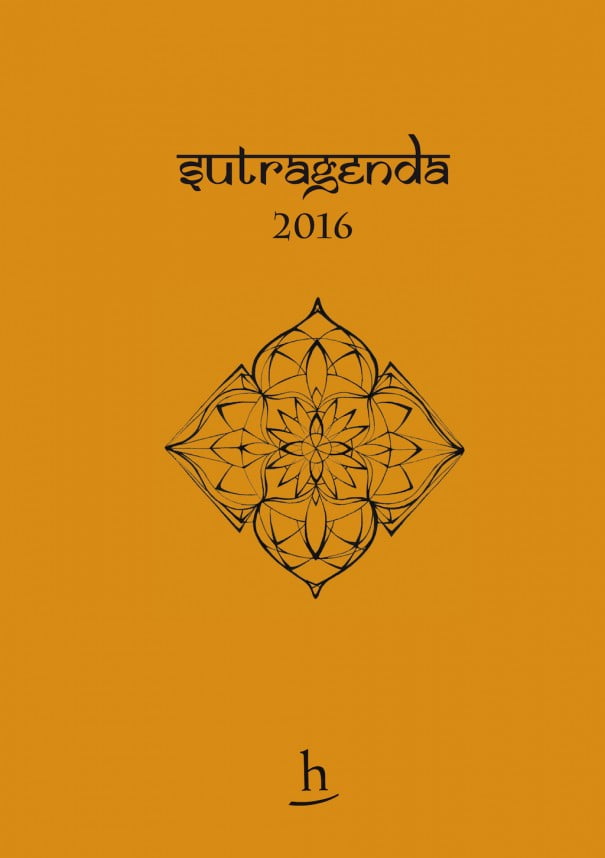 The editors believe that presenting them in this way, in an agenda, it is easier that we can go familiar with these concepts every day. This is a non-profit agenda, and cost the same (€10, which can only be purchased from the website listed below), will fully pay for the work and the printing of the agenda.
Come rejoicing, sharing with family and loved ones and also spiritual gathering dates. We end the year and the time comes to make a sincere review of those objectives that we have managed to meet and those who we were forgotten; imagine the new destinations and propose the following goals.
For who practice yoga today, and already have integrated the part physical in its routine regular, this 2016 les invite to complement your practice with an appearance more intellectual and spiritual: the reading of sacred texts that have for centuries accompanied thousands of Yogis and yoginis. Them Yoga-Sutrasone of the main sacred texts of Yoga, were compiled into the 2ND century AD by the Indian master Sage Patanjali that, with a brilliant mind, he managed to systematize the accumulation of centuries of tradition Yogi in a methodology set out in four chapters.
In a simple and easy way, editors have wanted to approach this millenary knowledge and present it in an agenda that, day by day, advances each of the sutras beside a metaphorical intent as a brief aphorism or short phrase, which will help go revealing the subtleties of the true philosophy and practice of Yoga.
In short, why not start this new year 2016 with the firm intention of deepening into Yoga... live a life from Yoga?
This SutraAgenda It is a collaborative project without profit (costs integral to cover production and printing) in collaboration with Herder Editorial and Lfunyoga, in order to share and bring the philosophy of yoga to anyone who is interested in it. If you want to obtain a SutraAgenda 2016 for yourself or for gifts, please click here. Limited Edition.
This agenda belongs to the series of works by Herder Editorial about the study and the experience of Yoga in order to give validity and academic rigor to this ancient science.
Upcoming titles: Yoga dictionary Laia Villegas and Oscar Pujol and Sanscrito-espanol dictionary, Oscar Pujol.